Leave It To Cardi B To Have The Absolute BEST Response To Being Turned Into A Meme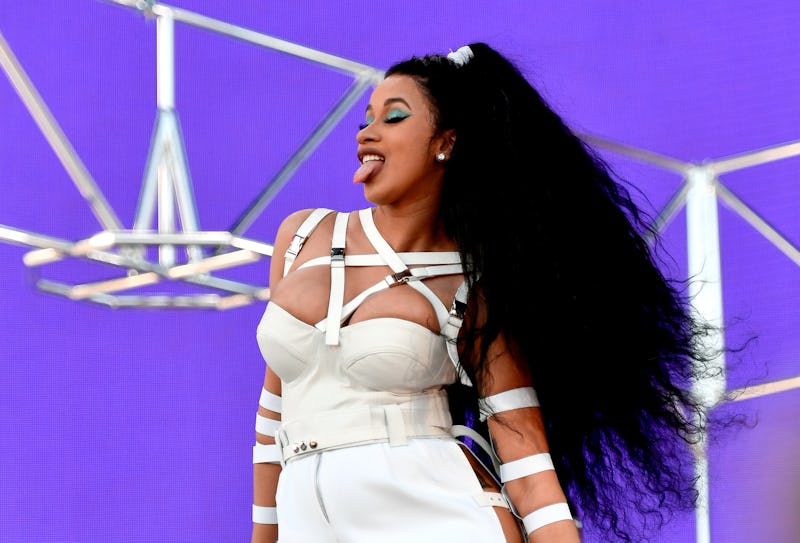 Frazer Harrison/Getty Images Entertainment/Getty Images
Belcalis Almanzar (aka Cardi B) is the queen of unfiltered social media content. She tells it like it is, she doesn't over-edit (if she even edits at all), and she doesn't give a damn about carefully curating her image. Early on Wednesday, Cardi B reposted a meme of herself that was based on an old childhood photo. It'd been making the rounds on the internet for a few days already, but the rapper's response to becoming a meme is yet another reason she's one of the best — if not, the best — people to follow on social media.
According to NYLON, Twitter user @FendiVersace originally dug up the too-funny photo of baby Bartier Cardi, though it's unclear where and how he found it. Not that it matters, though, because fans are just straight-up thrilled to know it exists.
The photo depicts a pint-sized Bardi, dressed in a matching shirt and pant set, hand placed squarely on her hip, and an expression on her face that is all attitude. "My momma said y'all have to play with me," the now-viral meme declared.
Cardi later caught wind that the photo had become famous, and responded to it twice. On Twitter, her response started with 10 laughing-so-hard-you're-crying emojis, followed by her calling it, "funny as f*ck." On Instagram, her emoji response tone was a bit more mixed —  a combination of laugh-crying, angry, and distressed faces — and she wrote, "Yaaaa annoying for this. Leave five year old Belcalis alone." LOL. Aw, girl.
There's nothing wrong with with having a hyper-curated Instagram feed, of course. That's just not Cardi's style, though. Cardi B's social media posts are honest, open, humble, and inadvertently hilarious. She is who she is, no filter, and her realness makes her relatable.
In addition to her appreciation for all kinds of memes, here's a few more reasons why you should definitely be following Cardi B. Okurrr?