Cardi B Shut Down Someone Who Criticized Her Pregnancy & Clearly She's Living Her Best Life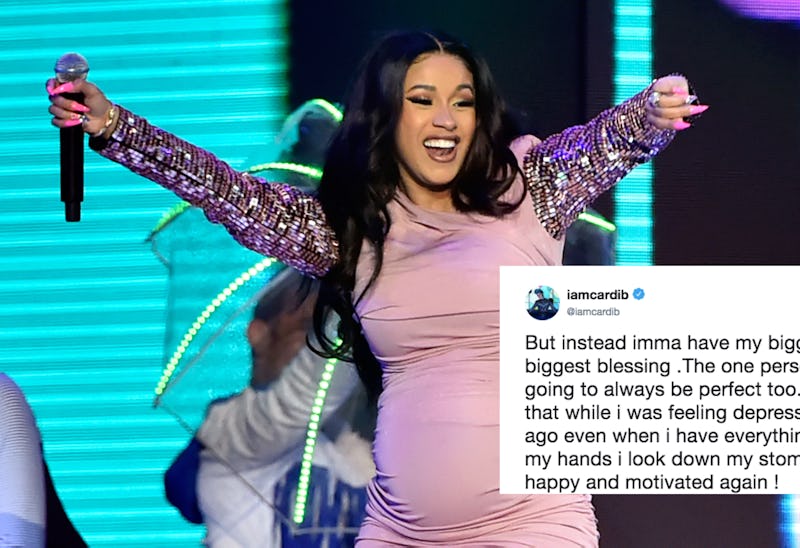 David Becker/Getty Images Entertainment/Getty Images; Cardi B/Twitter
Cardi B is not one to hold back when it comes to the haters. Her most recent message on Twitter is no exception. Cardi B had a strong response to those criticizing her pregnancy. And you're definitely going to want to see what the charismatic and outspoken artist had to say.
According to BuzzFeed, someone wrote in a since-deleted tweet, "Cardi B would be goin on tour right now, performing at the BET awards, gettin $$$. But instead Offset got her pregnant." The "Be Careful" singer was not afraid to stick up for herself on Twitter, hitting back against such a negative note.
In response to the tweet, Cardi wrote, "But instead imma have my biggest gift and biggest blessing . The one person who I'm going to always be perfect too." She continued to say that she's had such a positive pregnancy and that it's not at all going to get in the way of whatever she wants to do next. Cardi wrote:
"The person that while i feeling depressed a while ago even when i have everything i wanted in my hands i look down my stomach and got happy and motivate again."
It sounds like she's so happy with everything that's going on in her life right now and, in particular, the impending arrival of her little one. Since the singer is in an extremely good place right now, that's really all that matters, no matter what the haters may say.
To further illustrate just how much her pregnancy hasn't gotten in the way of her successful career, she followed up her statement with another strong message. In response to the same tweet, she said that motherhood isn't going to be a hindrance on her success (by the way, it's unbelievable that she had to explain this to someone in 2018, just sayin').
"And let me tell you something ,I'm still getting this money ...If you only know these deals I signed ... you'll soon find out," she wrote. Not only did Cardi shut down this naysayer, but she's also hinting at even more projects she has in store in the future. Talk about a perfect clapback.
This isn't the first time that the singer has, unfortunately, had to defend her personal choice to have a baby. Many have expressed concern for her on social media, saying that a baby will get in the way of her blossoming career, forgetting that one life choice doesn't negate the other. Cardi had a lot to say about those haters during an appearance on the radio series The Breakfast Club, according to People.
"It just really bothers me and it disgusts me because I see a lot of women online like, 'Oh I feel sorry for you, oh your career is over,'" she explained to the hosts, "As a woman, why can't I have both? Why do I gotta choose a career or a baby? Like, why can't I have both? I want both."
While there were those online who were pretty negative about the baby news, even her friends were concerned about how she was going to balance everything, as she revealed in her interview with The Rolling Stone that was published on June 20. "It was like, 'You can't do this. This might f*ck up your career,'" she said, as she described their worries.  
But, the "Bodak Yellow" rapper is committed to doing it all by being a working mom (she's set to bring her baby on tour with her in the fall, as she revealed to Rolling Stone). And no one is going to get in the way of her growing family and her blossoming career.