Carina Is More Than Just Arizona's Love Interest On 'Grey's Anatomy'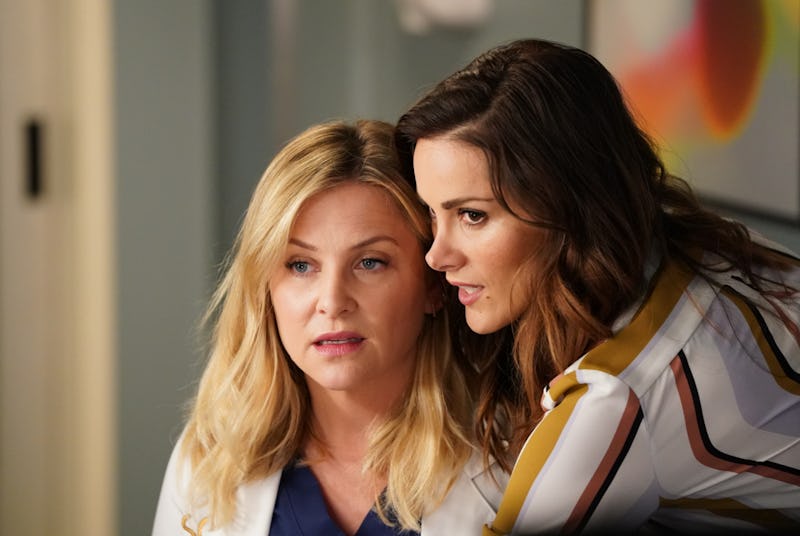 Mitch Haaseth/ABC
When Carina DeLuca first comforted Arizona Robbins in that bar last week, Grey's Anatomy audiences had no idea who this mysterious Italian stranger was. They certainly didn't know she'd soon have women pleasuring themselves in the MRI machines of Grey Sloan Memorial Hospital in order to study what orgasms do to their brains. But Carina is all about women on Grey's Anatomy, and that's what actor Stefania Spampinato loves about portraying her.
"She loves women. Not just because she's attracted to [them], but I feel like she loves being a woman," Spampinato says in a phone interview. "She loves the power that we have as women, and she wants to dig deeper and make sure that we have the same rights that men have."
In essence, Carina is way more than "just" Arizona's new girlfriend — she's impacting major storylines on the show and bringing a whole new perspective. In the premiere, Carina came to the hospital after hearing from her brother, Dr. Andrew DeLuca, that there was a female chief of surgery — someone Carina thought would likely allow her to conduct her groundbreaking studies on the female orgasm with the hope of helping doctors better understand pain management for women.
"I thought it was a lot of fun," Spampinato says of the premise of the study. "While reading the scenes that I had in the first two episodes, I became very excited. I thought it was super interesting. We live in an era where women are trying to empower ourselves, and I thought it was so perfect for the social and political times we live in. I was very excited to be able to portray that character." Audiences can expect Carina to continue her empowered medical stances as the season goes on.
"Like even ... male Viagra. [She wants] female Viagra," Spampinato says. "It's a goal for [Carina] to make sure that she fights for women's rights in this specific realm [of sexual health and pleasure]."
Playing a female character doing groundbreaking work on the series isn't the only reason Spampinato was excited to sign on for the show's 14th season — she's also a longtime Grey's Anatomy viewer.
"I was a fan of the show, so it was even more exciting for me to go to a table read with the whole cast and [creator] Shonda [Rhimes] and Krista [Vernoff, co-showrunner] and the whole team of writers," Spampinato says. "I was literally freaking out. I think it's the most starstruck that I've ever been in my life."
The cast welcomed her with open arms, calming her nerves on her first day. "Everybody was super warm," she says. "Everyone introduced themselves. Ellen [Pompeo, who plays Meredith Grey] ran to me and introduced herself with the biggest smile and it was so, so nice. I have nothing but incredible things to say. That helped me calm myself down for the table read, because if that hadn't happened, I would've been like, 'Oh my God.'"
It's a good thing the cast and crew put her at ease, as she had some serious stories to take part in and some big shoes to fill — something she doesn't seem to have a problem pulling off. Arizona's love life has been a bit of a wild card since Sara Ramirez, who played her wife, Callie, exited the show. Another flame is now lost as Eliza Minnick, controversial hospital consultant, has ghosted Arizona and left town. But Spampinato isn't worried about stepping into a potentially high-profile onscreen relationship, and she says fans have been kind to her, despite any lingering loyalties to Arizona and Callie's popular romance.
"I think this was one of Carina's first lines — because of the internet, people say whatever comes to their minds without thinking of the consequences just because they're hiding behind a computer screen," she says. "So I feel like I try to not give too much importance to mean messages." She adds, "So far, [fans] have been very nice."
Amelia's brain tumor was the source of last week's biggest Grey's twist, and it was revealed when she took part in the MRI study anchored by Carina. Shouldering a plotline involving such a central character's fate is a big responsibility right off the bat, but Spampinato isn't letting the high stakes get to her.
"We found this massive tumor, and I'm so happy that we found it through something that was actually pleasurable," the actor says. "[Amelia] was doing something fun. We found this horrible thing, but it's a good thing. If she wasn't willing to be part of the study then they maybe would never have found the tumor."
No matter what happens next for Amelia or Arizona or Carina, Spampinato's carrying a lot of weight in these first few episodes, and she's excited for audiences to get more of a look at her character after such an explosive introduction. "I could not have thought of a better way to enter the show and that character," she says.
And, given the ground the show covered in the Season 14 premiere, audiences can likely prepare for a good, old-fashioned Grey's Anatomy whirlwind — and Spampinato is thrilled to be along for the ride.