'The Walking Dead' Lost Another Original Survivor & Twitter Is Inconsolable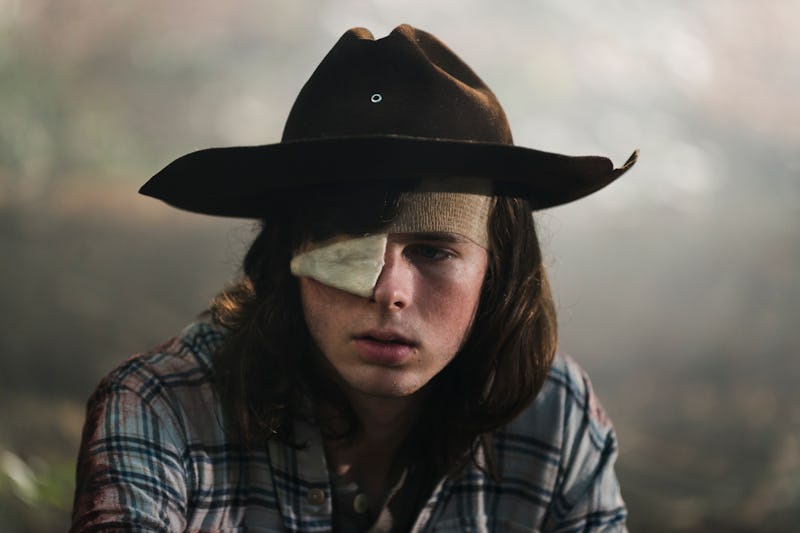 Gene Page/AMC
Spoilers for the Feb. 25 episode of The Walking Dead. The Walking Dead returned from its midseason hiatus on Sunday night, and in doing so delivered perhaps the most devastating blow the show has ever seen. Carl, who has been an enduring and captivating presence onscreen since the show's very inception, met his demise after sustaining a bite from a walker. Carl's walker bite was revealed in the final moments of December's midseason finale, so fans have been both anxiously awaiting its return and agonizing over the inevitable truth that Rick's son was about to be lost. Carl finally died at the end of The Walking Dead, but Twitter started grieving as soon as the episode started. Fans certainly did not calm down as the episode progressed.
A somber indie tune by Bright Eyes accompanied a montage of Chandler Riggs as Carl in the first few minutes of the midseason premiere, and as he was shown playing with his younger sister, Judith, hearts everywhere exploded into a million pieces as we all knew in our guts what was about to come. Some were even remembering Carl's mom, Lori, who died after giving birth to Judith, quoting some of the things she told Carl before her passing. Others were claiming they'd be sick, and others were simply in denial. "Carl didn't die, if you don't watch it," wrote one user. It's OK. We all mourn in our own ways. We'll get through this together. As the episode progressed, slowly revealing more and more of Carl's goodbyes, Twitter only got more and more upset
Carl's final goodbyes with Judith were a really rough scene to get through, and when he decided to give his little sister his iconic hat, that's when all hell really broke loose on Twitter. "This was dad's before it was mine," Carl told Judith as he handed her his hat. "Now it's yours. I don't know, just having it — it always kept Dad with me. It made me feel as strong as him. It helped me. Maybe it'll help you too. Before Mom died, she told me that I was going to beat this world, I didn't. But you will. I know you will."
Heavy sobbing was also heard throughout the country (or at least my apartment) when Carl said his farewells to Michonne. "I don't want you to be sad after this, or angry," he told her. "You're going to have to be strong for my dad, for Judith, for yourself. Don't carry this, not this part. You're my best friend, Michonne." Oh my goodness.
Carl also left Rick with some wise words about pursuing peace instead of fighting with those around him. He told him that he saw how Rick tried to remedy his ways in order to reel Carl in after violence became a sort of second nature to him. Carl urged him to continue that idea of peace — that finally clued viewers into the alternative scenes that had dotted the episode, showing an older Rick living in harmony with a community around him. "I know you can't see it yet, how it could be. But I have," Carl said. "You have a beard. It's bigger and grayer. Michonne's happy. Judith is older. Shes listening to the songs that I used to before. Alexandria's bigger. There's new houses, crops, and people working. Everybody living, helping everybody else live. If you can still be who you were, that's how it could be. It could." This reveal of the nature of the scenes also sent Twitter over the edge.
It makes sense that people are upset to see Carl go — dedicated fans have been yelling at Carl for years to get back into the damn house and stay safe, while at the same time applauding the independent young man that they watched him transform into. The possibility of Carl being put in harm's way has been a driving force for the show — Rick said it himself in Sunday's episode: everything he's done, he's done for the sake of Carl and Judith's safety, making Carl's death an especially difficult pill to swallow. Carl left Rick with such a meaningful challenge — to pursue peace — that it definitely seems like we're going to continue feeling his influence throughout The Walking Dead, even long after he's gone.