'Bachelor In Paradise's Carly Waddell & Evan Bass Had A Baby Shower & The Photos Are So Sweet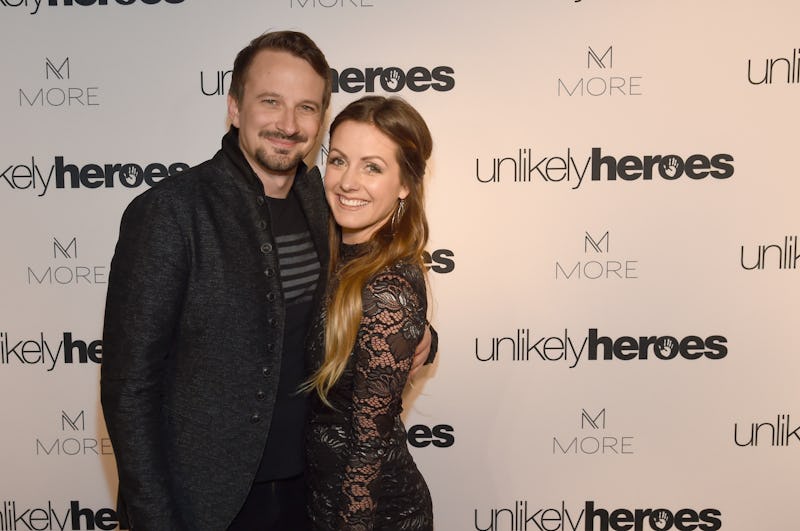 Rick Diamond/Getty Images Entertainment/Getty Images
Beloved Bachelor in Paradise couple Carly Waddell and Evan Bass have a baby daughter on the way and they've been celebrating their new addition. On Sunday, Jan. 14, Bachelor in Paradise's Carly and Evan had a baby shower that had so many Bachelor alums in attendance to celebrate the upcoming arrival of Baby Bella, according to posts on their social media accounts. Also on Sunday, Carly and Evan revealed Bella's full name to the world: Isabella Evelyn Bass. And you bet the baby shower that day celebrated the little one to the fullest in Nashville, Tennessee.
Carly posted an Instagram photo gallery of photos from the day with the following caption:
Yesterday was the most enchanting celebration for Little Bella. We were surrounded by love and laughter from friends and family in a whimsical fairly land. We are now fully stocked with floral headbands, fairy dolls, soft pink swaddles, swings, bouncers, indies, and hand made wall hangings. I would say she's about ready to greet the world.
The photos show Evan and Carly posing together in front of their daughter's initials IBE, along with hanging out with family and Bachelor friends. Carly's Bachelor in Paradise bestie Jade Roper and her baby daughter Emerson "Emmy" Avery were in attendance, as well as Juelia Kinney, and Kaitlyn Bristowe.
Jade posted on her Instagram account from the baby shower, showing daughter Emmy caressing Carly's baby bump. She captioned the photo, "Emmy and Bella are literally besties already."
Kaitlyn also posted a group photo of her, Carly, Jade, Juelia, and Emmy. The former Bachelorette wrote in the caption:
No amount of moisturizer will give you the glow that @carlywad has. I love these women so much! It's so wild to think of how we met and where we are now. So happy for you Carly and Evan, you are already wonderful parents, and I cannot wait to watch your family grow
Earlier on Jan. 14, Carly and Evan announced via Instagram that they would be naming their daughter Isabella Evelyn Bass and posed for the photo with a pink blanket that had "Isabella" on it. Carly wrote in the photo's caption:
Evan and I are SO EXCITED to reveal our little angels name on the sweetest new born blanket from @shophighway3 ! Her full name will be Isabella (Bella for short [heart eye emoji]) Evelyn Bass, and we love her so much already! Can't believe in about one month we will be wrapping her up in this soft, cuddly little number!
On Evan's Instagram account, he posted a photo of himself, Carly, and a little Cabbage Patch doll; in the caption, Evan explained the sweet origin of Bella's middle name, Evelyn:
Well folks, I lost the battle to name our baby girl Evan but I won the war with the name: "Isabella Evelyn Bass." My sweet Grandma Bass was named Evelyn and she was the best and I hope that our daughter is fierce like her.
Evan has three sons, Nathan, Liam and Ensley, from a previous marriage, so Bella will have three big brothers when she is born. Back in November, the couple celebrated Thanksgiving with Evan's sons and Carly posted an Instagram photo of them all together. "Happy Turkey Day from our little family," she wrote in the caption.
Evan and Carly fell in love and got engaged on Bachelor in Paradise in 2016 and got married in wedding televised on the series in 2017.
According to E! News, Bella's due date is in February, so we can expect to welcome the newest member of the Bass family to arrive any day now.