Carly Waddell & Evan Bass Find Out If Their Baby Is A Boy Or A Girl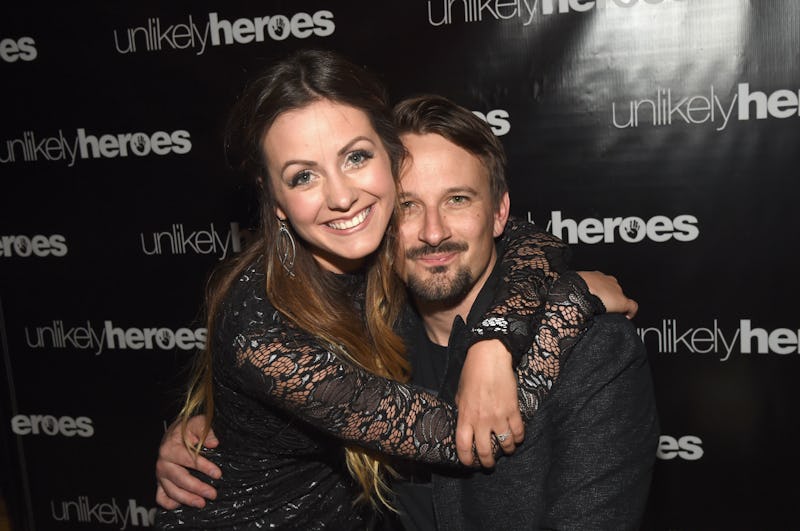 Rick Diamond/Getty Images Entertainment/Getty Images
Evan Bass and Carly Waddell are one of the greatest success stories to come out ofThe Bachelor franchise. The couple met on Bachelor in Paradise and, when the show wrapped up, the two contestants got engaged. Now, a year after the season aired, they're married and expecting a baby together. On Saturday, Aug. 19, Carly and Evan announced that they are expecting a girl, and it's exciting news for both of them. According to social media, the couple had a paradise-themed party to celebrate the news, and they revealed the baby is a girl to fans in a funny Instagram post. The picture shows Carly standing with Evan and his three sons (from a previous marriage), and is captioned with a celebratory message from the future-mom about not being the only lady in the family anymore.
The baby is yet another major moment for the couple, who got married in Puerto Vallarta, Mexico in June. Bachelor host Chris Harrison officiated the wedding, and it was attended by many other former stars from the show. The reality-series stars confirmed the pregnancy to E! News in early August. "We are so excited to welcome this new addition to our family," Evan told the publication. "We wanted to start having children quickly and mission accomplished. We are sooooo happy." The initial announcement did not include whether the baby was a boy or a girl, but on Saturday they finally announced to fans that they would be having a girl.
The post, which appeared on Carly's Instagram, was captioned: "This is our professional Gender Reveal photo! IT'S A GIRL!!!! I'm not the only girl anymore! Woo Hoo!!!! [pink emojis]". The photo shows Carly making a heart over her baby bump, while Evan and his sons all hold up pink party favors and gifts. It's definitely an exciting moment for both parents — while this is Carly's first baby, it will also be Evan's first daughter.
Evan posted a video of the big reveal on his Twitter account on Sunday morning.
According to the Us Weekly, Evan said his sons are thrilled about having a sister. "They really want it to be a girl. They've already got contingency plans if it's a boy, too. He's going to be the next Ronaldo if it's a boy. If it's a girl, we're going to protect her together," he told the publication. "We're a family of boys, and Carly and they want that little girl." The couple also revealed to the publication that they found out about the pregnancy just days after getting married.
Ashley Iaconetti, who is also a former BiP star and a friend of the couple, also weighed in on the announcement to E! News. "It was going to be good either way because they already have three boys, so I thought it would be nice to have a girl in the mix. But then I also wanted it to be a boy so he could one day be together with Jade and Tanner's baby girl. But I'm good either way and I'm really happy for them," Ashley told E! on Saturday. "I mean, that's just so cute to think of the two little girls playing together. It's really insane. This is so crazy guys. My friends are pregnant and having kids!"
Jade Roper and Tanner Tolbert, who got married last year and are another Bachelor in Paradise couple, announced the birth of their daughter on Thursday. Evan and Carly are expecting their baby in February, so it seems like these stars will be able to swap parenting tips and even plan playdates in the future.
It's an exciting time for Evan and Carly, who recently moved to a new house in Nashville for their growing family. That fam will soon have a new member, and both parents seem thrilled to be expecting a girl.