Carnival Will Be Extra Political This Year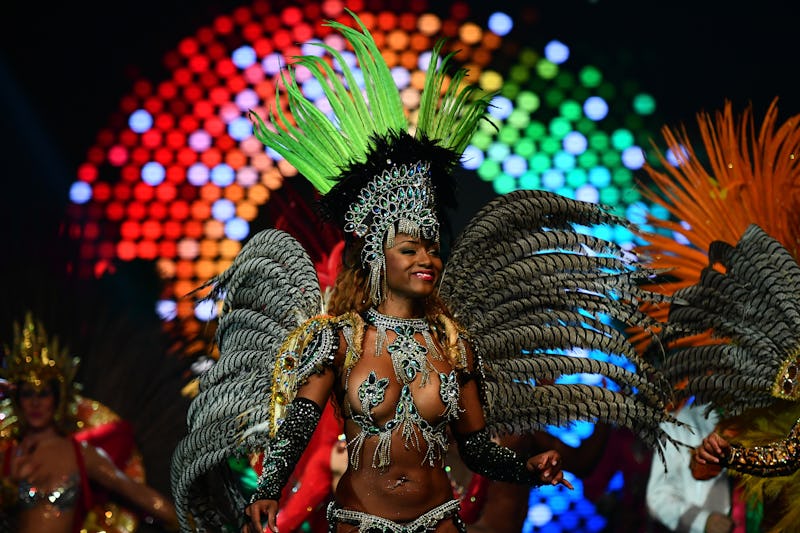 Dan Mullan/Getty Images Sport/Getty Images
The modern Carnival, which starts on Friday in Rio, is one of those fun bits of world culture that, if you look a bit closer, turn out to be pretty serious. This year's Brazilian Carnaval, along with maintaining its reputation as one of the world's most sparking and riotous parties, is also going to be a political event, with news reports that there will be many pointed references to the policies of Donald Trump among the swirling samba dancers and elaborate floats. In case you think this is a hijacking of an innocent public event, think again: carnivals, in history, have often had a political bent, particularly when it comes to lampooning the elite. Trump will probably protest, but he's just a part of history.
Carnivals themselves often mesh with Roman Catholic holidays designed to celebrate excess and use up decadent materials and energy before the 40 days of Lent, which are all about abstinence and self-denial. In that sense, they're part of an existing order of things, a regular pattern of ups and downs. However, their wildness and propensity to take on political dimensions are also echoes of another element of their past: as brief periods where things could be topsy-turvy and societies allowed a free-for-all, where class distinctions didn't exist and anybody could be anything. And they weren't tied to Lent, but could occur throughout the year. It's an intriguing history involving drunken bishops, French riots and anti-fascist protestors, and it's an important part of understanding the nature of Carnival.
Here's what you need to know about the political history of carnivals.