Caroline Gave Arie A Mixtape… And He Played It In The Fantasy Suite With Her Friend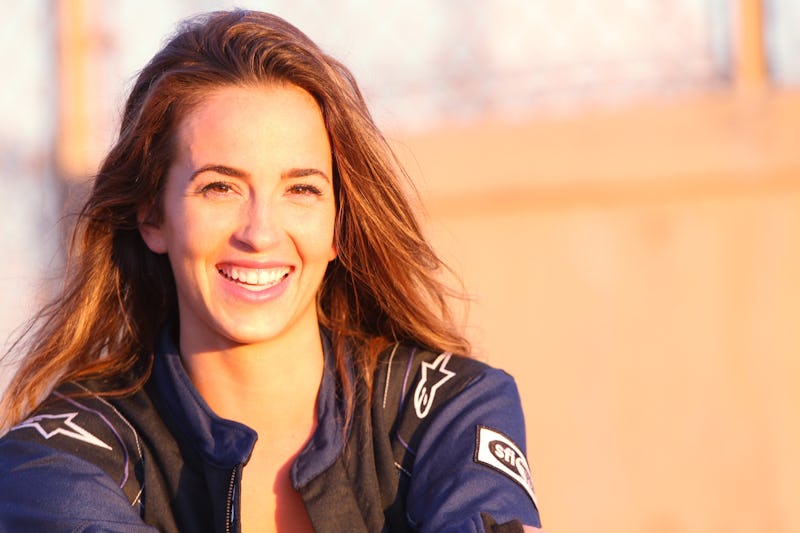 ABC
During the Women Tell All special, Bachelor contestant Caroline Lunny made it clear that she is not a fan of Arie Luyendyk Jr. Her "I know what you did" confrontation piqued interest in the upcoming finale, but she also has another reason to be annoyed. Caroline said that Arie played a mixtape that she made during his fantasy suite date with Becca Kufrin. Really? Out of all the music in the world, he couldn't have listened to anything else? Normally, recycling is encouraged, but not in this case.
In an interview with Us Weekly at the Women Tell All taping, Caroline shared that she gave Arie a USB with a bunch of her favorite songs. Caroline said, "I found out he later used it in the fantasy suite. I'm friends with Becca and she told me! She was like, 'Oh my God we listened to your thing.'"
Caroline added, "It's fine because he knew that we were really close, but I was kind of, like, 'That's a little off-sides buddy, playing my f*cking mixtape.'"
Anyone who follows Caroline and Becca on social media is well aware that they are close friends. They are constantly tweeting each other back and forth, commenting on each other's photos, and tagging each other in Instagram stories. Even if Caroline was cool with it, it's still weird to use something that one woman gave you as a gift to woo another, especially one who she is close friends with.
This revelation isn't the first time that Caroline has outed Arie, though. She called him out during the Women Tell All special when she said, "I know what you did, and I don't know how you could do that. And I just really don't understand, but I really hope you found what you're looking for."
Arie told Caroline, "I think that'll play out in the weeks to come," but she just wasn't having it. Caroline cut him off and added, "You don't need to answer me but I needed to say it."
Caroline came directly for Arie during that episode, but she has also shaded him in interviews and on social media. She told Us Weekly, "I think we all want to have that moment where we're like, 'Hey, you f*cked over my friend, f*ck you." Needless to say, Caroline is not Arie's biggest fan and Arie is well-aware, even taking some digs of his own.
Before the Women Tell All special aired, Arie tweeted a photo of the women with shocked expressions on their faces. Along with the pic, he wrote, "Bachelor in Paradise auditions wait I mean 'Women Tell All' Tune in tonight, good old fashioned drama. #TheBachelor." For a while, the fandom has joked about this reunion episode as a chance for contestants to stand out and secure a spot on Bachelor in Paradise the following summer, but Arie also hashtagged "Know What You Did," which is what Caroline said to him.
Arie also retweeted a post from Bachelor in Paradise alum Evan Bass that said, "It's only been 25 minutes but I think it's safe to call a bachelor in paradise engagement for Caroline. #WomenTellAll." That seemed like a nice thing to say and even for Arie to retweet, but given the BiP audition joke that Arie tweeted, that retweet felt like some shade directed at Caroline. Or at least that's how Caroline interpreted it since she mentioned him directly in a tweet:
After the Women Tell All episode aired, Caroline explained to her followers, "If you've ever had someone you love had their heart ripped out..... you'll get where I'm coming from tonight." Along with that tweet she included a GIF of Charlotte York from Sex and the City yelling, "I curse the day you were born!"
Channeling Charlotte's defense of Carrie Bradshaw (multiple times) is an intense level of anger that only a best friend can achieve. In another tweet, Caroline admitted, "God these Charlotte gifs are too real rn." Caroline is a very loyal and offended best friend.
The social media shade from Caroline wasn't just a byproduct of the Women Tell All special. She's been coming for Arie before that was even filmed, one tweet at a time.
It really seemed like Caroline would last a lot longer on this season, but she didn't and she mentioned him in a post-elimination tweet with a GIF that said "Your loss, baby."
On January 30, Evan Bass tweeted, "I SWEAR TO GOD (or whatever you believe in) ARIE IF YOU BREAK TIA'S HEART I WILL COME FOR YOU AND TWEET AT YOU BAD THINGS #TheBachelor." Caroline quoted that tweet and added, "Tia or anyyy of my friends..... allll the bad things." This is combination with her "I know what you did" soliloquy during the Women Tell All episode make it seem like Caroline is livid about a good friend's heartbreak.
On top of that, when Tia actually got eliminated on the February 19 episode, Caroline referred to Arie as a "dumb boy."
So, what did Arie do that has Caroline so heated. Unfortunately, she has not been at liberty to publicly discuss the specifics, but she has hinted that the finale is must-see TV. It may have seemed like Caroline went hard on Arie on The Women Tell All, but she tweeted, "I had to go easy on him. Ask me again when it's all over." Caroline also admitted, "I held back.... I couldn't give any spoilers. Ask me again after the finale."
And, just to make it clear she also teased a dramatic finale with another tweet, complete with a wilting rose:
Caroline has hyped up this Bachelor finale better than host Chris Harrison has for the previous 21 seasons — combined. It sure sounds like juicy television, but it's also obvious that someone is in store for something bad.