Oprah Shows A Different Side Of Reynolds & Fisher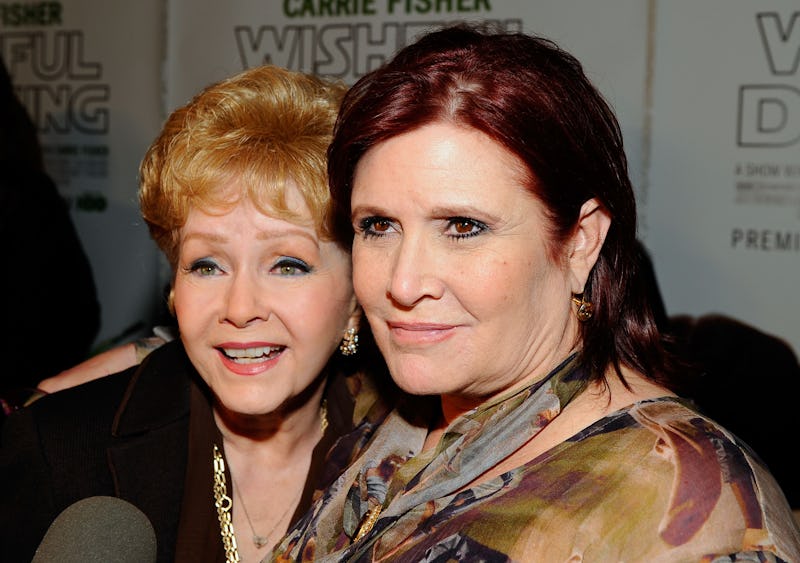 Kevork Djansezian/Getty Images Entertainment/Getty Images
Before there was Star Wars' Princess Leia, there was Singin' in the Rain's Kathy Selden. There's no doubt that actresses Carrie Fisher and Debbie Reynolds — who passed away on Tuesday and Wednesday, respectively — made for an iconic mother-daughter duo. Despite their successful acting careers, they didn't often appear on screen together, but one Oprah interview with Fisher and Reynolds showed the side of their famous relationship that usually went unseen.
It's no secret that Fisher and Reynolds shared a rocky relationship. Fisher's brutally honest nature and comedic whit often led her to speak out about her family relationships — not just with her mother, but also with her father, singer Eddie Fisher, and brother. From the public's perspective, Fisher's family life was marked by her parents' divorce and their respective remarriages.
Fisher and her brother grew up very much in the spotlight — and she wasn't always for the better because of it. As she struggled with drug addiction and mental illness, Fisher apparently pushed her mother away. The conversation they shared with Winfrey detailed that phase of their relationship, as well as the happiness that they had both achieved in the time since those tumultuous years.
"My lowest point in Carrie and my relationship was probably when we discovered that she was ill, or that she had this mental health problem, and that it was going to be with her forever," Reynolds said on Oprah. Fisher suffered from mental illness throughout much of her adult live, even spending a brief time in rehab. During her struggle, Fisher apparently pushed her mother away.
We had a fairly volatile relationship earlier on in my 20s. I didn't want to be around her. I did not want to be Debbie Reynolds' daughter.
Fisher seemed to struggle often with her family's fame. At the outset of the Oprah interview, she spoke of a lesson she learned from growing up with famous parents. "Eventually all fame will disappear, and I watched that happen," she said. "So I never wanted to go into show business… I watched that be heartbreaking." ‌
Not to mention, it couldn't have been easy growing up in the shadow of one of the world's most glamorous women. "My self-image is just whacked from having the movie-star mom," Fisher told Winfrey. (There's that brutally honest nature.)
At the same time, Fisher also grew up in the shadow of an equally famous father. Eddie Fisher famously left Reynolds for their close friend, the one and only Elizabeth Taylor. Fisher was young when her parents split — less than two years old — but, as she told Winfrey, her father seemed to leave a void in her life.
I was defined more by his absence than his presence.
It's evident from the Oprah interview and other instances that Fisher and her family were not always close. However, she seemed to develop an appreciation for her mother and her upbringing when it was all said and done. "I am a strong person, I'm not afraid of almost anything, and that's a lot because of your example," she said of — and to — her mother. You can watch the segment in full below:
Video: YouTube/Roscoe Domashev