See Carrie Underwood's Golden Globes Dress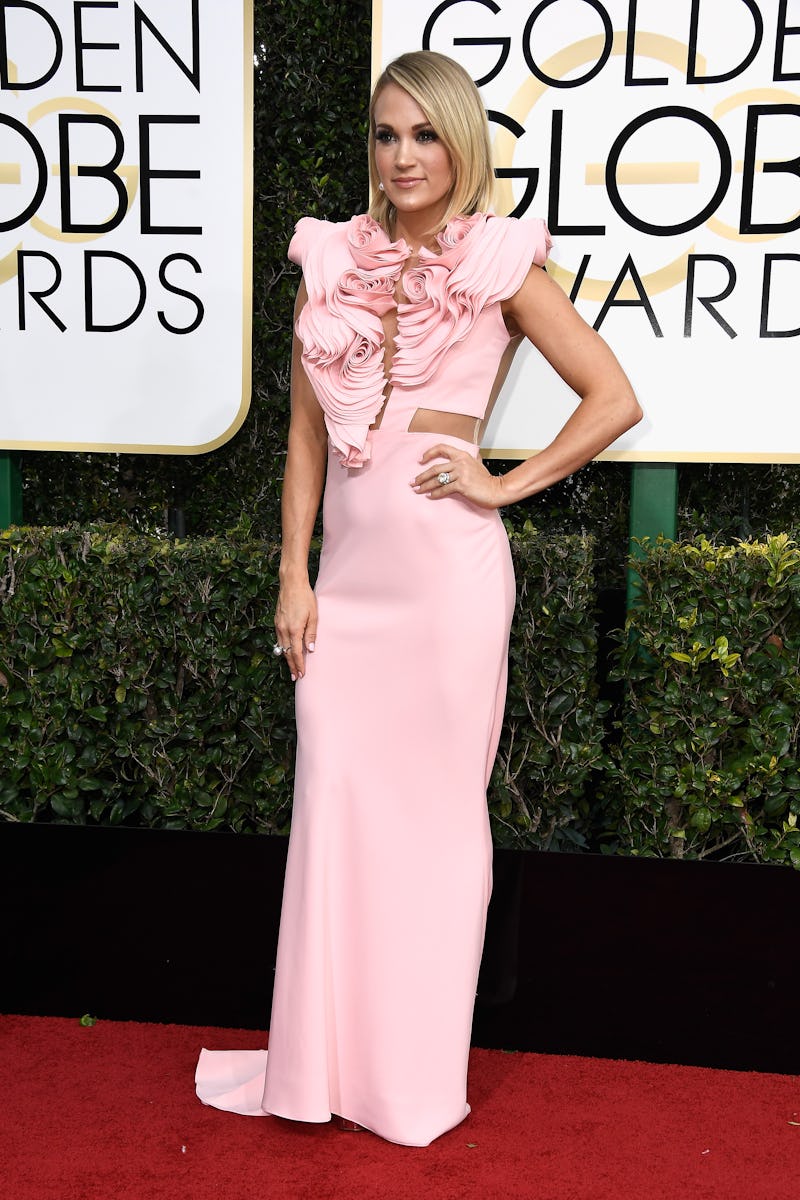 Frazer Harrison/Getty Images Entertainment/Getty Images
The 2017 Golden Globes are here, which means so are the bold fashion moments. Carrie Underwood wore a pink floral gown to the Golden Globes, but not everyone was into it. Twitter reactions about Underwoods outfit were, well, let's just say mixed. While some people loved the ruffly floral outfit, others think it's a bit out of season.
This singer is no stranger to awards shows. She's performed, won awards herself, and now she's presenting as well. Fans were excited to see what she would wear for the big night, but now that she's there, the outfit has some people mixed. The light pink, floral-inspired gown has a peony-esque collar and an unexpected ab-flaunting slit in the middle.
Twitter fans were completely split by the look. While some fans thought that the color and cut were a perfect pick, other people has less flattering things to say. No matter which side you're on, one thing's for sure — the star rocked it. She had so much confidence on the red carpet that I don't think she was worried about what anyone was saying. Here's a look at the gown, so you can decide for yourself which team you're on.
It's definitely a fashion risk.
Those abs though!
Can't make your mind up? Don't worry, because Twitter is here to help you figure it out. Like I said before, fans are completely torn about this look. Here are some of the top reactions.
Underwood's dress might actually be frosting.
Some people think she might win best dressed.
Not the most flattering description.
The deli meat comparison should not go overlooked.
This is a great way to put it.
Not the best and not the worst.
Too much?
...No comment.
What a great way to put it.
Brb, crying.
New marketing technique?
I'll take that as a yes.
Add cupcake to the list as well.
There's still some fans out there too.
Turning a negative into a positive.
Needless to say, people are torn about the design.