Carrie Underwood Is "Not Quite Looking The Same" After She Got 40 Stitches On Her Face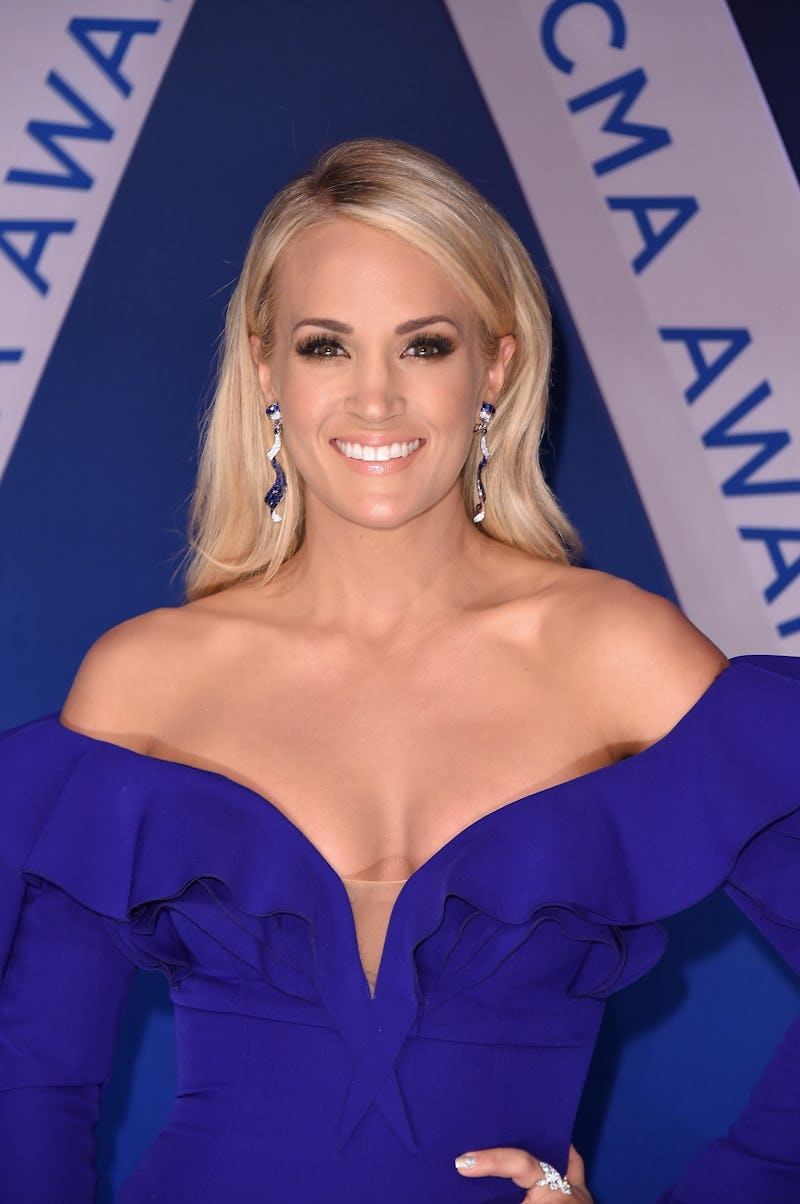 Michael Loccisano/Getty Images Entertainment/Getty Images
One former American Idol winner has once again proven that not only is she a complete ray of sunshine, but she's a total trooper, as well. Carrie Underwood shared new details about her injury from November 2017 that provide more insight into what sounds like a terrible incident. Yet, Underwood's fighting spirit and positivity still shines through.
UPDATE: As Bravo's The Daily Dish reports, Below Deck star Adrienne Gang apparently took a photo with Underwood post-injury, which can be seen on her Twitter.
EARLIER: According to a fan on Twitter, the singer sent a note along to her fans to provide an update on her recovery. In her statement, Underwood said, "Most of you know that I tripped and fell and broke my wrist in November. I'm still doing regular physical therapy for that, but all is coming along." She then revealed another issue she had been dealing with because of her fall. She wrote:
In addition to breaking my wrist, I somehow managed to injure my face as well. I'll spare you the gruesome details, but when I came out of surgery the night of my fall, the doctor told Mike [her husband, Mike Fisher] that he had put in 40-50 stitches in. Now, here we are 7 weeks later, and even though I've had the best people helping me, I'm still healing and not quite looking the same.
Bustle reached out to a rep for Underwood for additional comment, but did not receive a response at the time of publication.
It's a heartbreaking revelation from the singer, who has been dealing with her injuries since the incident on Nov. 10. Underwood also revealed that she "might look a bit different" when she appears in public again. But, she ultimately ends her statement on a hopeful note. She thanked those who have helped her through such a difficult period. And while she said that she has "a ways to go" in her recovery, she's not letting her injuries hold her back. She said that she's already "heading back to the studio" to record even more new tracks for her fans, which is surely a good sign that the singer's doing well in her recovery. Take a look at her statement, in full:
This news comes after her injury was reported back in November by The Tennessean. The publication reported that Underwood suffered her injuries after she fell down the steps outside of her Nashville home. The singer's spokesperson revealed at the time that Underwood had a broken wrist and cuts and abrasions due to the fall, according to The Tennessean.
In response to the report of her injuries, the singer took to Twitter to let her fans know what was going on:
Underwood later tweeted another update on her condition:
Ever since the singer's accident, she has yet to be seen in public or at any events. She was supposed to appear only days later at a Country Rising benefit event on Nov. 12, in support of the victims of the Las Vegas shooting in September 2017 and the victims of the Hurricanes Puerto Rico, Florida, and Texas, but was unable to attend due to the incident.
Underwood was also unable to attend the American Music Awards in November, where she won Best Female Artist - Country. However, the singer did tweet out her thanks to her fans.
In a recent Instagram selfie, Underwood gave fans a glimpse of herself in what was the first new photo of the singer in months. She posted an image of herself, with a scarf covering the majority of her face, during what seems to have been a family vacation with her husband and son, Isaiah.
The singer's fans have taken to social media to wish her well during her recovery. Many fans echoed similar statements and said that whether or not Underwood looks "a bit different" after the incident, she'll always be beautiful to them, inside and out.