Carrie Underwood Got Super Honest About How Her Face Injury Caused A Really Hard Year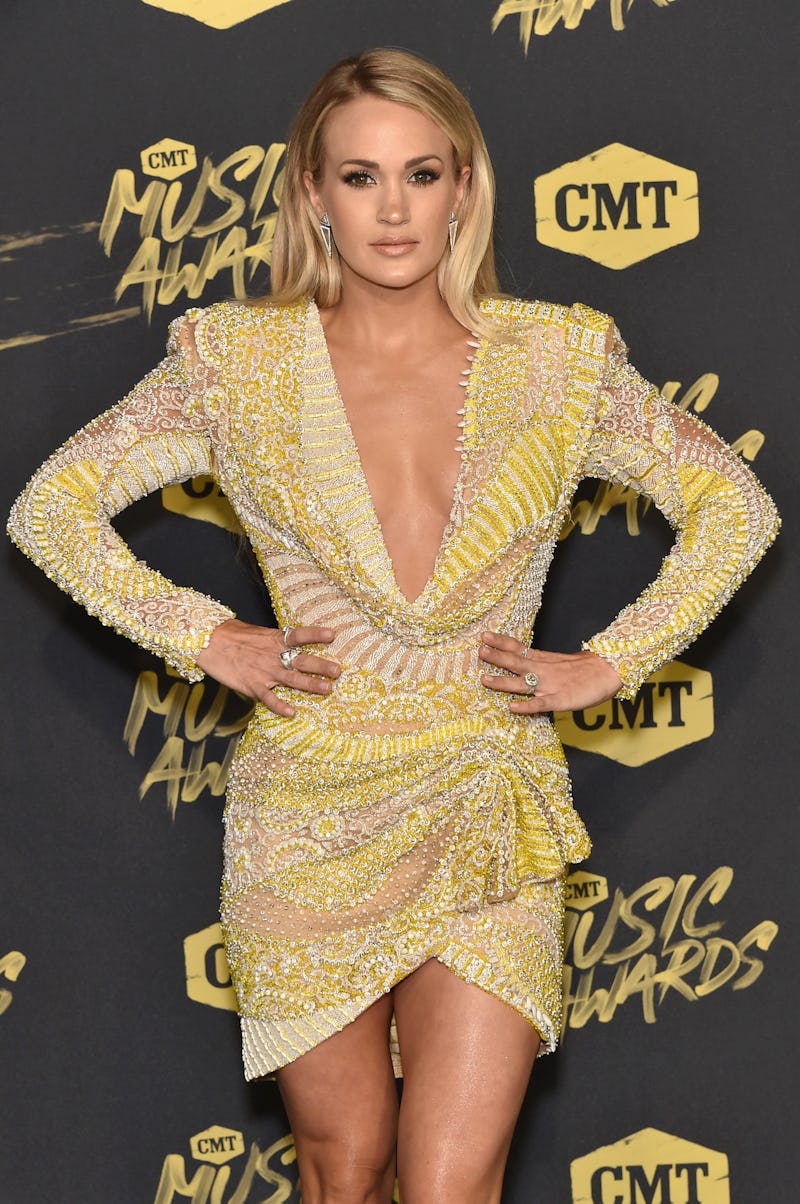 Mike Coppola/Getty Images Entertainment/Getty Images
In an interview with Redbook as the magazine's September cover star, Carrie Underwood opened up about her face injury. She's previously discussed the aftermath of tripping down a set of stairs outside her Nashville home in November 2017, which resulted in a broken wrist and 40 to 50 stitches in her face. However, this time, the "Cry Pretty" artist was even more vulnerable and honest about how the incident affected her. Underwood admits the injury and everything else she encountered made for a truly difficult year.
In addition to telling Redbook that 2017 became a "soul-searching year" for her, Underwood explained how hard of a year it was for her. "There were some personal things that happened," she said without elaborating. "And I had the accident and all of that to get through ... and just life. Life is full of ups and downs, and I might have had a few more downs than ups last year."
That said, the American Idol winner didn't let the hardships stop her from living her life or putting out another album, nor did Underwood allow rumors and speculation about her injury prevent her from moving forward.
"I'm on some magazine every other week for something crazy," she told the magazine. "It's a little sad, because the truth is just as interesting I wish I'd gotten some awesome plastic surgery to make this [scar] look better. But I try not to worry too much about it." She continued, "My mom will be like, 'Did you see they are saying this about you?' And I'll be like, 'Mama, I don't care. I'm just trying to raise my son and live my life.'"
In November 2017, Underwood first opened up about her fall. On Nov. 15 of last year, she tweeted, "I just wanted let everyone know that I'm doing great," Underwood wrote. "Had surgery on my wrist yesterday & all went well...even though I'll be setting off airport metal detectors from now on...I'm so thankful for the doctors, nurses, family & friends who've been taking such great care of me."
Her rep also released a statement to Entertainment Tonight. "On Friday night, Carrie Underwood took a hard fall on some steps outside her home," the statement began. "While there were no life-threatening injuries, she was taken to the hospital to be treated. She sustained multiple injuries including a broken wrist and some cuts and abrasions from the fall."
It wasn't until Jan. 2, 2018 Underwood revealed she sustained injuries to her face. In a fan letter (via Vanity Fair), she said she received "between 40-50 stitches" in her face and was "still healing and not quite looking the same." She also said about returning to the limelight, "I'm hoping by then the differences are minimal, but, again, I just don't know how it's all going to end up."
In April, Underwood opened up further about her accident on iHeartRadio's The Bobby Bones Show (via People). "I was taking the dogs out to go pee one last time, and I just — I tripped," she explained. "There was one step, and I didn't let go of the leashes! Priorities! So that's why my left hand's fine. But I went to catch myself and I just missed a step."
Even though Underwood believed others would think she looked different post-injury, she told Redbook people can't see the changes. However, she, herself, sees the differences when she looks in the mirror.
"Any time someone gets injured, it looks pretty bad in the beginning, and you're like, 'What is this going to wind up like?' You just don't know," she told the magazine. "It was also a perception thing, because I look at myself [now] and I see it quite a bit, but other people are like, 'I wouldn't have even noticed.' Nobody else looks at you as much as you think they do. Nobody notices as much as you think they will, so that's been nice to learn."
Despite the struggles that have come with her injury and whatever else she faced in 2017, there's no denying Underwood has handled it with so much grace and strength.