Cary Elwes' 'Stranger Things' Season 3 Character Will Be WAY Different Than 'The Princess Bride'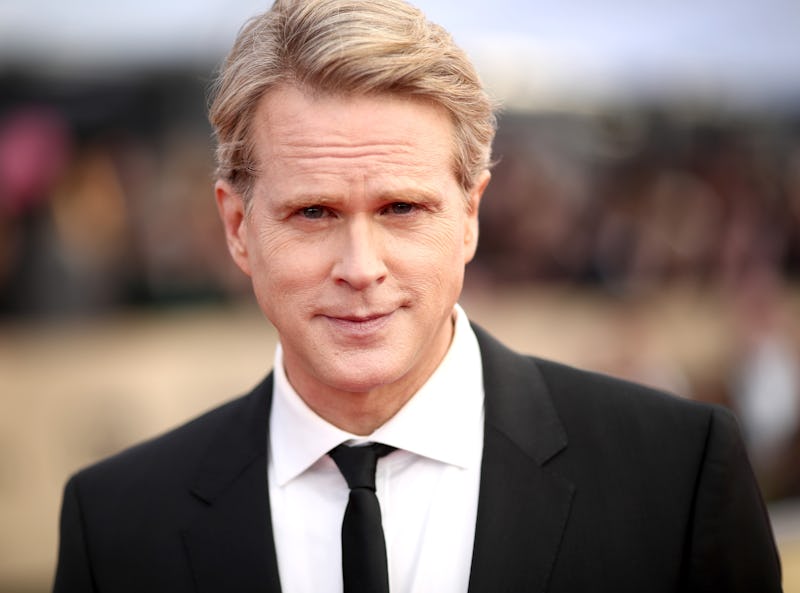 Christopher Polk/Getty Images Entertainment/Getty Images
Hawkins, Indiana is getting some fresh blood in Stranger Things Season 3 — and the nostalgia factor is as good "as you wish." He'll forever be in our hearts for his valiant journey to rescue Buttercup as Westley in 1987's The Princess Bride, but Cary Elwes is joining the cast of Stranger Things Season 3, Netflix announced Wednesday, April 18. Also joining the sci-fi smash: Jake Busey, who you might also remember from 1997's Starship Troopers.
With all the amazing Easter eggs to the fashion and the music, the Netflix hit's ability to give us all the '80s feels always has our heads spinning upside down — in a good way, of course! And in Season 2 how could we not be transported back to 1985 when Sean Astin came on board as the love interest of Winona Ryder's Joyce? He left a Goonies-sized hole in our hearts at the end of the season though. (But Goonies never say die, so we'll leave it at that.) And let's also not forget the addition of Paul Reiser from 1986's Aliens.
From the sounds of his character's description, though, Elwes may not be quite as chivalrous as the '80s character you'll undoubtedly think of when you see him onscreen, with Netflix using the words "handsome, slick, and sleazy" to describe his Mayor Kline. "Your classic '80s politician – more concerned with his own image than with the people of the small town he governs," they added.
But even the official Stranger Things Twitter account and actor David Harbour couldn't help but make Princess Bride references to this casting news.
For his part, Busey (yep, he's Gary Busey's son) will play "a journalist for the The Hawkins Post, with questionable morals and a sick sense of humor." Hm, sounds like Eleven, Mike, Will, Dustin, Lucas and co. will have their hands full with more than just demogorgons when the Season 3 premieres with 8 new episodes sometime next year.
She's not exactly a new face, but fan fave Priah Ferguson (a.k.a. Lucas's hilarious one-liner master sister Erica) will get more screen time "to roast us all" in Season 3, having been promoted to a series regular. Netflix also previously announced that Maya Thurman-Hawke is also headed to Hawkins as "alternative girl" Robin. "That is her literal character description so get ready for some angst," Netflix tweeted March 2. They further described her "equal parts sharp and playful" character as being bored with with her mundane day job and wanting "a little excitement in her life." Well, she came to the right place because they added that she "gets more than she bargained for when she uncovers a dark secret in Hawkins."
Like her soon-to-be new castmate Busey, Thurman-Hawke also has famous actors in the family. As her name may have given away, she's the 19-year-old daughter of Uma Thurman and Ethan Hawke. She recently starred in a BBC adaptation of Little Women — and her dad couldn't have been prouder of his girl's foray into acting.
"She was always an artist, writing poems, singing songs," he gushed to People earlier this year. "She didn't discover acting until junior year of high school. It's one of the most amazing moments of my life watching her in Little Women. She didn't do a good job, she did a great job. To see your child thrive, and to see her thrive at a profession that you have a lot of respect for, that I've dedicated my life to, I was so proud of her."
Casting news aside, what else can fans look forward to in Season 3? "It's very much the Stranger Things I think people know and love," executive producer Shawn Levy teased to Entertainment Weekly last month. "It's big and spooky. Season 3 has legitimately creepy moments and events, but it's incredibly warm and character-based because at the end of the day, I think that's what people love most about Stranger Things."
Sounds good to us! With these newest blasts from the past set to shake things up in Season 3, there's no doubt we'll be grabbing our Eggos and settling in for a Stranger Things binge-watch session as soon as it hits our Netflix queues.