Casey Anthony Spoke Out About Her Daughter's Death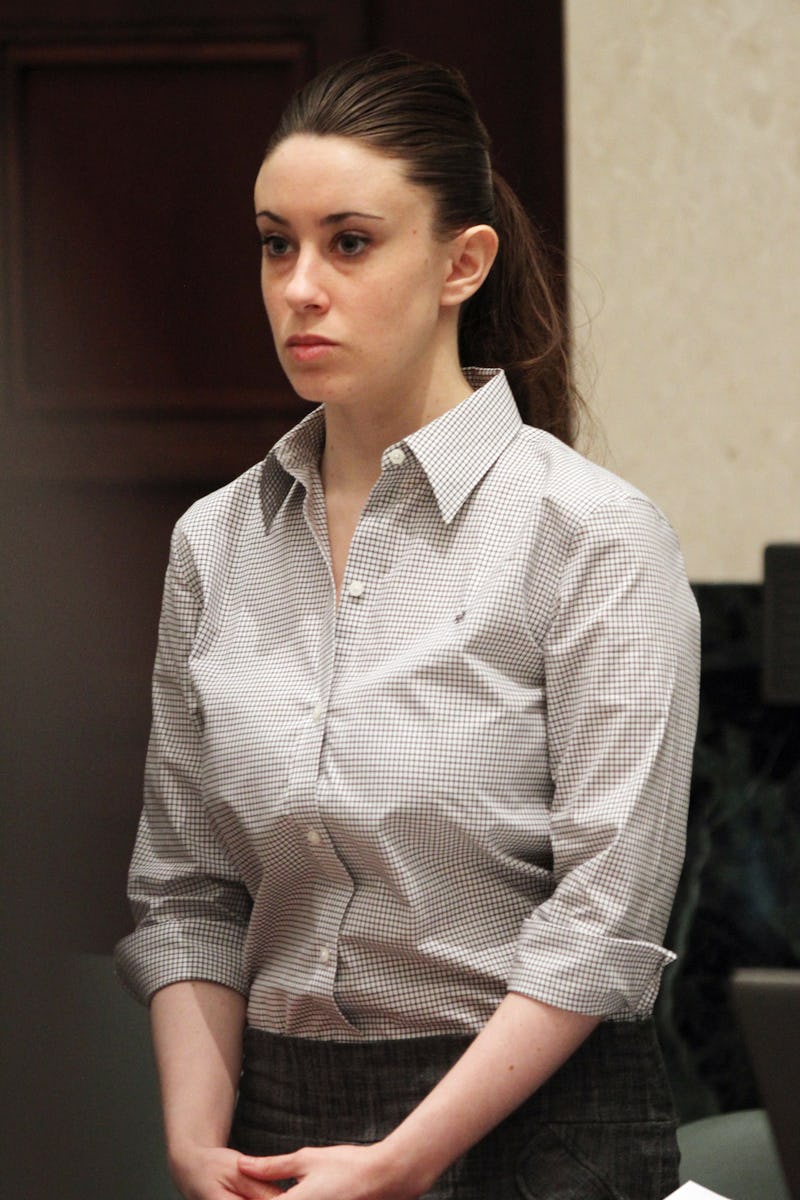 Pool/Getty Images News/Getty Images
It's been almost six years since the murder trial for the death of Caylee Anthony captured America's macabre fascination, and all that time the woman at the center of the case has remained silent — until this week. Casey Anthony finally spoke out about her daughter's death Monday in an extended interview with the Associated Press, divulging about her life after the trial and what she really thinks happened to her daughter.
The mysterious circumstances surrounding Caylee's death led to a media frenzy the likes of which had rarely been seen, even in other celebrity cases like the murder trial of O.J. Simpson. Caylee's grandmother reported her disappearance to the police on July 15, about a month after the last time she had been seen alive. Anthony struggled to provide an explanation for why she hadn't informed authorities that her daughter was missing sooner, and her false statements about whom she had told and what she thought had happened eventually led to her only conviction in the trial, providing false information to law enforcement.
Almost six months after she was seen alive for the last time, Caylee's body was found in a trash bag in the woods. In 2011 when the trial commenced, the world followed along as talking heads screamed about Anthony's alleged guilt; the case also dominated social media all the way to the verdict's announcement.
Anthony told the AP she gets why the world made the conclusions that it did about her guilt. "I understand the reasons people feel about me. I understand why people have the opinions that they do," Anthony said. But she has still remained adamant that she doesn't know how Caylee died.
Everyone has their theories, I don't know. As I stand here today I can't tell you one way or another. The last time I saw my daughter I believed she was alive and was going to be OK, and that's what was told to me.
Anthony's trial was a culturally revealing moment for the United States as the ambiguities of the case created strong, polarized opinions about the defendant, many of them predicated on her youth and gender. Although she never mentions in the interview whether she thinks sexism shaped her treatment by the public, many believe it was undeniably a factor. The young mother was eviscerated daily online for years, even long after the case ended.
"She looks pale and frail, with her hair back in a ponytail like a cheerleader," former HLN personality Nancy Grace once commented about Anthony's appearance in court. The then-recent advent of social media allowed online discussion and theories about the trial to blossom largely unchecked, which led to her harsh treatment in the court of public opinion, even though the legal court found Anthony not responsible for Caylee's death. Now that she's back in the news, the comments have started up again already.
According to her interview, Anthony derives much of her purpose in life now from her work as a legal investigator with the firm that represented her in her own trial — her social life doesn't get very far after she first introduces herself. "I love the fact that I have a unique perspective and I get a chance to do for other people what so many others have done for me," Anthony said.
Anthony seems comfortable with her circumstances, which is certain to be viewed by the public as either a sign of her guilt or innocence, depending on preconceived notions about the case. But she says she doesn't care either way. "I don't give a s--- about what anyone thinks about me, I never will," Anthony told the AP. "I'm OK with myself, I sleep pretty good at night."