'Bachelor' Fans Will Adore Catherine's Early Father's Day Tribute To Sean Lowe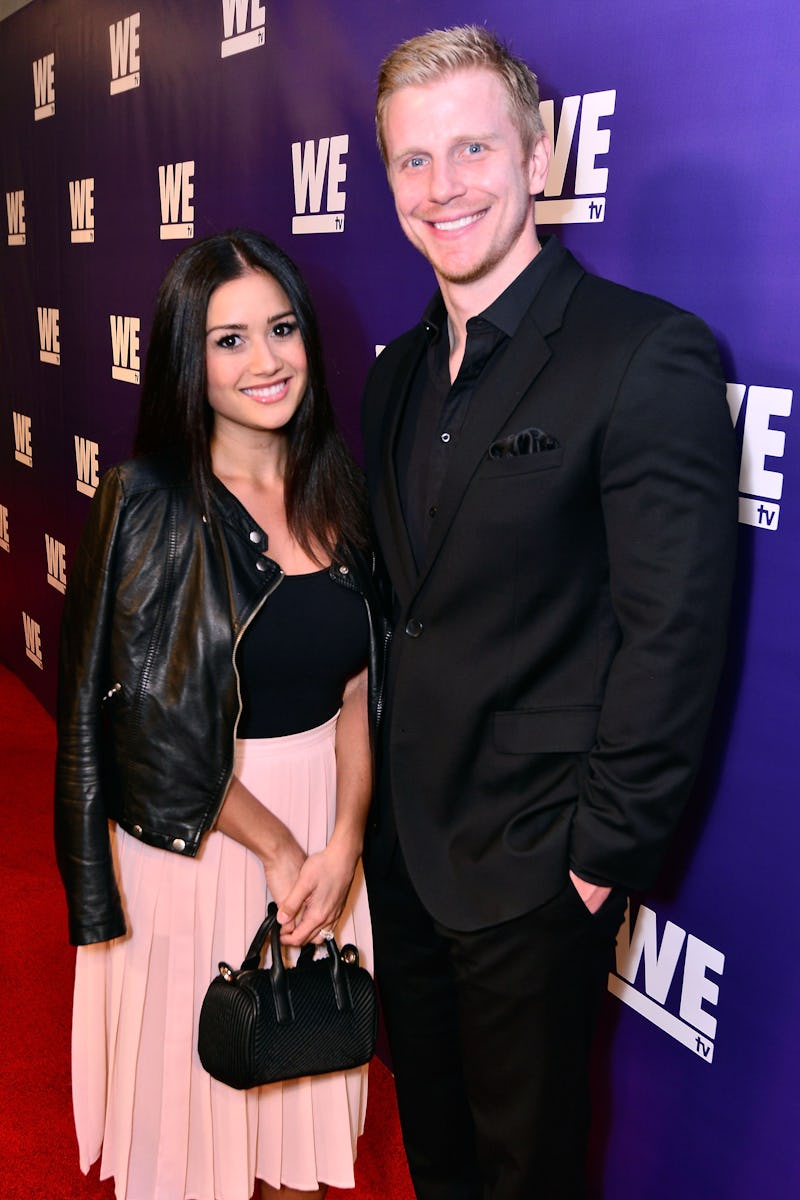 Jerod Harris/Getty Images Entertainment/Getty Images
Bachelor Nation royalty, Sean and Catherine Lowe, are still going strong, according to one of her recent snaps. As People noted, Bachelor alum Catherine posted a photo of Sean to celebrate Father's Day a little early. And it just might be the cutest thing you'll see all day.
Catherine said that while she's been posting a slew of photos featuring her little ones, she wanted to change things up a little bit and put the spotlight on her adoring husband. To do so, she posted a photo of her husband cradling their newborn, Isaiah, on Instagram on Thursday. "This man has been so extremely patient, attentive and loving toward me and our boys since I got pregnant with Isaiah," she wrote in the caption of the pic.
The former Bachelor contestant said that she wanted to get her Father's Day tribute in early (the holiday isn't until June 17) because he's a great dad year-round. "Father's Day is on Sunday but I really appreciate everything he does for us on the daily," she said, "The guy you witnessed on The Bachelor/ette, that wholesome, respectful, hot, family guy is still around."
She then related how lucky she was to have Sean in her life, especially without having to share him with 20 other women on a reality show, "this time, I'm the only woman in his life and he makes sure I know that every day." Um, can these two be any cuter? Spoiler alert: Nope! If there's one thing that you can take away from Catherine's kind post, it's that these two are still totally the definition of relationship goals.
Her tribute to Sean comes only a few weeks after the couple welcomed their second child, Isaiah Hendrix. According to Entertainment Tonight, Catherine gave birth on May 18. The news was confirmed by the parents . themselves on their respective social media pages. The former Bachelor lead was pictured holding his son on Instagram and, in the caption, wrote, "Meet my boy, Isaiah Hendrix. Thank you lord." Similarly, his wife held their son in a photo on Instagram where she also introduced him to the world by saying, in part, "Introducing Samuel Thomas' little brother."
A couple of weeks after Isaiah's birth, Sean gave an update on how his family was doing. In an interview with Us Weekly, which was published on June 12, he talked about his parenting skills and even got super real about the messier side of parenthood. "I don't think I've gone through the day wearing one clean shirt because I'm constantly spit up on," he revealed.
Despite all of the hardships that come with taking care of a newborn, the former reality star is totally fine with all of the challenges. "It can wear on your nerves. But I think, 'It's OK. They're just kids. It's all going to work out," he told the publication.
Sean and Catherine are already parenting pros, as they welcomed their son, Samuel, in July 2016, per Us Weekly. At the time, the new dad confirmed the news about their new arrival on Twitter by thanking all of his followers for their "prayers and support."
Considering that they're already rocking the parenting game, could there be even more children in their future? Based on Sean's comments, it's definitely possible. He told Us Weekly that they'll "probably" try for a girl in the future. "I would like to try to see if we could get a little girl that looks like mama," he said. But, he also related that he's enjoying life as a father of two. So, who knows?
Fans will just have to wait to see what else is in store for the Bachelor alums and their adorable family.