Cecile Richards Says Ivanka Tried To Get Her To End Abortions At Planned Parenthood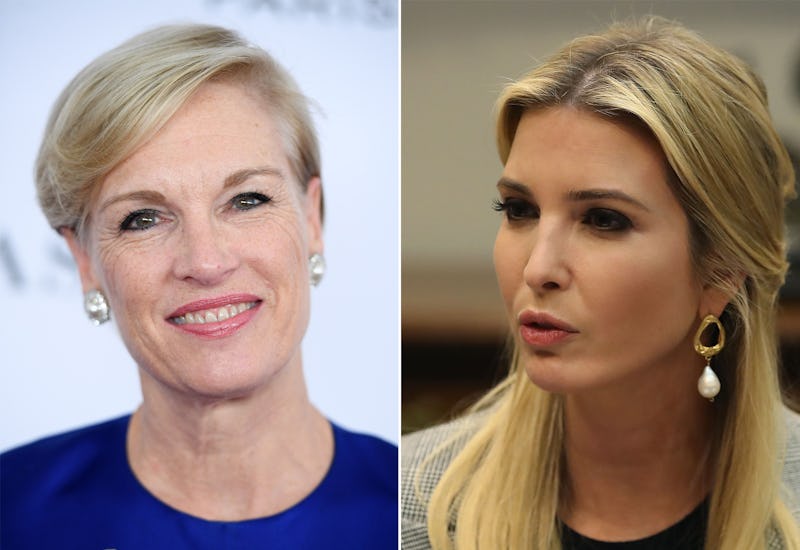 Dimitrios Kambouris/Getty Images Entertainment/Getty Images / Mark Wilson/Getty Images News/Getty Images
In her new memoir Make Trouble: Standing Up, Speaking Out, and Finding the Courage to Lead, the chief of Planned Parenthood reveals what it was like to try to safeguard female reproductive health during the presidential transition early last year. The assault against women's health reportedly came in part from the president's daughter: One section of the book claims that Jared Kushner and Ivanka Trump asked Cecile Richards to end abortions at Planned Parenthood — saying that the organization would have its federal funding protected in return.
Richards writes that she met Ivanka in a January 2017 meeting with her husband, Jared Kushner. She explains that she took the appointment because she'd been told that Ivanka might be a "potential ally in the administration." By that time, it was already clear that President Trump and his officials were antagonistic toward Planned Parenthood. As a candidate, Trump said that he was in favor of defunding the organization and would even shut the government down to do so.
But he also made some more favorable comments about Planned Parenthood, and Richards was careful to foreground these when speaking publicly about him at the beginning of his term. In an MSNBC interview at the time, she said she had faith that Trump would ultimately work to support Planned Parenthood, which she called a "non-partisan" organization. She added that she'd be willing to make a deal with the president to protect women's health if necessary, saying, "We're always at the table. I mean we talk to everybody."
Richards writes in Make Trouble: "Even if there was only a sliver of a chance of changing anyone's mind, I owed it to Planned Parenthood patients to at least take the meeting" with the president's daughter.
But as it turned out, her conversation with Ivanka and Jared was not productive. Richards claims that the two proposed protections for the organization if it stopped offering abortions. She writes that she didn't tolerate the idea for a minute.
As Richards tells it, Kushner said that Planned Parenthood "had made a big mistake by becoming 'political'" and that the "main issue ... was abortion." So Kushner reportedly made her an offer. Richards writes:
If Planned Parenthood wanted to keep our federal funding, we would have to stop providing abortions. He described his ideal outcome: a national headline reading "Planned Parenthood Discontinues Abortion Services."
According to The New York Times, Trump suggested to Richards that Planned Parenthood split in two, with one branch offering abortions and the second other services.
Bustle has reached out to the White House and and Ivanka and Kushner's spokesperson for comment.
Richards says that she "shut down the conversation" and told the pair that there was "no way" their idea was viable. "It was surreal, essentially being asked to barter away women's rights for more money," she reflects in her book. She reportedly told them: "Our mission is to care for women who need us, and that means caring for all of their reproductive needs — including safe and legal abortion."
According to Richards, the motives of Ivanka and Jared were self-serving. "In their eyes, if they could stop Planned Parenthood from providing abortions, it would confirm their reputation as savvy dealmakers," she writes.
News of the meeting between Richards and Trump's kids first broke in April of last year. Planned Parenthood said in statement that the meeting's purpose was to make sure that Ivanka Trump was fully informed about Planned Parenthood's important role in promoting women's health. Richards commented on the meeting in July, telling People Magazine, "At the time, [... Ivanka] sounded like she was sympathetic, but I will tell you this White House has been worse for women than any administration I've seen in my lifetime. It's been very, very disappointing."
It's unclear how much influence Ivanka actually has over her father about Planned Parenthood, but at the very least she's been unable to prevent him from making many hostile moves toward the nonprofit since becoming president. His May 2017 budget proposal would have defunded the organization. This January, he got rid of Obama-era guidelines that encouraged states to fund the group.
Although Richards has been willing to speak to the White House about Planned Parenthood, she hasn't spared the administration public criticism. Her speech at the Women in the World Conference last April asserted that women had been in the "crosshairs of every single policy we've seen in this administration."
Richards plans to retire from Planned Parenthood soon after heading the organization for 12 years.