Beyoncé's Friends & Family Just Gave Her The BEST Birthday Tribute Ever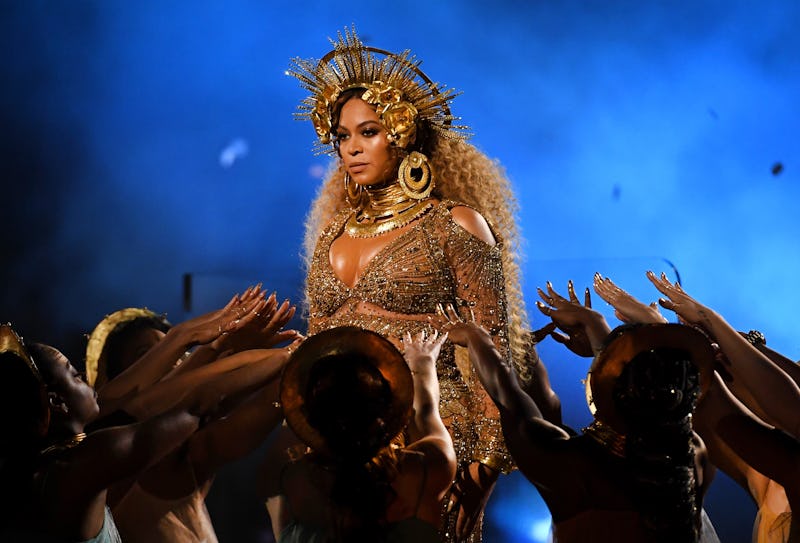 Kevork Djansezian/Getty Images Entertainment/Getty Images
It's not only a national holiday on Monday September 4, but it also happens to be Beyoncé Knowles-Carter's birthday. As such, it's only reasonable to that Queen Bey would be flooded with birthday wishes from her friends and family. What you may not have expected was that Bey's friends and family doing a Formation-style birthday photo shoot to honor her. The tribute included women like Beyoncé's mother and mother-in-law as well as the appearance of one Michelle Obama. This birthday collage of warm wishes from the powerful women Beyoncé's knows will give you life, whether you're a member of the BeyHive or not.
The photo set shows each participating woman dressed in one of the most iconic looks from the music video for "Formation": a wide-brimmed hat, long black braids, an off-the-shoulder top and the statement necklace from the video. You can only see the lower halves of the faces of Obama, Tina Knowles Lawson, Serena Williams, Ms. Gloria Carter, and Kelly Rowland, but there's no denying this is an amazing group of women coming together to honor a special woman on her special day.
The photo set first appeared on Beyoncé's website on Monday and was quickly disseminated through the Internet. To be fair, why would anyone want to keep this gloriousness all to themselves? It's an inspiring line-up, to be sure, and all of the women present are either women Beyoncé is very close friends with, like Rowland and Williams, or women she's related to, like Blue Ivy Carter (whose photo appears on the website) and Knowles Lawson.
This was not the only birthday shout out that Beyoncé got on her 36th birthday, either. Jay-Z also gave his wife some love during a concert the night before her birthday. According to E! News, Jay-Z led a "Happy Birthday" serenade at the Made In America festival in Philadelphia. He proceeded to bring out Beyoncé so that she could also bask in the glory of a full stadium serenading her.
There's no wrong way to say "Happy Birthday," but damn if Beyoncé's loved one didn't just raise the bar a couple hundred notches for all of us.