Celebrities Are Paying Tribute To Iconic Designer Kate Spade On Twitter Following Her Death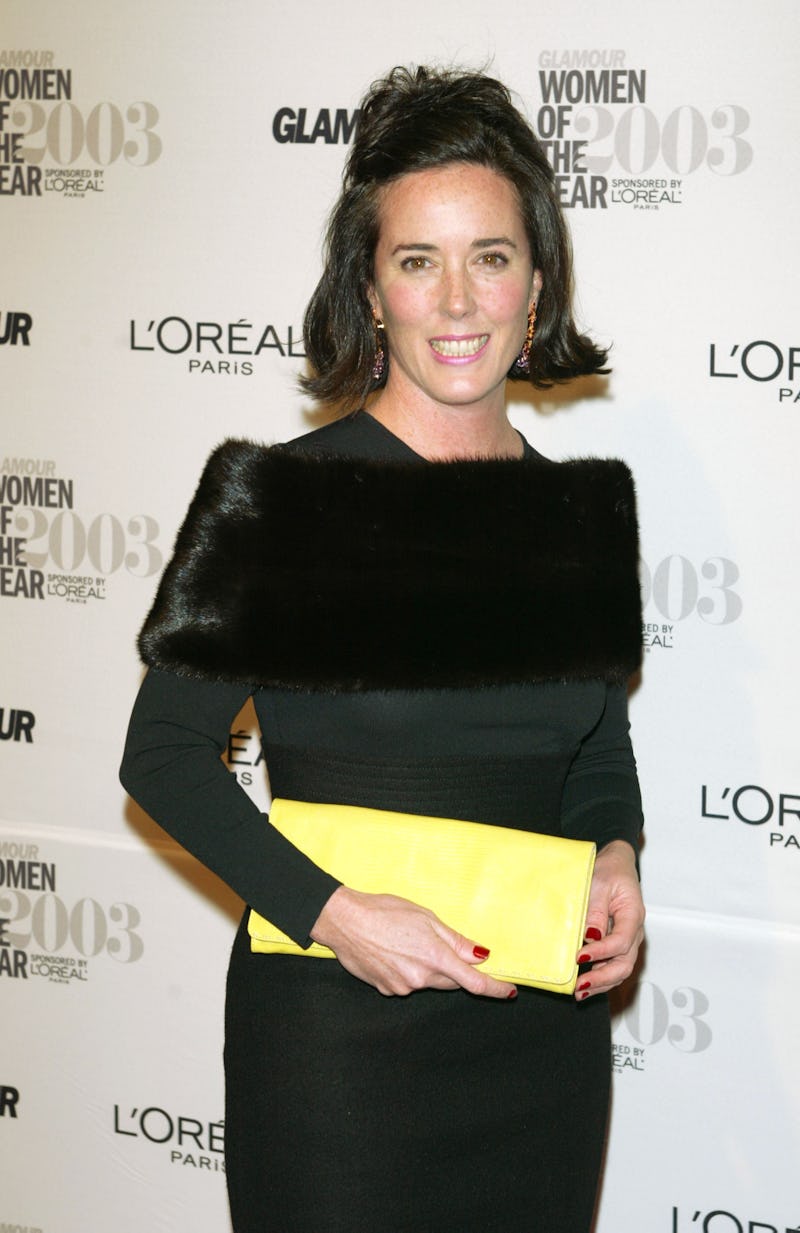 Matthew Peyton/Getty Images Entertainment/Getty Images
The fashion world is mourning after reports that Kate Spade has died. The New York-based designer, who went by Kate Valentine, was best known for her preppy, chic prints has reportedly died by suicide, according to The Associated Press. She was 55 years old.
Spade created her colorful brand back in 1993 with her then-husband Andy Spade, launching the much-loved lifestyle brand with a modest selection of six handbags. Before she took on the new label, she was a former accessories editor at Mademoiselle, and with her knowledge of all things accessories, had the intention of designing the perfect handbag. They were minimalist and utilitarian in shape but incorporated playful designs in cheerful colors, and both editors and shoppers fell for the designs.
The brand grew into a fan-favorite staple in many people's closets, and in 2007 expanded to include clothes, jewelry, and perfumes, moving those playful prints onto dresses, cardigans, and charm bracelets. The brand became so iconic that now you can spot a Kate Spade item without even looking at the tag. Because of that iconic nature of Kate Spade, the designer will be deeply missed by all those who loved, respected, and looked up to her. After hearing that Spade passed away, celebrities went on to Twitter to pay their tributes to her.
Chelsea Clinton reminisced about getting her first Kate Spade handbag in college from her grandmother, and how she still owns the sentimental piece.
Broadway performer Jessica Vosk, who is best known for her starring role in Wicked, was shocked to hear one of the pioneers of women's fashion had passed away. She also took the chance to point out that mental illness does not discriminate when it comes to social standing or income level, and that if you need help you should always reach out and not suffer alone.
Singer Josh Groban echoed the same sentiment, sharing the National Suicide Prevention Line.
Liz Lange, the founder of Liz Lange Maternity and the one who ushered in form-fitting pieces for pregnant people, reminisced over how Spade was one of the first to compliment her vision. Spade didn't only create beautiful collections, but also encouraged designers to follow their ideas and change up the industry.
Bethenny Frankel was saddened to hear of the news, and pointed out how fame and success isn't guaranteed to make you happy. It's always important to take care of your mental health and to reach out if you're struggling. Sometimes reaching that next goal isn't the thing to help turn your life around, but professional help is.
Plus size model Tess Holliday shared how both Spade and her brand have been kind to her over the past couple of years, and what a pleasure it was to work together and collaborate.
Plus size blogger and model Nicolette Mason payed tribute to the world of whimsy that Spade's designs created, and urged people who are suffering to reach out to anyone — whether a close friend or hotline — to seek the help they need.
If you or someone you know are experiencing suicidal thoughts, call 911 or call the National Suicide Prevention Hotline at 1-800-273-8255. You can also text the Crisis Text Line at 741-741. For international resources, here is a good place to begin.