Celebs Are Tweeting In Support Of A Sex Trafficking Victim & Her Story Will Destroy You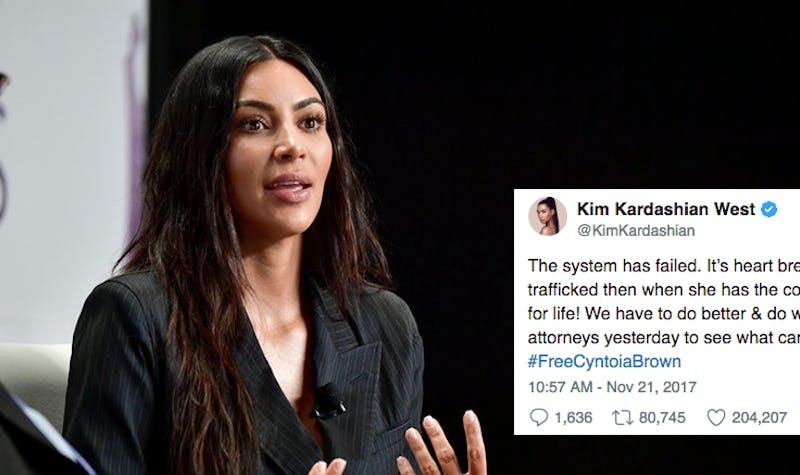 Getty Images/Bustle
A few celebrities are using their platforms to highlight the justice system's treatment of one woman. Celebrities are speaking out about Cyntoia Brown on social media in order to to raise awareness about her particular plight. Brown is serving a decades-long prison sentence after killing the man who bought her while she was a victim of sex trafficking. While this happened years ago, on Nov. 21, celebrities including Kim Kardashian and Rihanna posted about Brown's story in light of an investigative report on Fox 17 News (a Tennessee affiliate, which is where the crime occurred) and a petition circulating calling for a "potential presidential pardon."
According to a Nov. 16 Fox 17 News report, Brown was a victim of sex trafficking when she was in her teens after she says she was forced into prostitution. When she was 16 years old, in 2004, she killed a 43-year-old man named Johnny Allen, who had paid to have sex with her. In Brown's account of the event, she said that she was afraid of Allen, who had multiple guns in his home and had experience in the military. The young woman was later tried as an adult and sentenced to life in prison, with eligibility for parole after 51 years.
Brown's story was chronicled in a documentary in 2011 by director Daniel Birman entitled Me Facing Life: Seeking Redemption In Cyntoia Brown's Story. Because of her case and the documentary which highlighted it, only those who are over 18 can now be charged with prostitution in the state, according to Fox 17 News.
Fox 17 News also reported that Brown, now 29, earned her Associate's Degree while in prison and is currently working towards her Bachelor's Degree. Over 100,000 people who have heard her story have signed an online petition. MoveOn, which hosts the petition, tells Bustle that the petition was started in August 2013. But, the petition has seen a surge of signatures recently, possibly in response to the Nov. 16 report which detailed Brown's situation and the social media posts that have revived interest in the case.
Other than the online petition, Brown's story has prompted the recent hashtag #FreeCyntoiaBrown on social media. Rihanna wrote a passionate post about the case in an Instagram caption in order to bring her followers' attention to it.
The singer wrote, "did we somehow change the definition of #JUSTICE along the way?? cause..... Something is horribly wrong when the system enables these rapists and the victim is thrown away for life!" She ended her post with the hashtags "#FREECYNTOIABROWN" and "#HowManyMore".
Actor and model Cara Delevingne also took to Instagram to talk about Brown. She captioned a photo of Brown and her story with, "The justice system is so backwards!! This is completely insane #freecyntoiabrown".
Model Joan Smalls also posted about Brown on Instagram and also voiced her concerns with the justice system. She said, "Once again the justice system fails. A child fighting for her life...".
Kardashian tweeted about the story, along with the same photo of Brown that others have shared. She wrote, "The system has failed" and said that she's doing what she can to try and help Brown. "We have to do better & do what's right. I've called my attorneys yesterday to see what can be done to fix this."
As previously stated, someone who is younger than 18 year old can no longer be charged with prostitution. If Brown's case was heard today, she would be viewed as a child sex trafficking victim. If this law had been in place when Brown was facing trial, it may have had an effect on the outcome and her severe sentence could have possibly been avoided.
These celebs have chosen to speak out about this issue because of what they all imply in their posts as a flawed justice system. They believe that it's because of that system Brown is in jail today and are using their platforms in order help inspire a change.