How Your Fave Celebs Celebrated The Fourth Of July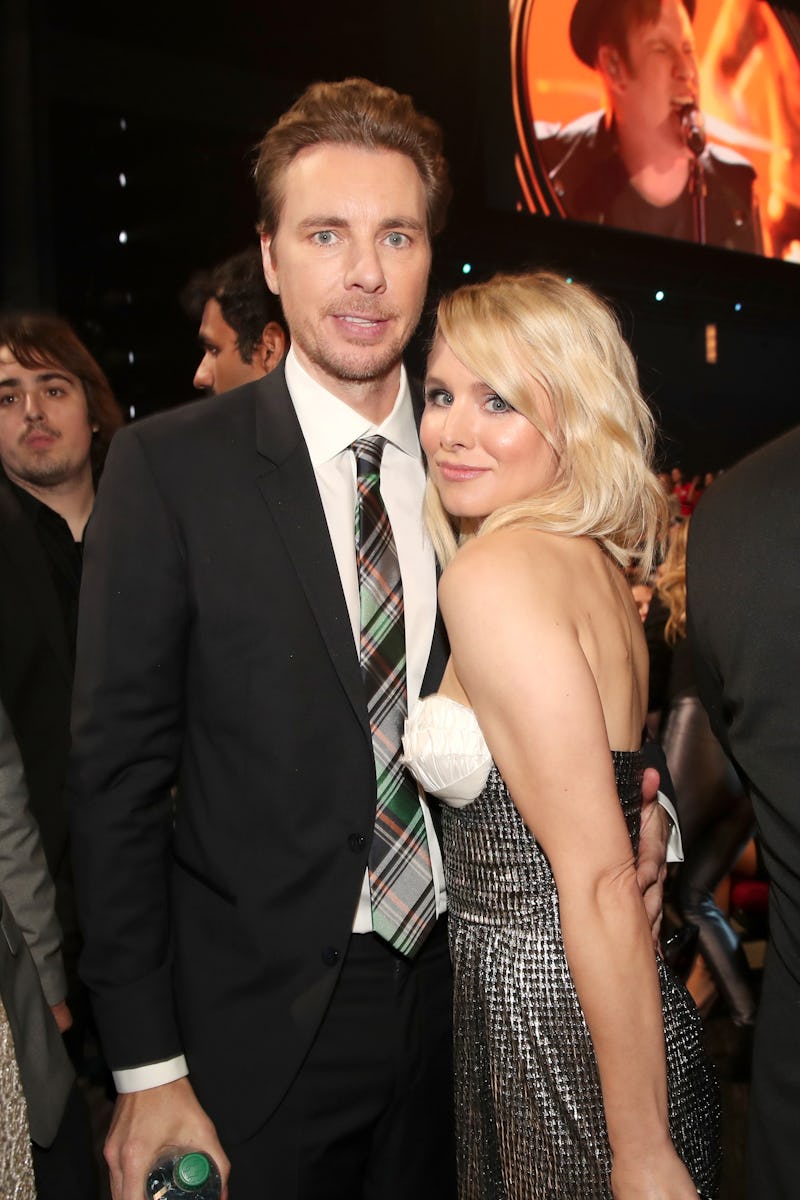 Christopher Polk/Getty Images Entertainment/Getty Images
The Fourth of July is a time to reflect on this nation's history, but it's also the peak of summer, which means fireworks, pool parties, barbecues, and red, white, and blue fashion statements in every form. Many celebs shared their Fourth of July festivities and thoughts online, from simple tweets to honor the day to showing off their fun parties and themed outfit ideas on Instagram. This year, stars from all over the world took advantage of the holiday by sharing thoughts, memories, and their favorite pics from the day.
Kirsten Dunst wished the country a happy birthday from abroad, while Dax Shepard and Kristen Bell were in fine goofball form with some America-themed PJs. Then there were the pool parties; Khloé Kardashian tried her best to make a water slide glam, while Sofia Vergara's family party featured some fruit-shaped floaties. Other stars, like Stephen King and Mark Ruffalo, hit a more serious note and offered political commentary with their well wishes. Then there's some of USA's favorite scientists, like Bill Nye and Neil Degrasse Tyson, who in addition to bringing their strongest red, white, and blue looks offered a chemistry lesson on fireworks. Check out what your favorite celebs were up to on the United States' birthday below.
Kristen Bell & Dax Shepard
Dax Shepherd and Kristen Bell's celebrated freedom by choosing patriotic pajamas.
Lana Del Rey
True American gal Lana Del Rey donned a more subtle outfit for the 4th, and used the chance to wish her fans well.
Kirsten Dunst
Kirsten Dunst didn't let her trip to Paris stop the festivities.
Bill Nye
Bill Nye served some fashionable beach-grandfather looks.
Kelly Ripa
Kelly Ripa shared a sweet throwback pic. The caption reads, "Happy Fourth of July!!!! May your trike match your wagon and your hat match your bathing suit. Circa 1974. #fourthofjuly🇺🇸🎇💥".
Chris Evans
Chris Evans celebrated Captain America's birthday with this funny tweet.
Khloé Kardashian
Khloé Kardashian and Kris Jenner somehow managed to make an giant water slide a little bit glam.
Sofia Vergara
It's difficult to say whether or not the real food or inflatable food looked better at Sofia Vergara's family barbecue.
Fortune Feimster
Fortune Feimster's pool cleaning post is #relatable, even if she is wearing #crocs.
Neil Degrasse Tyson
Neil Degrasse Tyson kept the fans educated with a history AND a chemistry lesson.
Buzz Aldrin
It's hard to think of anyone with more reason to be patriotic than an actual astronaut (you know, going into outer space for your country, nbd), and Buzz Aldrin got into the spirit of the day.
Rob Lowe
Rob Lowe posted in front of a seriously giant American flag.
Tyra Banks
Tyra Banks celebrated with some red, white, blue, and smizing.
Ryan Seacrest
Ryan Seacrest, Kelly Ripa, and Andy Cohen got into the spirit of the day on Live With Kelly and Ryan.
Miley Cyrus
Miley Cyrus gave a throwback to her American-themed hit.
Elizabeth Banks
This land was made for Elizabeth Banks, who enjoyed a nature filled getaway.
Christina Aguilera
Xtina found a cozy new use for the nation's flag.
Goldie Hawn
Goldie Hawn also took to nature to celebrate America's birthday.
Stephen King
Stephen King did what authors do best, articulating what everyone else is feeling.
Shawn Mendes
The Canadian singer was excited to spend the holiday stateside.
Niall Horan
Niall Horan sent his message from across the pond.
Alison Brie
Alison Brie glowed red, white, and blue with this funny moment with Larry King. Liberty Bell indeed!
Alan Alda
M.A.S.H. star Alan Alda wished fans a nice day with a more serious post.
Joseph Gordon-Levitt
Joseph Gordon Levitt wrote a simple 4th of July wish.
Paris Hilton
Paris Hilton put on the stars and stripes abroad.
Samm Levine
Samm Levine (of Freaks and Geeks fame, he knows you don't remember) shared some patriotic Oreos. Do you think the pop rocks add extra health benefits?
Katy Perry
Katy Perry has been pretty open about her conservative upbringing, but she shared that her father may be opening up his worldview.
Beau Willimon
Beau Willimon (House of Cards) reminded fans that this country has a lot of work to do before it lives up to its values.
Nathan Fillion
Nathan Fillion had a sweet message for fans and a video emphasizing the importance of staying cool.
Until next year, everyone.