Celine Dion Will Perform This Iconic Song At The BBMAs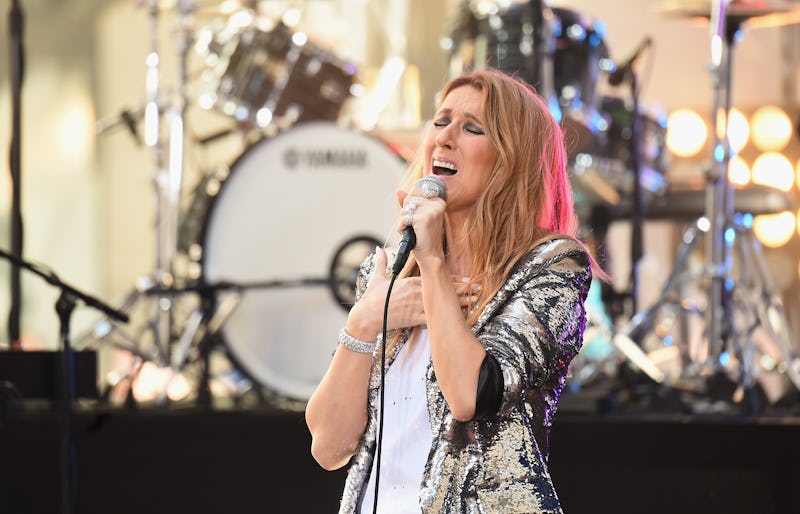 Michael Loccisano/Getty Images Entertainment/Getty Images
On May 21, one of the greatest vocalists to ever set foot on this mortal coil will belt out one of the greatest songs of all time to celebrate one of the greatest feature films of all time. So uh, you may want to give your heart a heads-up that, in less than two weeks, it will feel like Jack Dawson is holding its arms as it stands on the bow of the RMS Titanic. In honor of Titanic's 20th anniversary, Celine Dion will sing "My Heart Will Go On" at the 2017 Billboard Music Awards. Cue the 20-year-old tears.
Every night on my radio in the year 1998, I'd hear you, I'd feel you, "My Heart Will Go On." More often than not, you'd show up on my preset FM channels multiple times an hour, unafraid of being overplayed. You are just that good. Sure, occasionally I'd hear that opening flute riff and think, I just did this like 15 minutes ago and I can't handle feeling these feelings all over again, but I never got sick of you. Near, far, wherever you are, I believe that "My Heart Will Go On" is a perfect ballad. An award-winning, chart-topping, life-changing, perfect ballad. That key change? Are you kidding me? If that key change was a human, I'd marry it before you could say "You're here, there's nothing I fear."
Dion said in a statement (via Billboard),
"This song means a lot to me, and it has played such a huge role in my career. I'm so grateful to the late James Horner, and to Will Jennings, for writing it and creating the opportunity for me to be part of 'Titanic,' an amazing film whose legacy will continue for generations to come. It's a great honor to have the opportunity to perform it on the Billboard Music Awards' international stage, in celebration of the film's 20th anniversary."
Are you ready to go back to Titanic, er, 1997?
It's been 20 years, and I can still smell the fresh paint.