Why Chance Selling His Next Album Is So Surprising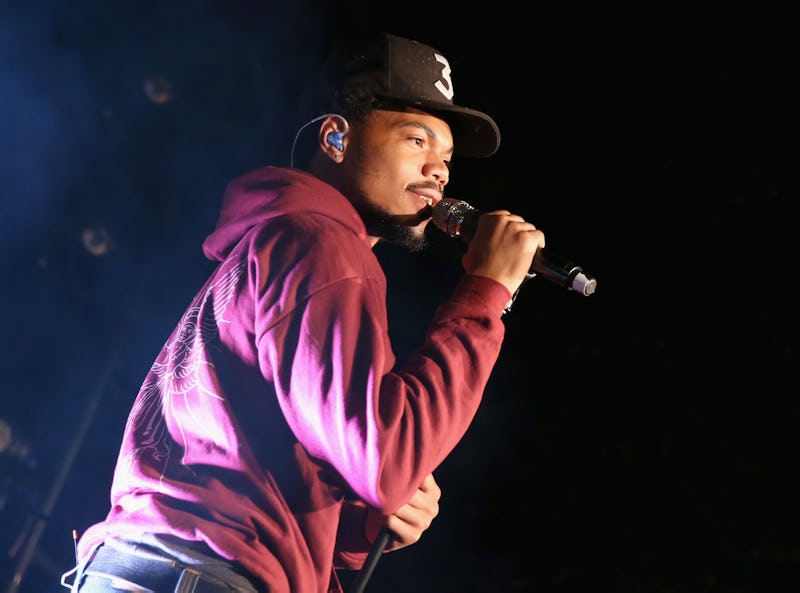 Jonathan Leibson/Getty Images Entertainment/Getty Images
Since breaking out with 10 Day back in 2012, Chance the Rapper has built his career on being unconventional. He refuses to sign a record deal and gives his music away for free, making him a rare success story in an industry where major labels rule supreme and album sales have grown increasingly obsolete. It comes as a surprise, then, to hear that Chance the Rapper might sell his debut album. (Last year's Coloring Book is designated as a mixtape, as with his previous releases.)
In an interview with Complex, he explained that he's been frustrated with his chart performance, citing the imbalance between the way traditional sales are measured against streams. As he explained to the publication,
"I might actually sell this album. That's like, a big step in itself. I kind of hate the fact that I can't chart, really. I can chart, but the way they have the streaming sh*t set up is weak as f*ck. It's unfair. 1,500 streams is the equivalent to one [album sale], and that's just, that's unfair. Nobody listens to their songs [1,500] times when they buy it — f*ck outta here! So, it makes it hard. I can't really compete with other people. Not that the charts matters at all, but like, come on. Anyways, I think having it for purchase would be dope. Also, this is all hypothetical. There is no album. I can feel fans squirming in their chair, like, 'Oh sh*t, he's changing!' This is an idea."
For context, both 10 Day and Acid Rap were released independently as free digital downloads, while Coloring Book was put out through Apple Music, where it remained exclusively for two weeks before going wide to sites like SoundCloud and Spotify. (Apple Music members must pay for the overall service, but can download music at no additional cost.) Notably, Coloring Book was the first album to chart on the Billboard Hot 200 based solely on streams, and it later became the first streaming-only album to win a Grammy.
It's fair that Chance would want to profit off of his own art, but it certainly deviates from the message he's been spouting for the last few years. In the past, he's said it's not about the money, but being able to take ownership of the way his music is released and forging a relationship with his fans that not many other artists can claim. "It's not about the music being free. It's about how it is displayed and made accessible and about artistic power," Chance told Billboard in August. "It was always about the artist-to-fan relationship."
The fact that he's now considering selling his music, then, casts doubt on the platform he's long championed. His reliance on touring and merchandise has signaled a solution of sorts to plummeting album sales, and his rule-breaking approach has helped to position him as a guidepost for aspiring musicians hoping to make it on their own terms.
That's not to say he can't still stand for independence while profiting from his music, but, if he does decide to sell his next project, how he came to that conclusion may require a bit more explanation. Simply wanting a higher spot on the charts doesn't exactly warrant a potentially career-changing upset.