Fans Want Chance The Rapper To Be Mayor Of Chicago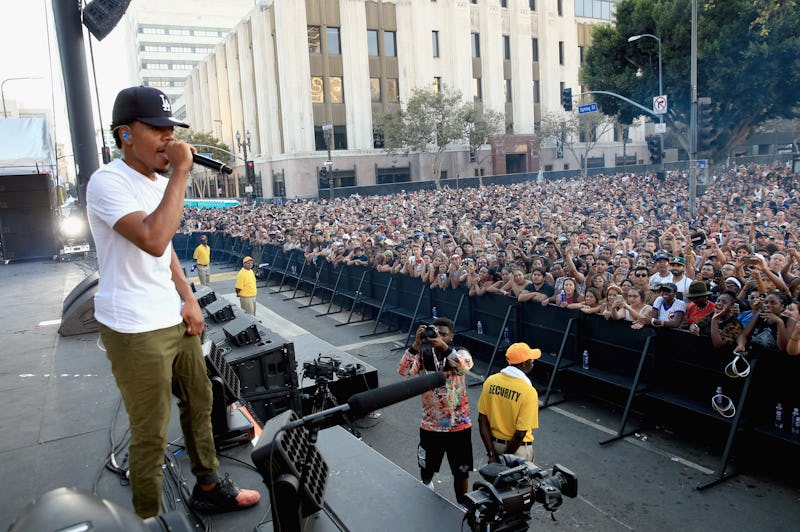 Christopher Polk/Getty Images Entertainment/Getty Images
It was just a few days ago that Chicago born artist Chance the Rapper launched the New Chance Arts and Literature Fund as another way to give back to his hometown. But giving back is not new to Chance. He has spent most of his time in the spotlight bringing awareness and inspiration to young people, particularly those from Chicago, and his fans have noticed his love and dedication. Following the announcement of his literature fund, fans started a petition to urge Chance the Rapper to run for mayor of Chicago, and it could actually be an amazing move for him.
The accompanying social media campaign, aptly named #Chano4Mayor, is an ode to one of Chance's song lyrics. Billboard notes that the hashtag is inspired by "Somewhere in Paradise," in which Chance raps, "They say I'm savin' my city, say I'm stayin' for good/ They screamin' Chano for mayor, I'm thinkin' maybe I should."
Well, people took that to heart. The petition quickly gained a following, to the point that Drake was asked about it by a paparazzo on the street in Los Angeles — and the rapper agreed that Chance should be mayor. I am inclined to agree with Drake and Chance's millions of fans.
The official website of the petition, Chano4Mayor, outlines some of the reasons fans believe he would be perfect as Chicago's mayor. The website reads,
"Elections are coming up in February 2019, and last time turnout was under 33%....We want a mayor who will fight for public education. We want a mayor who will reinvest in black and brown communities on the South and West Sides. We want a mayor who will address our epidemic of gun violence without the brutality of police or prisons. We want a mayor who will let the young people of Chicago lead."
The site also addresses Chance directly:
"We know you don't think of yourself as a politician, and we respect that...We think if you ran, you would win. And if you won, you would do a good ass job."
The statement is backed up with some examples of Chance's past work for the city: supplying coats for the homeless, supporting the Open Mike organization for high school students, and donating $1 million to Chicago Public Schools, along with his recent launch of his literacy fund. Through his recent works for his hometown, Chance is proving that he is only getting better at his leadership skills and that his passion for the youth and underprivileged has never waned.
While Chance is still very young, he could use the next few years to decide if he wants to enter politics properly. He has an undeniable influence over young people around the country through his music and social work, and a young, creative, passionate black man as a mayor of Chicago could be exactly what the city needs for real change. He's already off to a solid start.