Chance The Rapper Revealed He's An *NSYNC Fan & You'll Never Guess Who Was His Fave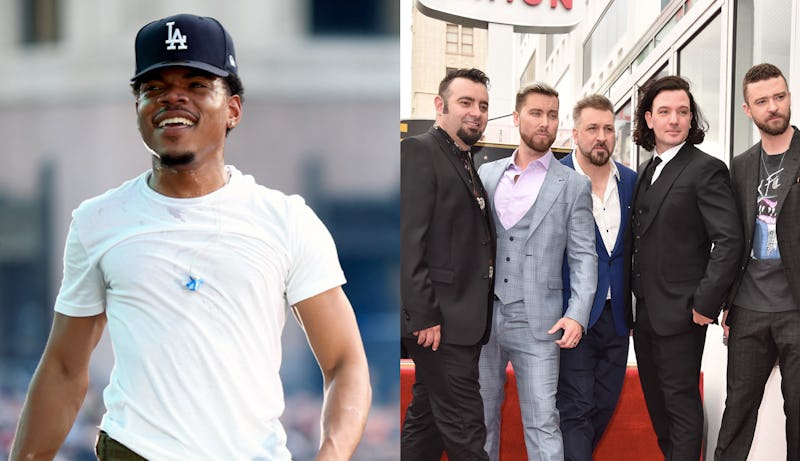 Christopher Polk/Getty Images Entertainment/Getty Images; Alberto E. Rodriguez/Getty Images Entertainment/Getty Images
Sometimes the internet can be a dark place. Sometimes, however, the internet can surprise you, and occasionally, it blesses you with knowledge you never knew you needed. Take, for example, this fun fact that no one could have ever guessed in a million, billion years: Chance the Rapper's first CD was *NSYNC's No Strings Attached, according to a July 2 tweet from the 25-year-old emcee. Amazing. Incredible. Inconceivable. What an absolute delight. Hang on, though, because that's only the half of it.
So, Chance did a curious thing after revealing his first CD. (By the way, the impetus for this information was a tweet circulating announcing that "Best Buy has officially stopped selling CDs," which isn't exactly true, but, whatever. That is the least exciting part of this whole divine-sent event.) Anyway, Chance said that No Strings Attached was the first CD he ever bought, then he tagged Joey Fatone. Just Joey Fatone.
Not only do the other four former members of *NSYNC — JC Chasez, Lance Bass, Chris Kirkpatrick, and some nobody named Justin Timberlake — have their on Twitter accounts as well, but there's also an account for the collective group, which is apparently run by all five guys "and their trusted peeps."
There are so many questions. First of all, who are *NSYNC's "trusted peeps," and how do I become one? Can "trusted peeps" just tweet whatever they want, whenever they want? Not that anyone asked, but their feed could use a little variety. A little spice, even. Some new, well-placed memes that aren't just "It's Gonna Be May."
Anyway, the real question, the most important question is: Why did Chance the Rapper only tag Fatone in a tweet about what's indisputably (yes, indisputably) *NSYNC's greatest album? Unclear. Fatone did, however, respond himself.
"That's a good choice my man !!!," Fatone replied. "But damn I am old lol . The first music I ever bought was a vinyl , and that was a single of we're not gonna take by twisted sister." Cool story. Also, same ("damn I am old"). But, why are you the only *NSYNC member Chance tagged?!
For the record, Chance "liked" Fatone's response, but has yet to publicly reply to his comment and/or any one of the many comments asking why he only tagged Fatone. WHY, CHANCE?
Fatone was actually a really good sport about some of the not-so-nice comments about Chance's answer, like one user who said, "Let [Fatone] have this moment. It must have been lonely being everyone's fourth or fifth favorite member." Fatone, always the jokester, replied, "I was the 6th get it right !" Love it. Also, his Twitter bio says, "They call me the Fat-One," and has there ever been a more "if you can't beat 'em, join 'em" moment?
No one seemed to know why Fatone got the solo in Chance's tweet, though — and Googling "Chance the Rapper Joey Fatone" produces exactly zero results. Have they ever even been in the same room together? The same zip code? The same hemisphere?
If there is a thread that connects Chance and Fatone, the internet is not aware of it. Look, I tried. I really did. The closest I got was discovering that both of them appeared on The Eric Andre Show in 2013 (albeit in separate episodes, one month apart). Or, alternatively, that 2017 was a big year for both Chance the Rapper and Luis Fonsi, the latter of whom was apparently in an a capella group with Fatone in high school, according to an interview Fonsi did with AOL Build last year.
Neither of those associations explains anything, though, so it shall remain a mystery until further notice. In the meantime, I'll be practicing my "Bye, Bye, Bye" stomp-and-knock, and listening to "Digital Get Down" on repeat. Probably.