Chance The Rapper Makes 2017 Grammy History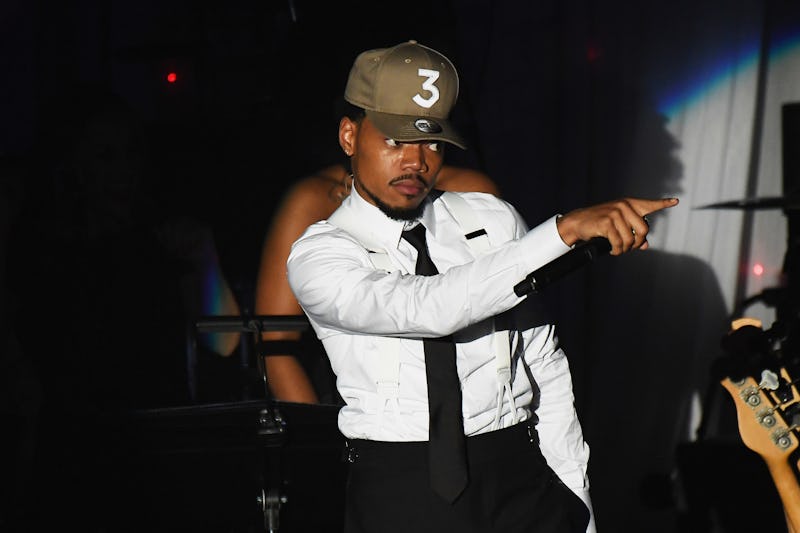 Kevork Djansezian/Getty Images Entertainment/Getty Images
Chance The Rapper is now a Grammy Award-winning musician. On Sunday night, he won the trophy for Best Rap Performance for "No Problem," featuring Lil Wayne and 2 Chainz. And Chance The Rapper made Grammys history with his win. It's the rapper's first Grammy win, which is a huge accomplishment, but it's also a historic win for the Grammys as an award show. Chance has become the very first streaming-only artist to take home a gramophone. Chance seems to have truly made streaming-only music here to stay. Update: During the Grammys broadcast, Chance The Rapper won the trophy for Best New Artist, continuing to make history for streaming artists on Sunday.
Earlier: Chance The Rapper is nominated for seven Grammys, including Best Rap Album and Best New Artist, and those nominations themselves made history for the rapper earlier this year in his first year of eligibility due to a Grammy rule change. Chance released his album Coloring Book last year as a streaming-only release, which means it wasn't a CD or digital download, and it became the first streaming-only album to ever chart on the Billboard 200, according to the Los Angeles Times. In previous years, the Grammys excluded such releases from eligibility, but that rule changed last summer to allow streaming-only releases to be nominated, reported the LA Times. So, Chance's nominations were already a big win for the Grammys and streaming music, but his win is even more major.
"We never want to be in position where music that deserves to be in the mix is usurped by some technicality in the process," Recording Academy President Neil Portnow told the LA Times in 2016. "The evaluation and judgment of our voting members is always about the music and excellence, not at all about sales or marketing or technology."
Chance just notched a big win for streaming music, but it may not be the only one — he's nominated in six other categories where he and streaming music can take home more honors. We'll have to see what happens.