This Wearable Eyeshadow Palette Helps Save The Rainforest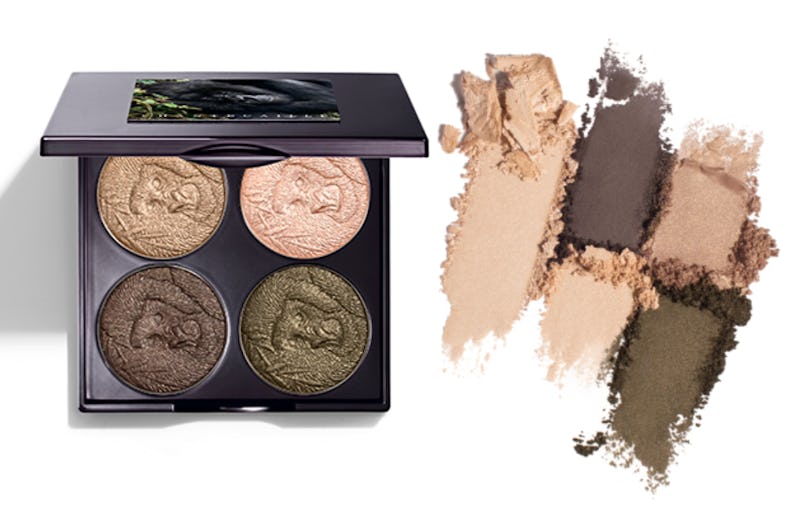 Courtesy of Chantecaille
It's not often that a makeup palette is inspired by an endangered species and an at-risk area. Such is the case with Chantecaille's Save the Forest Palette, which will donate a portion of the proceeds to rainforest and wildlife nonprofits. But charitable giving is par for the course for this company, as you'll soon discover.
The luxury brand's new four-pan eyeshadow palette is packed with earthy neutrals, but it does so much more than beautify your eyelids. It actually meaningfully benefits rainforests, and was inspired by endangered silverback gorillas seen by brand founder Sylvie Chantecaille during her travels. In fact, the shadows themselves are embossed with an image of a gorilla that Chantecaille herself took in Rwanda.
Here, makeup is truly an agent of change.
A portion of the proceeds from this palette benefit the Rainforest Alliance, so the nonprofit can continue its essential efforts. You can create a gorgeous, neutral smoky eye, all the while aiding a cause that might not pop up in your daily mind.
UPDATE: The Save the Forest Palette will be available in September at Chantecaille.com and Saks.com. It costs $85, per Chantecaille PR. A rep from Chantecaille told Bustle that Chantecaille does not share the percentage of the donation.
There is a bronze, rose gold, chocolate, and olive green shade in the palette, and the pigmentation is rich and lush.
According to Chantecaille, every minute, 50 acres of rainforest are slashed and burned. That leads the elimination of two dozen species each day. The fires that clear the woodlands also generate 15 percent of global warming emissions.
Let that sink in for a moment. Two dozen species per day? It's obvious why this is a worthy cause.
If you poke around the Chantecaille site, you will see the brand is passionate about its philanthropy. From donating proceeds to save wild animals to carefully selecting ingredients, the luxury brand is dedicated to being low impact and giving back.
If you are also concerned about the planet and its non-human inhabitants, you may have just unearthed your new fave makeup brand.