Charlie Puth & Bella Thorne Just Turned Dramatic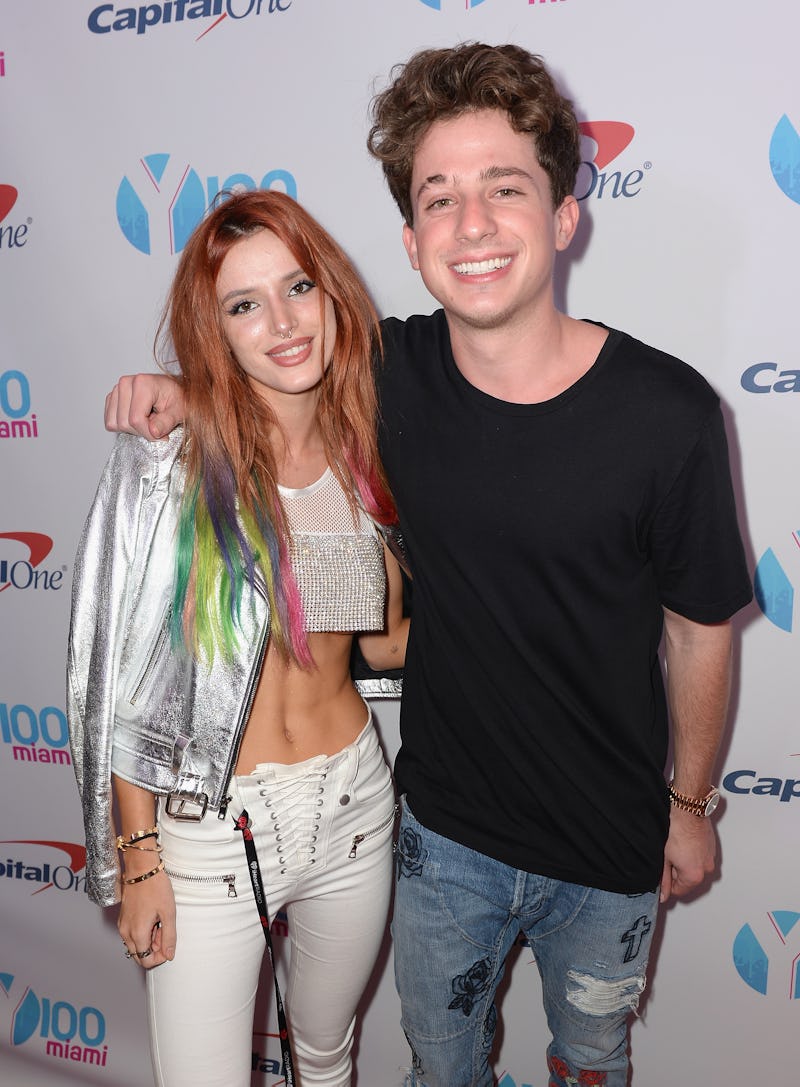 Gustavo Caballero/Getty Images Entertainment/Getty Images
If you're looking for some drama in your life, keep reading. On Monday, Dec. 19, photos surfaced online of Charlie Puth and Bella Thorne getting all cozy on a beach in Miami Sunday, Dec. 18. Next thing you know, Charlie Puth is discussing Bella Thorne and Tyler Posey on Twitter Wednesday, Dec. 21 and continuing into Dec. 22, all while seemingly ending his apparent relationship with Thorne. Allow me to fill you in.
In September, it was reported by E! News that Thorne and Posey were dating. The two pretty much confirmed their relationship on Twitter in October when Thorne tweeted, "When you meet [sic] finally meet your soul mate." The Teen Wolf star responded with "about time [heart emoji]." In October, Posey also shared an Instagram of the two in bed with a dog and he captioned the picture, "I love these women. My red haired beauties. Happy birthday my love @bellathorne [heart emoji] sorry I was a couple hours late, I was too distracted by your face."
There was never any report about the Thorne and Posey splitting, which is why it was shocking to see her on the beach with Puth. The same evening as their beach outing, Thorne and Puth also attended Miami's Jingle Ball concert and walked the red carpet together. Although, Thorne did tweet the following on Dec. 17, which may or may not have hinted at a breakup with Posey, "I love you but I need another year alone."
Obviously, Thorne and Posey could've broken up and not shared it with the world, but all of that still remains unconfirmed. Like many others, Puth is also extremely confused about what is going. Now, this is where all of his tweets come into play.
He started his Twitter rant by sharing, "I'm sorry....You know who you are." The singer then continued, "I messed a lot of things up, I get it if we can't be friends....you know who you are. But if you could just come to your senses...you know who you are."
The 25-year-old didn't stop there and then seemingly started reflecting on reports that Thorne is still with Posey. "I can't believe what I'm reading," he wrote. "No one should have their heart messed with like this, and I'm not going to be in the middle of it. I don't know Tyler personally, but I know he shouldn't be treated this way."
He also made it clear that he thought Thorne and Posey had broken up. "She told me she was not with him anymore. This is all news to me." He ended the rant with a tweet that seems to say he wants no part of whatever is happening, including a relationship with Thorne. "I want nothing but peace for all, I'm just removing myself from this."
What exactly is happening between Puth, Thorne, and Posey remains unclear. Bustle has reached out to reps for Thorne and Posey for comment; a rep for Puth could not be reached at the time of publication. While neither Posey nor Thorne have spoken out themselves yet, if or when they do, it will surely add more drama to an already dramatic situation.
Editor's note: A previous version of this article read that Puth and Thorne attending the Jingle Ball together before their beach outing.