Charlotte Flair Is Changing The Definition Of A WWE Superstar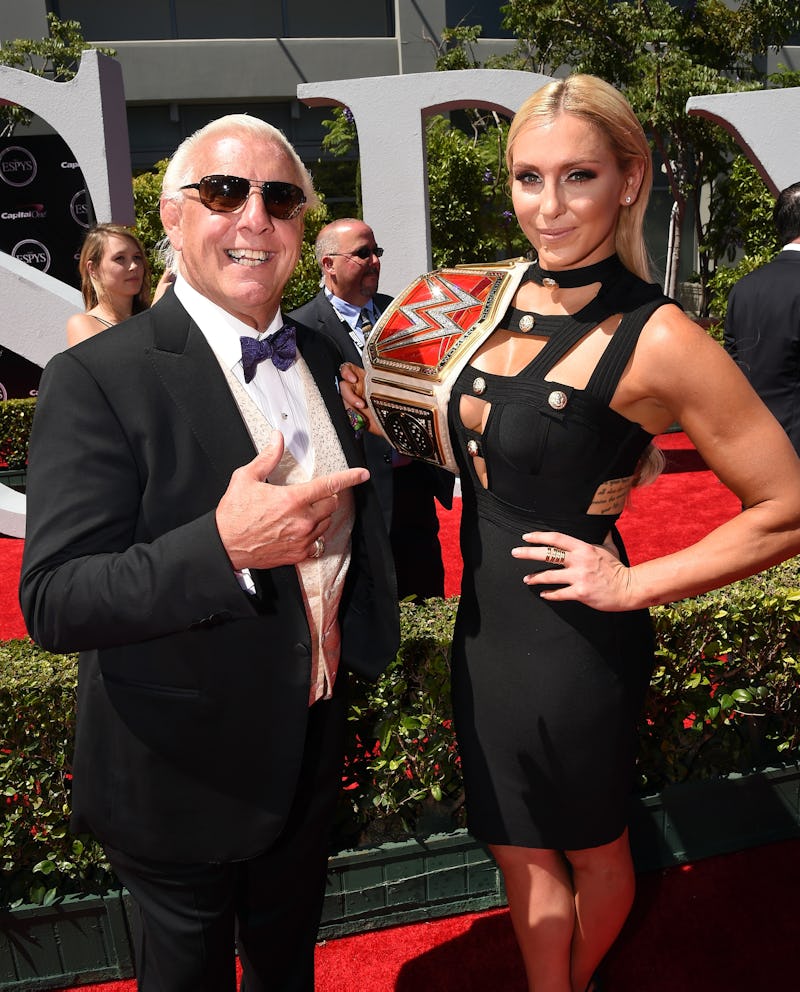 Kevin Winter/Getty Images Entertainment/Getty Images
The next step Charlotte Flair takes in the ring will be a historic one. The SmackDown superstar is preparing for WWE's Evolution, the first all-women's exclusive pay-per-view event in the wrestling franchise's history. And the night has long been in the making: For years, wrestling fans as a whole had few opportunities to cheer on women in the ring, other than sassy hypewomen "helpless" love interests (most infamously, "Macho Man" Randy Savage and his love interest, Elizabeth). But now, for the first time ever, WWE Evolution will feature only female wrestlers pacing the ropes and crashing down show-stopping kicks, swings, and chops that will have fans on their feet.
Charlotte Flair is amped to be part of the WWE's new elite class of superstars, along with the athletes who will join her on Sunday, Oct. 28, at New York City's Nassau Coliseum. In addition to airing on pay-per-view, WWE Evolution was also air on the WWE Network. She'll share the historic spotlight with The Bella Twins, Nikki and Brie Bella, Ronda Rousey (who also happens to be the most followed female athlete on Instagram), and WWE top divas Paige and Sasha Banks. And although the new crop of WWE superstars are spearheading wrestling's new era, they're well aware this moment is all thanks to the women who forged the path before them. "[It's] the fact that this just didn't happen — it couldn't happen 15 years ago," Charlotte tells Bustle. "It took that determination of every girl from day one continuing to raise the bar."
Fans have been in solid support of the female athletes getting the accolades they've long deserved. This culminated with the Twitter hashtag #GiveDivasAChance that began to gain momentum on social media in 2015, when fans protested the little airtime WWE divas would get on television, "When #GiveDivasAChance started trending, and the fans really wanted more for us and the company listened, it just finally all came together, so it's really a collaboration and a group effort of the past, present, and future," she says.
"The amount of athleticism and the storytelling from the women, I think people are gonna forget that it's an all-women's pay per view."
And although wrestling's dedicated following has a lot to do with the flash, flare, neon-colored smoke, and fevered antics that fans can't get enough of, the overall athleticism of WWE's female superstars can't be ignored. That physical power will be on display during WWE Evolution. "The amount of athleticism and the storytelling from the women, I think people are gonna forget that it's an all-women's pay-per-view," Charlotte says. "They're gonna go, 'Whoa, that's a superstar,' and gender's not gonna play a part into it."
Charlotte's level of confidence is infectious — surely the benefit of growing up with a father who wrestling fans have dubbed "The Nature Boy." WWE legend Ric Flair has a legacy that surpasses wrestling altogether and has taken its rightful place in the pop culture lexicon, thanks to his "Woo!" battle cry and his epic, vein-popping bravado that's been the inspiration in locker rooms around the world and fodder for your favorite rap lyrics.
Charlotte is keenly aware and thankful for her father's influence, but she's all about forging her own path, with her own voice. "I never even really thought about it 'til now, but when I do think of my dad, I think of what an impact he has made in pop culture and his phrases and his larger-than-life character," she says. "My character is continuing the Flair legacy, but I think that I stand for something completely different."
And fans know that Charlotte's burgeoning legacy is all her own. She is a seven-time women's world champion, and is the longest-reigning SmackDown Women's Champion in the history of the WWE. Her athleticism was completely on display when she was featured in ESPN's Body Issue earlier this year. "I think that it is very important in this day and age for people to see strong, athletic, confident, in a male-dominated world from a woman's perspective," she says. "And I also think for, you know, little kids, dreams do come true and that's another important message." Getting firsthand inspo from The Nature Boy is something young wrestlers can only dream of, and Charlotte picked up lessons from that unique opportunity, too. "My dad always told me that the most important moment for you is when you walk through that curtain because if you don't believe in yourself, the audience isn't gonna believe in you, and that always stuck with me," she says. "I'm like, 'You're right. If I don't believe in myself, no one's going to.'"
Charlotte's own legion of adoring fans have crowned her "The Queen." She credits the group of hardworking, talented athletes she competes with, and the WWE hiring the first-ever women's coach, Sarah Del Rey, for pushing her to give 110% in every match. "We're allowed to push the envelope," she says. "[Fans] just don't wanna see hair-pulling and bathing suit contests; you're seeing women be able to show what they're really capable of because we're having the time and storyline to be able to do that."
With all of the preparation and training done for Sunday night, Charlotte has her mind on coming face to face with the people who never stopped believing in her: the fans. "For me it's gonna be when I walk to the ring, and after I make my entrance," Charlotte says. "It's looking in the audience and seeing little boys, little girls, families dressed as their favorite female stars. I don't get choked up every time, but just, every live event, you're not just seeing kids dressed up as male superstars, you're seeing the Sasha Banks goggles, you're seeing the GLOW shirts — there's just so many different characters that kids can relate to and wanna be like, and that's huge for the women."