Prosecutors Allege The Attack That Killed Heather Heyer May Have Been Premeditated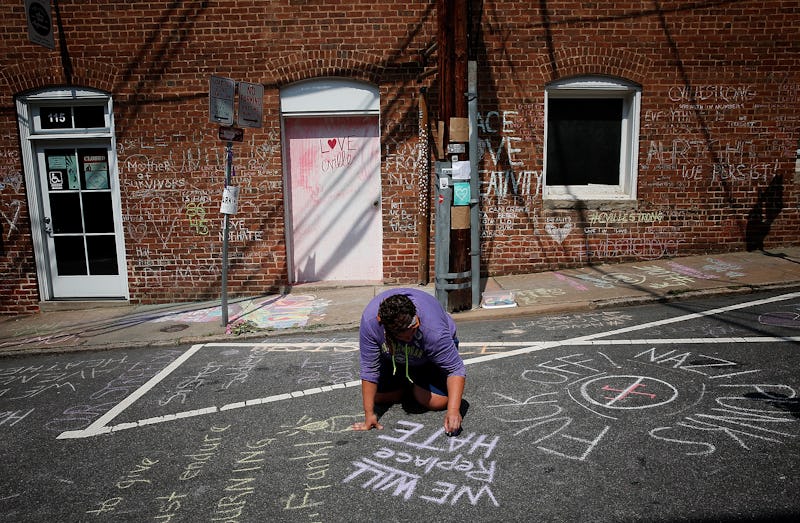 Win McNamee/Getty Images News/Getty Images
A new filing from the Charlottesville Commonwealth's Attorney sought to admit Instagram images that could show that Charlottesville rally attack was premeditated, according to court documents released Friday. The motion filed by attorney Joseph Platania on Thursday sought to admit two Instagram posts from James Alex Fields, Jr., the 21-year-old man accused of driving his car into a crowd of counter-protesters and killing 32-year-old Heather Heyer. Bustle has reached out to Fields' attorneys for comment.
The first image is a May 12, 2017, Instagram direct message of a meme showing a photograph of a car driving through a group of people with the words "PROTEST, BUT I'M LATE FOR WORK!!" Fields allegedly captioned his message with the meme, "When I see protestors blocking," according to the filing. The second image in the filing is a public Instagram post of the same photograph from the direct message posted on May 16, 2017. "The posts and statement are relevant and probative of intent, motive and state of mind; their probative value is not substantially outweighed by the risk of unfair prejudice; and the posts are not too remote in time," Platania wrote in the filing.
Fields is accused of driving his car into the crowd of counter protesters just months later, on Aug. 12, 2017.
This trial is scheduled to go on for nearly three weeks. CNN reported that the 16 jurors are comprised of nine women and seven men.
Both prosecutors and the defense attorneys agree that Fields was driving his Dodge Challenger into the crowd, but in their opening statements, attorneys presented different views of Fields' motivations while driving.
"This case isn't about what he did. It's about what his intent was when he did it," prosecutor Nina-Alice Antony told the jury during her opening statement, according to WTVR.
Antony also described Fields' anger as a supposed motivating factor in the attack. "This case is about his decision to act on that anger," Antony said, according to the Associated Press.
Defense attorney John Hill said in his opening statement that Fields acted in self-defense. "Ms. Antony is correct. This is not a whodunit case. This is not about who drove that car," Hill told the jury, according to WTVR.
Hill alleged that his client "was scared to death," according to the television station. "It is our hope at the end of the trial you'll find Fields not guilty of the charges," he said.
Ryan Kelly — a former Daily Progress photojournalist who won a Pulitzer Prize for his photograph of the crash on his last day with the newspaper — testified on Friday. He told the court that Fields didn't slow down. "I saw the car accelerate the whole way into the protesters," Kelly told the court, according to CNN.
Beyond this trial, Fields also faces a federal indictment for 30 counts of hate crimes, including for the death of Heyer. WVIR reported in June that it's possible that Fields could face the death penalty as a result of the federal charges.