Chechnya Says Gay Men Don't Exist There. Sure.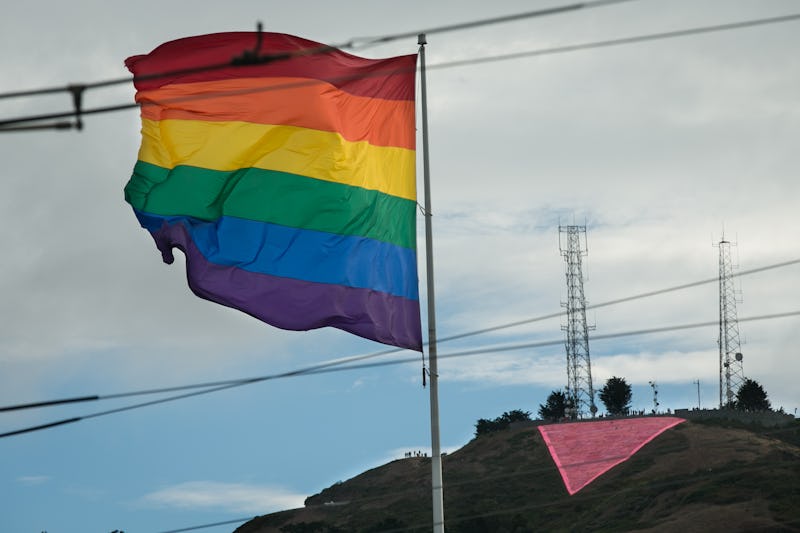 Elijah Nouvelage/Getty Images News/Getty Images
Russia's terrible track record when it comes to the rights of LGBT people is hardly new. However, a report that gay men are being rounded up in the Chechen Republic (a federal subject of Russia) is stoking new and what should be inconceivable fears. According to the only independent paper in Chechnya, Novaya Gazeta, gay men — and men suspected of being gay — have been placed in camps and are being tortured. Chechen leaders not only deny the claims, but say they're impossible, explaining that gay men don't exist in Chechnya.
According to Novoya Gazeta interviews with survivors and eyewitnesses, former detainees went through torture by electric shock and "violent interrogation" in the camps. They say these men were beaten several times a day and forced to sit on bottles. Other survivors claimed they faced ransom threats and extortion attempts. This story comes after Novoya Gazeta reported last week that Chechen police detained 100 men suspected of being gay and killed three of them.
Tanya Lokshina, the Russia Program Director for Human Rights Watch, described the "brutal campaign" in a post published earlier this month.
For several weeks now, a brutal campaign against LGBT people has been sweeping through Chechnya. Law enforcement and security agency officials under control of the ruthless head of the Chechen Republic, Ramzan Kadyrov, have rounded up dozens of men on suspicion of being gay, torturing and humiliating the victims. Some of the men have forcibly disappeared. Others were returned to their families barely alive from beatings. At least three men apparently have died since this brutal campaign began.
In Russia, there's already a ban on anything representing homosexuality, but if you ask the president of Chechnya, Ramzan Kadyrov, the alleged abuses are not possible since, for one, gay people don't exist there.
President Kadyrov's spokesman Alvi Karimov explained in a statement that "it is impossible to detain and harass people we simply do not have in the country."
Karimov went on to explain that even if it were possible for there to be gay Chechen men, it wouldn't be possible for them to exist for very long. "If there were any gay people in the region, they would have been dealt with by their own relatives," Karimov said. "In Chechnya, [men] lead a healthy lifestyle, play sports, and they have only one orientation, which is determined from the moment of the creation."
LGBT Network, an activist group based in St. Petersburg, has tried to convince authorities, including the Russian prosecutor-general's office and the federal commissioner for human rights, to put a stop to these reported actions, but without much luck. "We got no response, despite all the appeals," Natalia Poplevskaya, a representative with the group, told BBC News.