Chelsea Clinton Defends Kavanaugh's Daughters After A Cartoon Sparked Backlash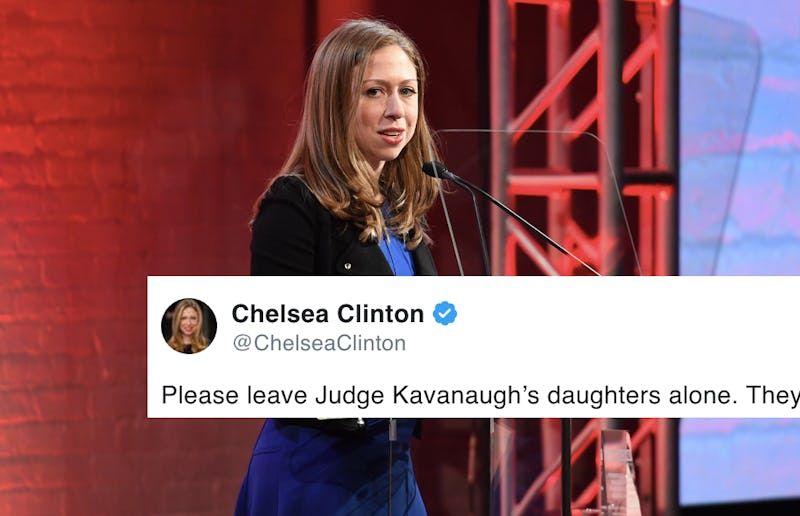 Dimitrios Kambouris/Getty Images Entertainment/Getty Images
Last week, a political cartoon featuring one of Brett Kavanaugh's children sparked outrage from critics who argued that underage children should be exempt from public mockery that stems from their parent's lives or actions. One such person to take this stand was Chelsea Clinton, who defended Kavanaugh's daughters in a tweet posted Wednesday afternoon.
"Please leave Judge Kavanaugh's daughters alone," Chelsea wrote. "They do not belong in your cartoons, 'jokes', or skits. If you can't make your point about Judge Kavanaugh, whatever it may be, without bullying his kids, it's not worth making."
The cartoon, clearly critical of the SCOTUS nominee, draws from the opening statements he made last Thursday during a hearing related to the first of three sexual assault allegations made against him, which he has denied. During the hearing, Kavanaugh said that his daughter suggested they, as a family, pray for the first woman that accused him, Christine Blasey Ford.
Chris Britt, the cartoonist behind the image, illustrated one of Kavanaugh's daughters during a bedtime prayer. The caption reads, "Kavanaugh's daughter says another prayer." The speech bubble above the little girl's head then shows that she is asking God to forgive her father for his anger, for drinking alcohol, and "for sexually assaulting Dr. Ford." (Kavanaugh has repeatedly denied Ford's allegation, saying, "I have never done anything like what the accuser describes — to her or to anyone.") It also describes Kavanaugh as a liar.
The backlash against the cartoon was swift and fierce, according to The Washington Post. Britt said he even received death threats.
Chelsea has long stood up for children whose parents have careers in political, or else politically-adjacent, fields. She has, at times, defended Barron Trump, the president's youngest son, for example.
"It's high time the media & everyone leave Barron Trump alone & let him have the private childhood he deserves," she wrote after a writer criticized the clothes that he had worn one day. Barron was only 10-years-old when his father assumed office.
She has come to Barron's defense several times over. "I've repeatedly said and will keep saying Barron should be afforded the right and space and privacy to be a kid," she tweeted in April of 2017.
Chelsea, of course, is no stranger to having highly-visible, highly-political parents, having lived in the White House while her father was the president back in the 90s. Though her parents reportedly went out of their way to shield her from too much media attention while she was still a child, a certain level of visibility is unavoidable when your father's job is running the United States of America.
While, per Washington Post reporting from her teen years, she did occasionally attend major political events, she also largely enjoyed doing normal things — attending school and church, for example — in relative privacy. Her penchant for standing up to people who drag unwitting minors into the spotlight suggests that she wishes and believes other children have the right to that same experience.
Disclosure: Chelsea Clinton's husband Marc Mezvinsky joined Social Capital, an investor in Bustle Digital Group, in mid 2017 and joined the Board of Bustle Digital Group in early 2018.