Chelsea Clinton Hasn't Ruled Out A Run For Office — But Don't Hold Your Breath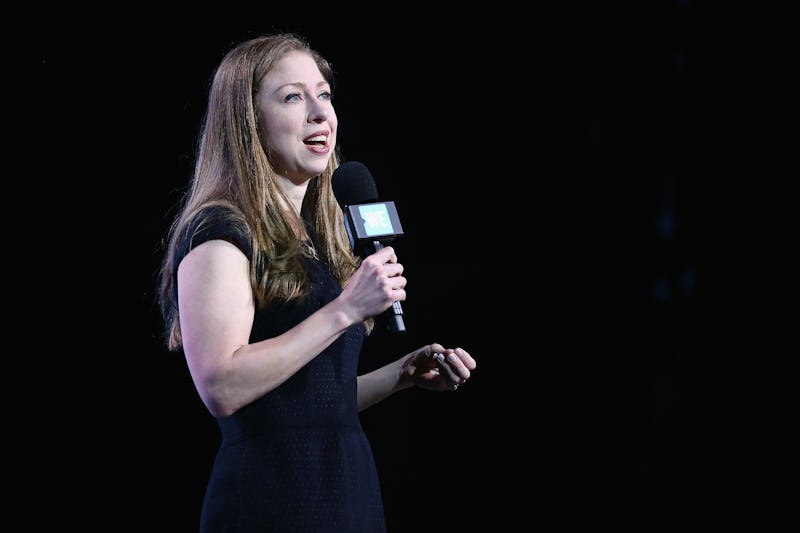 Monica Schipper/Getty Images Entertainment/Getty Images
Another Clinton running for president? The possibility is certainly very far off at the moment, but Bill and Hillary Clinton's daughter has indicated that it's not entirely off the table. Chelsea Clinton could run for office one day, she said at the Edinburgh International Book Festival in Scotland on Monday, Aug. 20 — but it's not going to happen any time soon. The statement came during a discussion of President Donald Trump and how strongly she stands against his policies, The Guardian reported.
"At federal level, as much as I abhor so much of what President Trump is doing, I have a great amount of gratitude for what my congresswoman and my senators are doing to try to stop him at every point," she said as part of a speech promoting her children's book about powerful women at the Edinburgh International Book Festival. She continued on to the question of whether she herself would ever run for office:
While I disagree with the president … I think my family ... is being really well represented. But if that were to change, if my city councillor were to retire, if my congresswoman were to retire, my senators, and I thought that I could make a positive impact, then I think I would really have to ask my answer to that question. For me it's a definite no now but it's a definite maybe in the future because who knows what the future is going to bring?
So, if you were hoping for another presidential candidate with the Clinton name in 2020, then you'll still be disappointed by this news — but at least Clinton hasn't ruled out the possibility that you'll ever see her on a ballot.
For now, Clinton has plenty on her plate — and after spending much of her life in the public eye, she has shown no signs that she plans to duck out of it. As a vice chair of the Clinton Foundation, Clinton is involved in the foundations work in multiple fields, including early childhood education, health and well-being, leadership development, female empowerment, and expanding access to HIV and AIDS medication in the developing world. She also teaches at the Mailman School of Public Health at Columbia University, serves on multiple boards, and has written three books.
Clinton has also been quite prolific on Twitter, frequently responding to her many critics with kindness — or at least politeness. And while she's lost no opportunity to speak out against Trump and his policies, she told the audience that she has sympathy for at least one person associated with the Trump administration.
"I feel incredibly protective of Barron Trump, who is now 12 years old, the same age that I was. I disagree with his father on everything but people have made fun of him [Barron], bullied him, for his appearance, or for him being more private," she told the audience in Edinburgh, the Guardian reported. "Equally I have no patience for that because he's a child and he deserves a childhood as every child does."