Chelsea Clinton Got Candid About Her "Privilege" — And Why It Moves Her To Take A Stand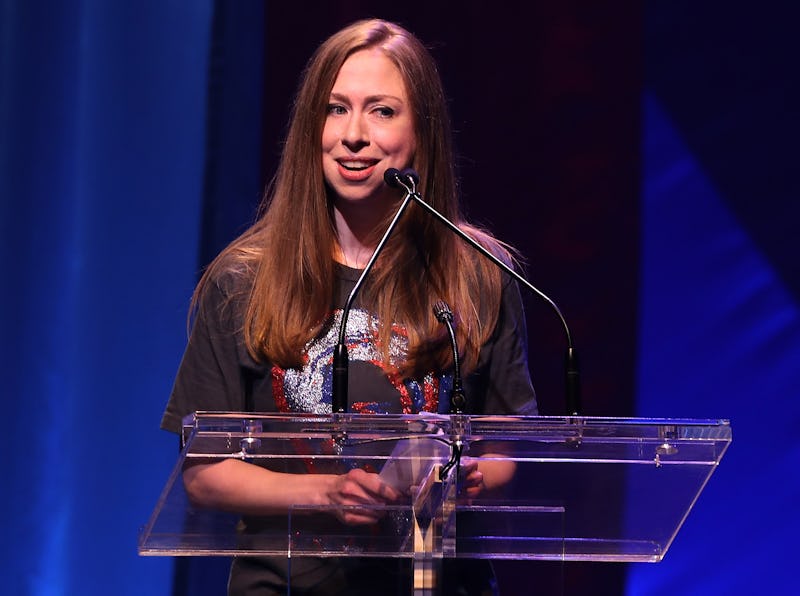 Justin Sullivan/Getty Images News/Getty Images
During a launch event for her book, Start Now!: You Can Make A Difference, Chelsea Clinton acknowledged that the policies under Trump's administration didn't personally affect her, in part because she's shielded by her "privilege," The Hill reported. The former first daughter said that "most of the horrors" under Trump's presidency did not have that big of an impact on her personally, but that life as an American at the moment was nonetheless "incredibly rough."
The Hill reported that Clinton was present at her former school, Sidwell Friends School in Washington, D.C., for her book launch on Monday. At the event, a young boy asked Clinton if she had experienced particularly difficult times at a more personal level. "I think right now is a rough spot for all of the things that I care about and all the things I think are important in the world," Clinton responded. "And yet I know it's not really a rough spot for me because most of the horrors of this administration won't change my life."
Clinton said that she could afford to protect herself from the effects of policies given the "privilege" she had. "I'm protected by the color of my skin," Clinton said. "I'm protected by my privilege, I'm protected by the fact that I live in New York City, I'm protected by my immigration status ... So while I find this incredibly rough, in your words, it's not rough for me in a real sense, everyday."
Still, she added, she used her social power to do good. "I have to use every ounce of privilege that I have to stand up for everything that I believe is right," she said.
Her mom, Hillary Clinton, also spoke of the social privilege white Americans had in the past. During her 2016 presidential campaign, Hillary Clinton said, "We white Americans need to do a better job of listening when African Americans talk about the seen and unseen barriers you face every day. We need to recognize our privilege and practice humility rather than assume that our experiences are everyone's experiences."
At the Washington book launch, Clinton also briefly touched upon the topic of confronting trolls. "I spend a lot of time standing up to bullies," she said. "If you see bullying and you think you can safely intervene, I think you absolutely should."
As she spoke with children at the book launch, the subject of SCOTUS nominee Brett Kavanaugh came up. Speaking of Christine Blasey Ford, who accused Kavanaugh of sexual assault — an allegation that the SCOTUS nominee denied — Clinton said that she was thankful to Ford for speaking up. And when a little girl asked Clinton if she was a feminist, she answered: "Yes, I am a feminist."
The former first daughter's book, Start Now!: You Can Make A Difference, is centered on educating children about social issues and how, more importantly, they can participate in making the world around them better.
Whether it's about grappling with health eating, peer pressure, or even bullying, Clinton's book attempts to break down the more challenging aspects of life for children with her own insight, according to a Book Table press release.
Disclosure: Chelsea Clinton's husband Marc Mezvinsky joined Social Capital, an investor in Bustle Digital Group, in mid 2017 and joined the Board of Bustle Digital Group in early 2018.