Chelsea Clinton Is Calling Out The Author Of 'Chasing Hillary" & She's Not Holding Back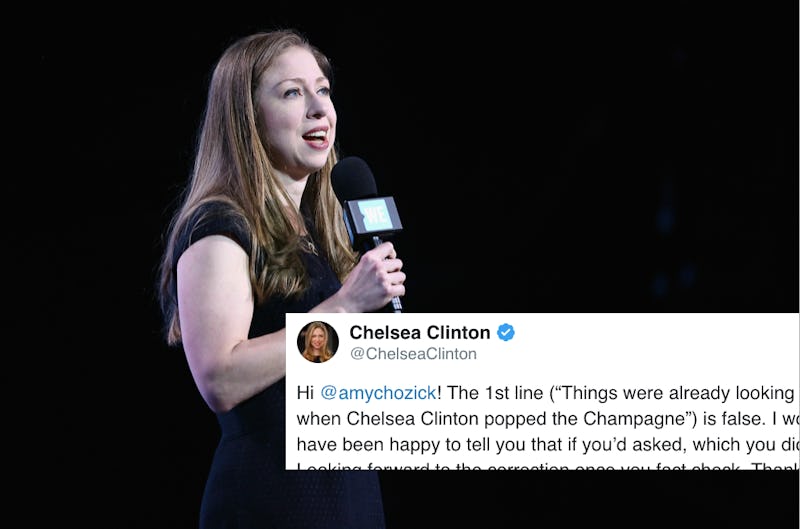 Monica Schipper/Getty Images Entertainment/Getty Images
On Friday, some excerpts dropped from an upcoming book revisiting the events of the 2016 presidential election, this time told from the perspective of someone who spent years covering former Democratic presidential nominee Hillary Clinton for The New York Times. But Clinton's daughter has already hit back, disputing the accuracy of one particular line ― Chelsea Clinton challenged Amy Chozick's Chasing Hillary excerpt about her popping Champagne on Election Night.
Chelsea made the claim on Friday after the excerpts, published by The New York Times, had been live for hours. The very first line makes reference to her, stating that "things were already looking bad when Chelsea Clinton popped the Champagne." Chelsea responded to the claim on Twitter, calling it "false," and said she was "looking forward to the correction." Bustle has reached out to Chozick's agent for comment.
It's unclear what element of the line Chelsea was disputing ― were the election results not actually looking bad when she popped the Champagne, for example, or was there no Champagne-popping whatsoever? In any case, it's clear that she took some issue with Chozick's description. Chelsea, in addition to being an executive with the Clinton Foundation, also worked as a surrogate on her mother's presidential campaign.
Chozick's book is slated to be released on Tuesday, April 24. It's titled Chasing Hillary: Ten Years, Two Presidential Campaigns, and One Intact Glass Ceiling. As the title suggests, Chozick has a very long history covering Clinton's political career, dating back to her run for president in 2008. Back then, Clinton was viewed as the prohibitive favorite to secure the Democrats nomination, but ultimately lost out to then-Illinois senator Barack Obama.
In 2016, again viewed as the favorite, she successfully defeated Vermont senator Bernie Sanders in the Democratic primaries, but ultimately lost to President Donald Trump in the electoral college, despite winning the popular vote by nearly three million.
She essentially lost by dropping three traditionally Democratic states to Trump in Wisconsin, Pennsylvania, and Michigan. The trio of defeats lead to a very grim election night for countless Democrats and progressives, one that burned itself into a whole lot of people's brains.
Chozick's book is not the first to examine the events of the 2016 election, or the night of Trump's victory from the Clinton campaign's side. In 2017, political reporters Jonathan Allen and Amie Parnes released Shattered: Inside Hillary Clinton's Doomed Campaign, a behind-the-scenes book which drew criticisms and denials from several ex-Clinton staffers.
Another 2017 book by former Democratic National Committee interim chairwoman Donna Brazile, purporting to give a behind-the-scenes view of the election from inside the DNC, was met with immense scrutiny and criticism from Clinton supporters and Democratic insiders.
Months later, Clinton herself weighed in with her own memoir of the campaign, titled What Happened, which made it to the top slot on The New York Times' bestseller list. She also did an extensive book tour, and spoke publicly about her view of ― well, what happened, in several different venues.
It remains to be seen how popular and well-selling Chozick's book will be, as it's still a few days away from being released. It's clear that it's already stirred up some controversy and push-back, at least on the Champagne-related point that Chelsea raised on Twitter. One of the other big takeaways from the excerpts, however ― that Chozick and the media failed in their coverage of private emails stolen from Clinton's campaign ― is one that's probably music to many ex-staffers' ears.
Disclosure: Chelsea Clinton's husband Marc Mezvinsky joined Social Capital, an investor in Bustle Digital Group, in mid 2017 and joined the Board of Bustle Digital Group in early 2018.