Chelsea Clinton Was Not Impressed With Trump's Pittsburgh Synagogue Shooting Response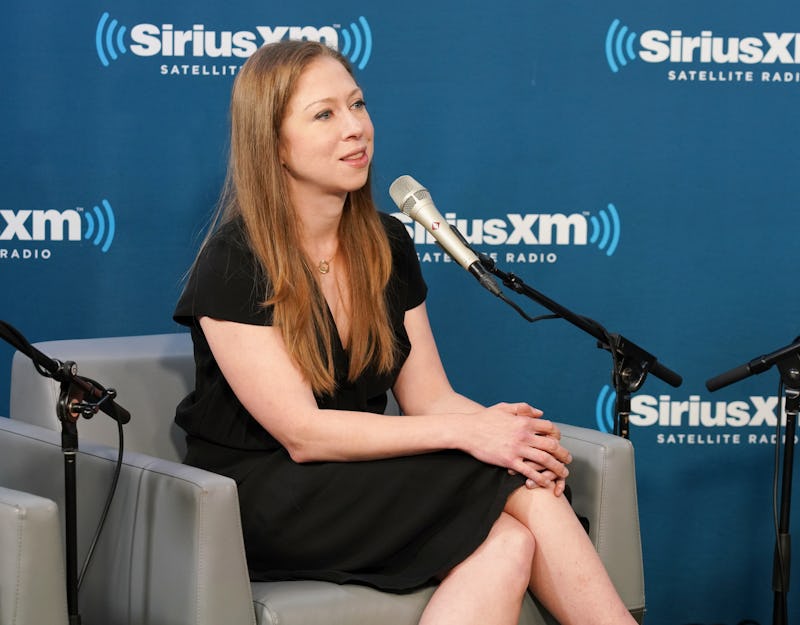 Cindy Ord/Getty Images Entertainment/Getty Images
After the tragic shooting at the Tree of Life Synagogue in Pittsburgh, Pennsylvania, President Donald Trump eventually posted a couple of tweets explicitly denouncing anti-Semitism. However, this reportedly did not happen without some urging — so on Monday, Chelsea Clinton's tweet about Trump and the Pittsburgh synagogue shooting contained some powerful criticism for the president.
On Sunday, the New York Times reported that first daughter Ivanka Trump and White House advisor Jared Kushner, both Orthodox Jews, had to "importune" the president into writing a statement that would come out forcefully against anti-Semitism on Saturday following the attack. He did so in two tweets on Saturday, but then soon after he reverted back to other subjects — including baseball.
"All of America is in mourning over the mass murder of Jewish Americans at the Tree of Life Synagogue in Pittsburgh," Trump wrote on Saturday. "We pray for those who perished and their loved ones, and our hearts go out to the brave police officers who sustained serious injuries."
"This evil Anti-Semitic attack is an assault on humanity," Trump wrote in his second Tweet. "It will take all of us working together to extract the poison of Anti-Semitism from our world. We must unite to conquer hate."
Following the report that the statement only came after some convincing, though, the statement evidently seemed less than satisfying to Chelsea Clinton.
"The President of the United States should not have to be persuaded to denounce anti-Semitism," Clinton wrote in a tweet on Monday, posting a Newsweek article discussing how Jared and Ivanka had to convince Trump to make the statement.
The Times' report did not say exactly why the president had to be pushed into making the statement, but it noted that he's had difficulty throughout his presidency in striking healing tones at tough moments. Instead, the Times wrote, he usually makes partisan statements. This tendency is especially incendiary right now, when many — including the leaders of Pittsburgh's Jewish community — have argued that Trump's violent rhetoric has contributed to recent violent acts, including this shooting.
"It starts with speech," said Rabbi Jeffrey Myers of the Tree of Life synagogue, The Washington Post reported. "It has to start with you as our leaders. My words are not intended as political fodder. I address all equally. Stop the words of hate."
Soon after Myers' speech, Trump posted a tweet blaming the "the division and hatred" in the U.S. on the mainstream media.
Trump has not made the same explicit verbal attacks on Jews as he has on Muslims or Central American immigrants, as The Washington Post wrote, but he refers to numerous conspiracy theories that have anti-Semitic undertones. He ignored the anti-Semitism on display at the 2017 Charlottesville march of white supremacists, who chanted "Jews will not replace us." He delighted Israel's hard-line conservative government when he moved the U.S. Embassy to Jerusalem, as the BBC wrote, but support of Israeli conservatism — or, indeed, Zionism in general — is an entirely separate thing from actual support of the Jewish people.
Going off of his recent comments on Twitter and elsewhere, Trump seems to believe that he has defended Jews against anti-Semitism. Clinton — and many Jews, like the rabbi in Pittsburgh — believe otherwise.