Chelsea Clinton's Tweets Raise Political Buzz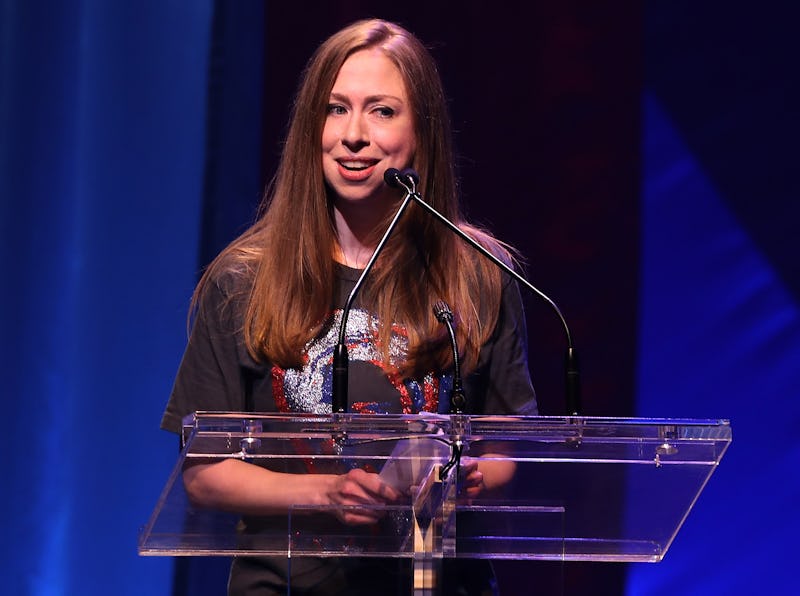 Justin Sullivan/Getty Images News/Getty Images
"America. 2017. Now we have to show our IDs to board and get off? To gate agents then ICE officers? Just want to be clear (at least for today)." This pithy rejoinder to a story about passengers on a domestic flight getting their IDs checked by Immigration and Customs Enforcement Officers at John F. Kennedy Airport in New York came from an unlikely source: former first daughter Chelsea Clinton. And it wasn't an isolated incident. In the months since her mother's electoral loss, Chelsea Clinton has been punching up her Twitter feed with sass, sarcasm and cutting criticism of the new administration. Which begs the question: in a firmly post-Clinton political era, where and how does this Clinton fit in?
Given all the panicked discussion about political dynasties when it seemed like the two most viable candidates for the 2016 election were Hillary Clinton and Jeb Bush, the stomping that both families received from the Trump campaign seemed to quiet the issue rather permanently (Ivanka 2024 rumors notwithstanding). But while her parents' political ambitions may have suffered a fatality in November, the new political order seems to have freed the younger Clinton from the constraints of politeness and politic — and her new online persona has no patience for nonsense.
For those of us who remember first seeing Clinton as a young first daughter living in the White House, thinking of her as an independent political voice is a little strange. Up to this point, it seems as if most of her public persona has been in service of one or the other of her parents.
But if her recent tweets are any indication, it seems possible that Clinton may be enjoying the freedom of speaking her mind frankly and openly, without the reputation of a presidency hanging over her head. And you know what? I'm kind of into it.
As someone who kept hoping that in the weeks leading up to the election — and maybe even in the weeks after it a bit — that Hillary Clinton would waltz up to a podium with a tumbler of good Scotch and say, "Listen, America, I love you, but WTF?" it seems possible that the younger Clinton is filling that role.
What is unclear is what space — or patience — the American electorate still has for a Clinton. On the one hand, despite her father's still-impressive approval ratings, voters made it clear at the ballot box that Clinton-family fatigue was a thing. On the other hand, Chelsea Clinton might have the ability to recreate (or maybe simple create) her own political image in a way her mother seemed unable to do. And though there's certainly an argument to be made for the need for new blood in the Democratic party, it's hard to make the case that Clinton would be ill-suited to politics if she chose to pursue it as a calling.
I'm not advocating for Chelsea 2020; I would say that she should seek governmental experience first, though clearly that's not necessarily a priority for American voters. But I am interested to see what she does next, and more immediately, what she says next.