Here's What Chelsea Manning Said About Jeff Sessions "Going After Press & Citizens"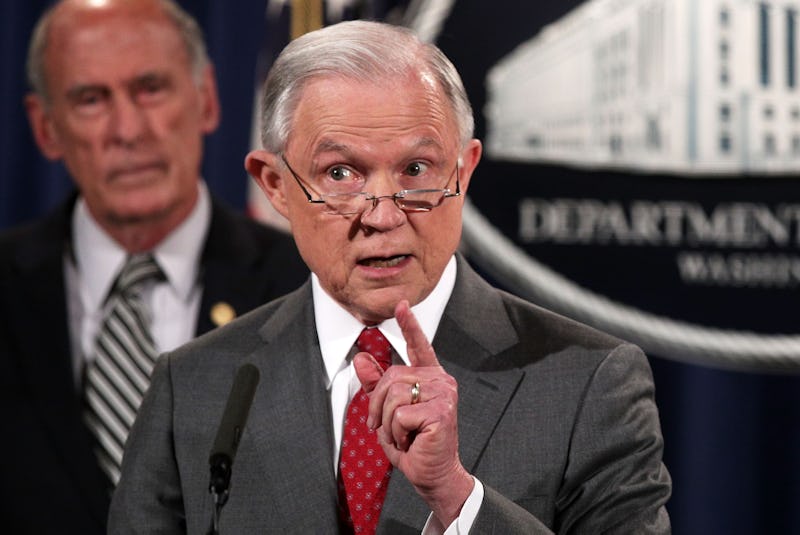 Alex Wong/Getty Images News/Getty Images
On Friday, Attorney General Jeff Sessions issued a warning to would-be leakers: "Don't do it." In a press conference detailing the Trump administration's efforts to stomp out leaks, Sessions announced the Justice Department was reviewing its policies on issuing media subpoenas. On Saturday, Sessions' remarks drew a cheeky response from Chelsea Manning, the former Army intelligence analyst who was found guilty of leaking a trove of classified documents in 2013.
In a tweet posted Saturday, Manning appeared to feign disbelief at Sessions' remarks. "What? A sprawling police/military/intel state going after press and citizens?" she tweeted along with the Thinking Face emoji. "Doesnt [sic] matter #WeGotThis," she added.
In a press conference held Friday, Sessions said he'd authorized a review of the Justice Department policies which govern when investigators are permitted to issue media subpoenas in leak investigations. "We respect the important role that the press plays and will give them respect, but it is not unlimited," the attorney general said. "They cannot place lives at risk with impunity. We must balance their role with protecting our national security and the lives of those who serve in our intelligence community, the armed forces, and all law abiding Americans."
"Its [sic] never about leaks," Manning later wrote in a tweet posted as a reply to another Twitter user's comment that leaks don't exist if there is full transparency. "Its [sic] about controlling public conversation, stifling all forms of dissent, and causing national terror," Manning wrote.
In early 2010, Manning leaked more than 700,000 classified documents and videos pertaining to a range of topics, including top secret military operations, the United State's failure to investigate reports of abuse, torture, rape, and murder by Iraqi police, and a July 2007 U.S. Army airstrike in Baghdad that killed two Reuters photographers. At the time, Manning's release was considered to be one of the largest unauthorized leaks in US history.
Manning was arrested in May of 2010 after being identified as a leaker by a hacker she'd met online. Twenty-two charges were levied against her, including violating the Espionage Act and, more seriously, "aiding the enemy." In 2013, Manning was acquitted of "aiding the enemy" but convicted of 17 of the 22 charges, including five counts of espionage and theft. She was sentenced to 35 years in prison. Former President Barack Obama commuted the rest of Manning's sentence shortly before he left office and she was released from prison in May.
But Manning isn't the only one to criticize the Department of Justice for its willingness to potentially loosen the requirements for media subpoenas. "Every American should be concerned about the Trump administration's threat to step up its efforts against whistleblowers and journalists," the American Civil Liberties Union (ACLU) said in a statement tweeted Friday.
Peter Sterne of the Freedom of the Press Foundation has called the move "a dangerous escalation of the administration's war against the press" and argued Sessions' intention seemed to be to try and scare journalists into not reporting information the government doesn't approve of.
In his press conference, Sessions also claimed the number of "active leak investigations" had tripled since the end of the Obama administration, and signaled the Justice Department, under the Trump administration, would not hesitate to pursue criminal charges against leakers.