Chester Bennington Had Always Been Open About His Past Substance Abuse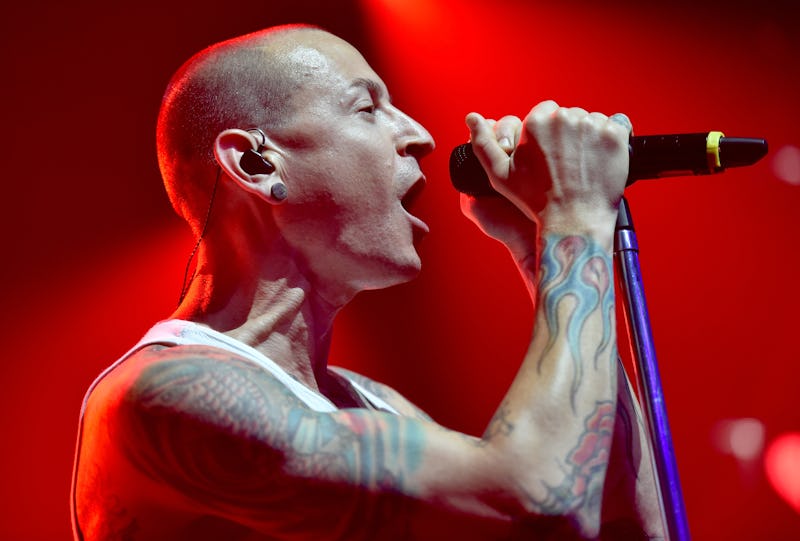 Kevin Winter/Getty Images Entertainment/Getty Images
When the news broke on Thursday that Linkin Park singer Chester Bennington had died, reportedly by suicide, even fans who couldn't remember the last time they'd listened to an album by the band came out to express how much Bennington's lyrics had helped them to deal with. But his lyrics helped him to deal with a lot of things as well, as Bennington's history of substance abuse is something that he has always been open about in interviews. That openness in and of itself was something that helped fans by making them feel less alone and helping them to understand the singer that much better. Which may have been the point.
In one early Linkin Park interview, Bennington got candid about his personal life. "I was a lot more confident when I was high. I felt like I had more control over my environment when I was on hallucinogens or drinking," he said to Rolling Stone in 2002. "I found myself not saying no to other things, things that would have made me another rock & roll cliche." After quitting drugs like "cocaine and methamphetamines" in 1996, Rolling Stone notes that the singer only stopped heavily drinking in January of 2002 — three months before the article was posted.
The singer opened up once more in a 2011 Kerrang! interview picked up by NME. "I don't drink. I choose to be sober now," he said. "I have drunk over the last six years, but I just don't want to be that person anymore." And, in a 2014 interview with Team Rock, he revealed the root of his struggles with substance abuse to be due to sexual abuse he suffered at the hands of an older friend when he was "seven or eight." He continued:
"I've done everything. I got really, really bad. When I was 13 to 16, I was doing a ton of LSD and a lot of drinking. Then, when we couldn't find acid, we turned to speed. I got really bad, really quickly."
Around the same time, fellow Linkin Park Mike Shinoda told Metro that the entire band came together to support Bennington through his struggle and recovery, telling him, "how much it means to us that he was doing something positive."
The singer spoke to Team Rock again in 2016, revealing that, at one point, he was on "11 hits of acid a day," not to mention crack, opium, and meth. "In 2006, I had a choice between stopping drinking or dying," he continued. "I did some counseling with the guys and they really opened up and told me how they felt. I knew that I had a drinking problem, a drug problem, and that parts of my personal life were crazy but I didn't realize how much that was affecting the people around me until I got a good dose of 'Here's-what-you're-really-like'."
Bennington channeled all of that pain, all of his struggles, into his music, something he has always be open about over the years. "It was like, 'There's a lot of songs about depression, fear and paranoia. Are you just making it up?'" he said to Rolling Stone in 2002. "And I said no." That raw honesty about his experiences, both in and outside of his music, resonated with an entire generation of music listeners. Listeners who are mourning Bennington today and who will still be mourning him in the future.