'Chewing Gum's Michaela Coel Wants You To Know About Discrimination & Consent In TV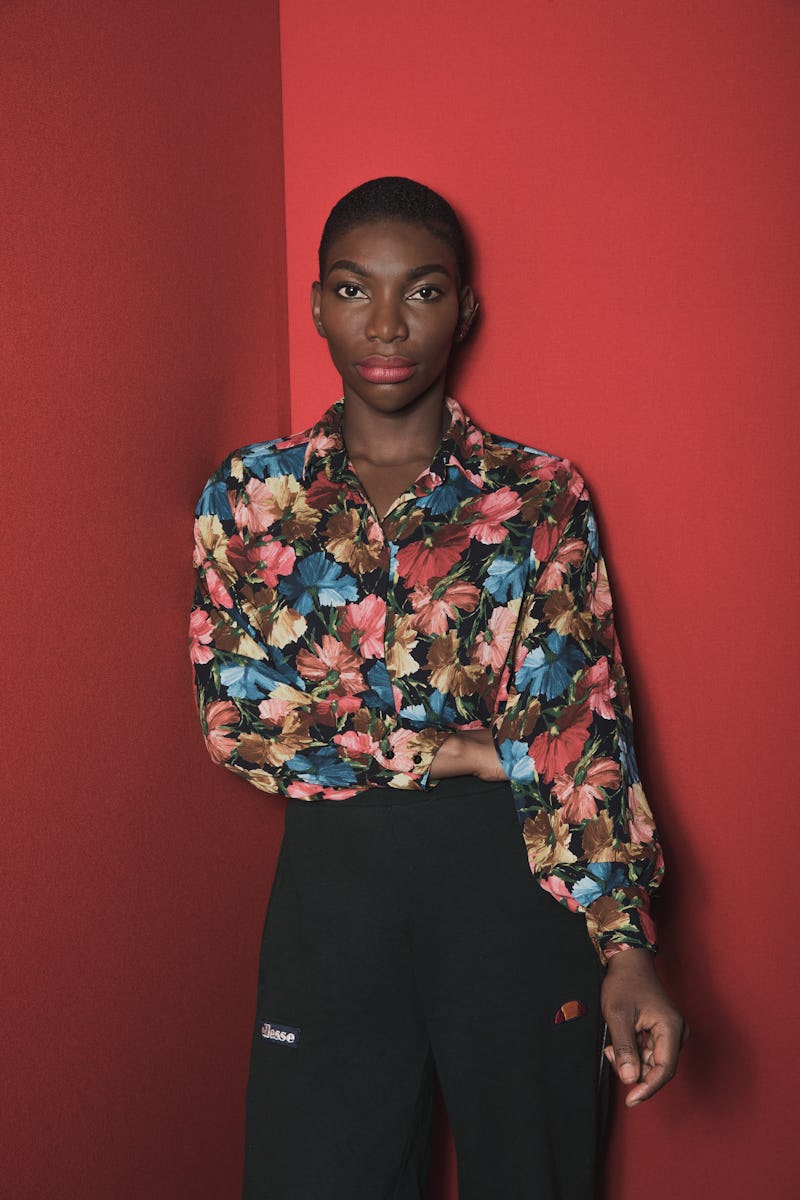 Vittorio Zunino Celotto/Getty Images Entertainment/Getty Images
Michaela Coel, writer and star of award-winning comedy Chewing Gum, is one of the most significant voices in today's media landscape. And the woman who brought Tracey Gordon to life is about to direct her talents into another major project, the BBC announced on August 22. Michaela Coel is writing a BBC drama on sexual consent, the channel revealed in a press release; she'll also play the central role, Arabella. There's no release date for the show yet, but there is a working title: Jan 22nd. So what else do we know about Coel's drama?
The London-set drama, the BBC says, is a "fearless, frank and provocative series." It will investigate "the question of sexual consent in contemporary life and how, in the new landscape of dating and relationships, we make the distinction between liberation and exploitation." The upcoming show's not the first time Michaela Coel has worked with the BBC — she's also playing the lead role in BBC Two thriller Black Earth Rising, alongside John Goodman and Noma Dumezweni.
Jan 22nd will centre around the "raw and personal experience of consent" of Coel's character, Arabella. Coel says of the show, "I feel weirdly overwhelmed and honoured to be making something again, something I'm making myself, with a great team." And I personally anticipate feeling overwhelmed and honoured to be watching it, whenever that time comes.
It's safe to assume Jan 22nd will be really rather excellent, based on the phenomenal success of Chewing Gum. The show accrued critical acclaim on both sides of the Atlantic after it launched on Netflix, deemed "raucous and wildly funny" by the New York Times. In 2016, Coel won the BAFTA for "Best Female Performance in a Comedy Programme", the BAFTA TV Craft award for "Breakthrough Talent", and the Royal Television Society awards for "Breakthrough" and "Comedy Performance". The second series received a BAFTA nod for "Best Scripted Comedy".
On the evening after Coel's new show was announced, she delivered the prestigious MacTaggart keynote lecture at the Edinburgh TV Festival, as Buzzfeed reports. She shared her own experience of sexual assault and the racial discrimination she's been subjected to in the television industry. Coel began with her experience at a major awards ceremony, telling the audience, "Being a misfit hurts. I can recall rummaging through a gift bag for my first big mainstream award. It contained dry shampoo, tanning lotion, and a foundation even Kim Kardashian was too dark for. A reminder: This isn't your house."
She also witnessed white actors receiving preferential treatment on set; Coel recalled, "It was day one of the shoot. I approached the trailers to find five actors and actresses ranging in tones of brown and black, including the woman who plays my mother, bound up in one-third of a trailer. The second trailer was occupied by an actress, looking like privileged piggy in the middle, and the third was mine, the writer." The actors crowded into the shared trailer explained to Coel, as the Guardian reports, "They just wanted it to work, their belief in the job only matched by their anxiety of losing it."
Coel went on to recount the sexual harassment and racial abuse she and her plus one were subjected to by a producer after she won an award for writing. "I said, 'Oh yes, nice to meet you.' 'Do you know how much I want to f**k you right now?' was his immediate choice of response. I turned from him and went home so quickly I left my plus one. He called, upset. Someone called him a n****r. It was the same man. Could my silence have encouraged this producer to push boundaries with women and black people further? This thought is uncomfortable, but I cannot block it out. I have to face it."
Coel was sexually assaulted, she told the Edinburgh audience, after taking a break from working overnight on the second season of Chewing Gum. Back in the office, she said, "I had a flashback. It turned out I'd been sexually assaulted by strangers. The first people I called after the police, before my own family, were the producers."
The production staff's response, however, was to teeter "back and forth between the line of knowing what normal human empathy is and not knowing what empathy is at all." Ultimately, she received therapy paid for by the production company; but, she added, "I asked to push the deadline back and for the channel to be informed as to why." She continued, "The deadline was pushed back, but the head of comedy never found out why." I reached out to the production company behind Chewing Gum for comment, but am yet to receive a response.
Channel 4's director of programmes, Ian Katz, told the Guardian, "Michaela's MacTaggart is a powerful and important wake-up call. She has raised vital questions about opportunity, support, transparency and inclusion that as an industry we must all address with urgency. The experiences she has described in her lecture are not what we would want for anyone working with Channel 4 or any part of our industry."
After her experiences of racial discrimination and sexual assault, Coel resolved to take an active role in transforming the culture of television. She told her Edinburgh audience, "I'm going to try to be my best; to be transparent; and to play whatever part I can, to help fix this house. What part will you play?"
It's likely she'll bring that same sense of urgent transparency to Jan 22nd, a show that looks set to address one of the most pressing issues informing our lives today. Even without an official title, trailer or release date, Michaela Coel's new project is already a certified must-watch.