Chimamanda Ngozi Adichie Asked Hillary Clinton Why Her Twitter Bio Starts With "Wife"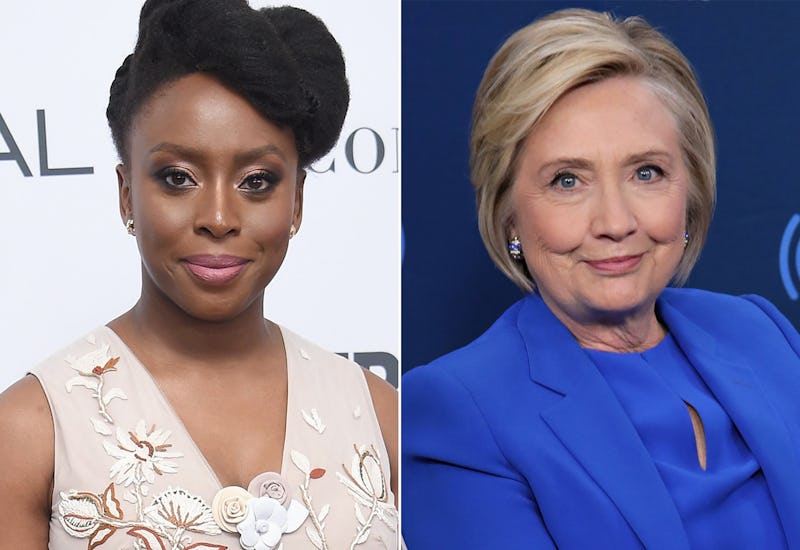 Dimitrios Kambouris/Getty Images Entertainment/Getty Images / Cindy Ord/Getty Images Entertainment/Getty Images
Hillary Clinton has had to answer for a lot of things since losing the election in 2016, but for perhaps the first time, she had to talk about the reasoning behind her Twitter bio. On Sunday at the PEN World Voices Festival, Chimamanda Ngozi Adichie asked Hillary Clinton about her Twitter bio and why "wife" comes first. It may not stay that way for long.
Clinton's current Twitter bio reads, "Wife, mom, grandma, women+kids advocate, FLOTUS, Senator, SecState, hair icon, pantsuit aficionado, 2016 presidential candidate." At the event, Adichie told Clinton that she would just ask one question about her personal life, The Slot reported. She said:
In your Twitter account, the first word that describes you is "wife." And then I think it's "mom," and then it's "grandmother." And when I saw that, I have to confess that I felt just a little bit upset. And then I went and I looked at your husband's Twitter account, and the first word was not "husband."
Adichie asked if it was her choice — or something decided for the campaign — and whether it's fair to be annoyed by it. Clinton took the criticism as constructive. "When you put it like that, I'm going to change it," Clinton told the crowd, reportedly causing them to roar in approval. "There's always this internal conflict when you are very committed to your relationships, your family ... and your identity, and how you both feel about yourself and you describe yourself."
Clinton went on to tell a story of Barbara Bush and her view — shared in a speech at Wellesley College — that relationships in life would be more important than business deals or promotions. Clinton argued it didn't need to be one or the other. She said:
It shouldn't be either/or. It should be that if you are someone who is defining yourself by what you do and what you accomplish, and that is satisfying, then more power to you. That is how you should be thinking about your life, and living it. If you are someone who primarily defines your life in relationship to others, then more power to you, and live that life the way Barbara Bush lived that life, and how proud she was to do it. But I think most of us as women in today's world end up in the middle: wanting to have relationships, wanting to invest in them, nurture them, but also pursuing our own interests.
The question and answer session with Adichie came after Clinton gave the closing lecture to the PEN World Voices Festival, which this year had the theme "Resist and Reimagine." The former secretary of state gave the Arthur Miller Freedom to Write Lecture at the Great Hall at Cooper Union in Manhattan.
In her speech, Clinton focused most of her criticism on President Trump and his harsh treatment of journalists. "Today, we have a president who seems to reject the role of a free press in our democracy," Clinton said. "Although obsessed with his own press coverage, he evaluates it based not on whether it provides knowledge or understanding, but solely on whether the daily coverage helps him and hurts his opponents."
Clinton also said that the press had improved since the days of the 2016 election, when false equivalency took over. "Now thankfully, in the races since 2016, coverage has been more straightforward and fact-based — perhaps because the races were close and inherently exciting — but I believe it also reflects an effort to avoid the errors that helped Mr. Trump to the White House," Clinton told the audience.
Clinton's media presence on Twitter may also improve, as soon as she reworks her bio.