Chimamanda Ngozi Adichie Just Gave The Realest Advice About Standing Up For Yourself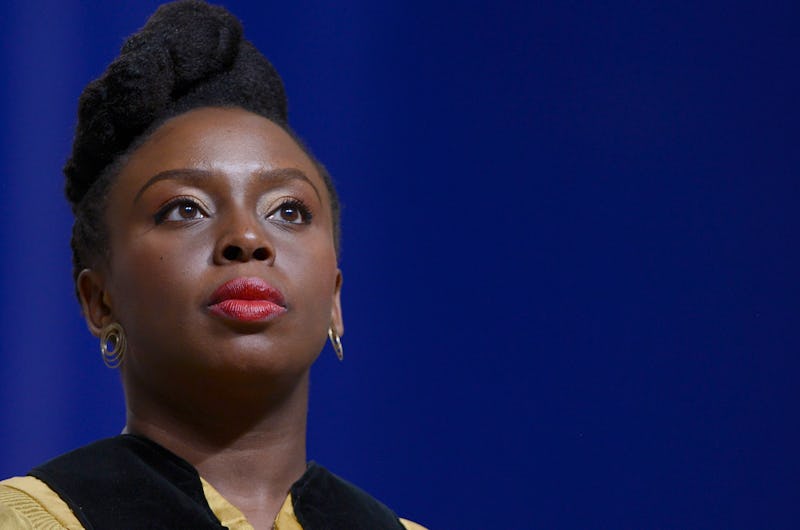 Leigh Vogel/Getty Images Entertainment/Getty Images
Right now, it's a hard time to be a woman. It's never been easy, of course, but these last few weeks have been particularly rough, due to the massive number of sexual assault and harassment allegations against famous men making headlines left and right. For some, the current situation has unfairly forced them to relive past traumas; for others, it's simply just been heartbreaking to see how many women and men have been affected by influential figures who don't understand the word "no." So to say that seeing hundreds of inspiring, brave ladies come together at Monday's Glamour Women of the Year Awards to celebrate each other and champion equality was welcome is an understatement — it was necessary, in that, even for just a few hours, we all got to ignore the too-often harmful power of men, and focus on the power of women, instead.
And that was made clear from the moment the event's red carpet began. All of the women attending the awards, both those being honored and those presenting or just cheering their friends on, are incredible — women who've gained fame and respect by winning Oscars or Olympic medals, directing blockbusters or walking catwalks, starting charities or breaking barriers. From Serena Williams to Nicole Kidman to Patty Jenkins, these women know that to be successful, they have to stand up for themselves and never take no for an answer, no matter how much pushback they might receive.
So, on the Glamour red carpet at Brooklyn's Kings Theater, Bustle spoke to several of the women attending the Awards about their own power — specifically, their proudest moments advocating for themselves and getting what they want, however hard it may have been. Let their answers inspire you.
Chloe x Halle
Musicians and actors who've appeared in Beyonce's Lemonade and will be on ABC's Grown-ish.
Chloe: "[I advocate for myself] every single day, because my sister and I, we make music, and sometimes you don't believe in your craft or what you can do. You always have those moments, and I'm so happy to have my sister next to me because she'll squeeze my hand and she'll say, 'you can do it Chloe, you got this.' It's so important to have someone you can lean on when you're feeling down, because all the moments wont be glitz and happy and glitter and gold. But it's those down moments that will make the happy moments really spectacular."
Halle: We make very different music, and sometimes playing them for the average person, they would be like, 'well, you know, it's a little too complex.' And we took that moment and we actually put it into our mixtape and we made a song called "Simple" … and that really inspired us to just stand up for ourselves and what we want to create, because that's what's most important."
Chloe: "And I definitely think that's important for young women to know. No matter what you do, don't dim your light for anybody."
Ibtihaj Muhammad
Champion fencer who was the first Muslim American woman to wear a hijab while competing for the U.S. in the Olympics, and who has a Barbie designed after her.
"I would say in qualifying for the Olympic team. I had people in my immediate circle who told me it wasn't possible and it wasn't something that I could do. So to be able to do that, I think, was kind of like an "I showed you!" kind of moment."
Billie Eilish
Singer and songwriter whose EP Don't Smile At Me was released in August.
"It's kind of a mixture of everything, since I'm 15 and I'm a girl and everybody else is a guy and not 15. It's gonna be different, people are gonna treat you weird and be difficult and not understand what's going on. I feel like for me, it's just kind of having people back away and understand and actually believe in what I have to offer and what I have to say. I feel like that's what's most empowering for me, just because I feel like so many people are taken for granted, and all they do and all they say in art is just — people don't respect it enough. I feel like for me, it's people just being like, 'I appreciate you, you know?'"
Dawn-Lyen Gardner
Actor who stars on OWN's Queen Sugar.
"That idea of advocating for oneself is something that I know I have struggled with in my life. I think that it's a bit socialized for women to not practice that. And I think that begins with value and worth, with, do I deserve XYZ? And the answer to that question generally is yes. But it's hard to actually voice that. It's hard to confront whatever fears are in the way of how you're gonna appear or what the approval will or won't be if you do that.
So for me the proudest moment of standing up for myself, I'm gonna say that it was actually leaving a manager. I just remember feeling that she did not value me, and at the end of the day, she would say things like, 'you're really not pretty enough to ever be a lead on a show, you're really not this enough, not that enough.' And it was amazing how long I agreed with her, how long that resonated with me and how much I internalized that. So when I finally began to get a sense of my own worth and my own power, that move epitomized that moment of being able to stand and speak for myself and know my own worth."
Tove Lo
Grammy-nominated singer and songwriter.
"I think honestly it's just being an artist and songwriter in a commercial pop world where a lot of times, they want to edit out what you say, and your opinions that you have, so you can fit into a certain mold. It's kind of just standing my ground and being who I am in that, and being open in being a feminist, because some people, for some reason, think that it's a provocative thing they shouldn't say, which I think is really stupid. So that feels good, to just be proud of that, and be honest about that."
Chimamanda Ngozi Adichie
Author of acclaimed works like Americanah and Half of a Yellow Sun, as well as the creator of "We Should All Be Feminists."
"I don't know… because I take it to be ordinary that I stand up for myself. I like to think it's not an exceptional thing. I stand up for myself."
As we all should.