Read Chimamanda Ngozi Adichie's Response To The French Journalist Who Asked A Racist Question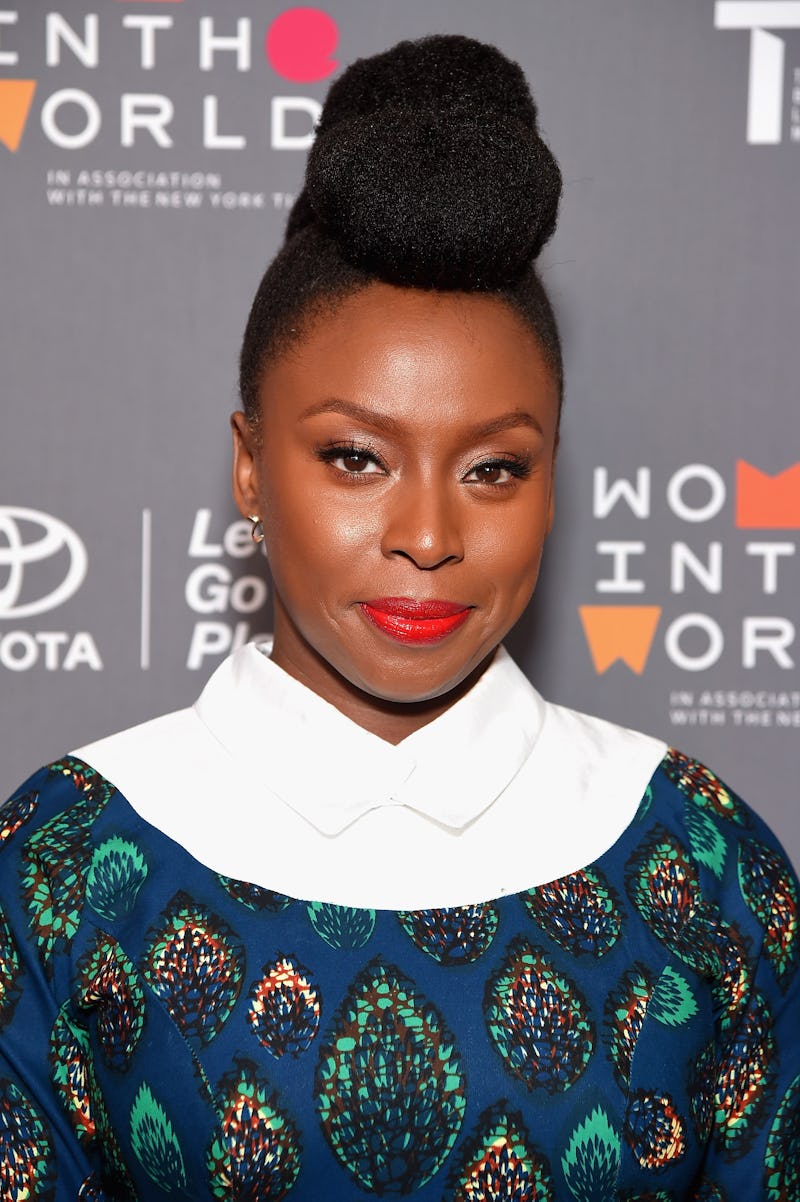 Michael Loccisano/Getty Images Entertainment/Getty Images
When French journalist Caroline Broué asked Chimamanda Ngozi Adichie if Nigeria has bookshops in an interview last week, the award-winning author of Americanah delivered the perfect response: "I think it reflects very poorly on French people that you have to ask me that question." The next day on Facebook, Adichie wrote a longer response that both defended the French journalist who asked the racist question, and pointed out why her line of inquiry was so problematic to begin with.
During an on-stage interview at the launch of the La Nuit des Idees (The Night of Ideas) in Paris last Thursday night, French journalist Caroline Broué asked Adichie if Nigeria has bookshops. (During the conversation, which was aided by translators for both women, the word "librarie" was mistranslated as "library" rather than "bookshop." In her initial on-stage response, Adichie answers addressed libraries.) Obviously taken aback by the racially loaded question, Adichie pushed back before Broué further explained that French people "don't know" much about Nigeria outside of things like Boko Haram.
In the perfect clapback to the journalist's insulting question, Adichie said "it reflects very poorly on French people" that Broué even asked it, especially in 2018. She further explained exactly why in a lengthy Facebook post about the exchange, saying "I do not expect a French person to know almost everything about Nigeria," but that she did not "have the patience" for ignorant questions that perpetuate harmful stereotypes about African countries.
"[T]o be asked to 'tell French people that you have bookshops in Nigeria because they don't know' is to cater to a wilfully retrograde idea," Adichie's response reads, "that Africa is so apart, so pathologically 'different,' that a non-African cannot make reasonable assumptions about life there."
Adichie's response further pointed out that discussing the difficulty in accessing affordable books is a worthwhile conversation, but the way Broué approached it was anything but.
"Bookshops are in decline all over the world. And that is worth discussing and mourning and hopefully changing. But the question 'are there bookshops in Nigeria' was not about that. It was about giving legitimacy to a deliberate, entitled, tiresome, sweeping, base ignorance about Africa. And I do not have the patience for that."
While she didn't hold back criticism in her response to the controversial interview, Adichie also took time to defend Broué, calling her "intelligent, thoughtful and well-prepared." The We Should All Be Feminists author tried to offer an explanation for the French journalist's misstep, saying the question was meant to enlighten audiences via "impersonating the ignorant." Like the true class act that she is, Adichie even urged fans to go easy on Broué, insisting "Hers was a genuine, if flat, attempt at irony and I wished she would not be publicly pilloried."
While it may be true that Broué is guilty of nothing more than being bad at acting ironic, the conversation her question sparked can't be ignored. Broué's question, and her line of reasoning behind it, is just the latest gleaming example of the misguided, racist, and ignorant beliefs many in the "Western world" still have about African nations, and that is something Adichie is used to talking about.
Like she so often does in her writing, and like she did particularly well in her wildly popular 2009 TED Talk, "The Danger of a Single Story," Adichie used her response to this bookstore controversy to speak directly to the threat of assigning a nation, people, or culture to a single narrative. As she says in that talk, "when we reject the single story, when we realize that there is never a single story about any place, we regain a kind of paradise."
You can read Adichie's powerful response in full on her official Facebook page.