Chipotle Is Adding Dessert To Its Menu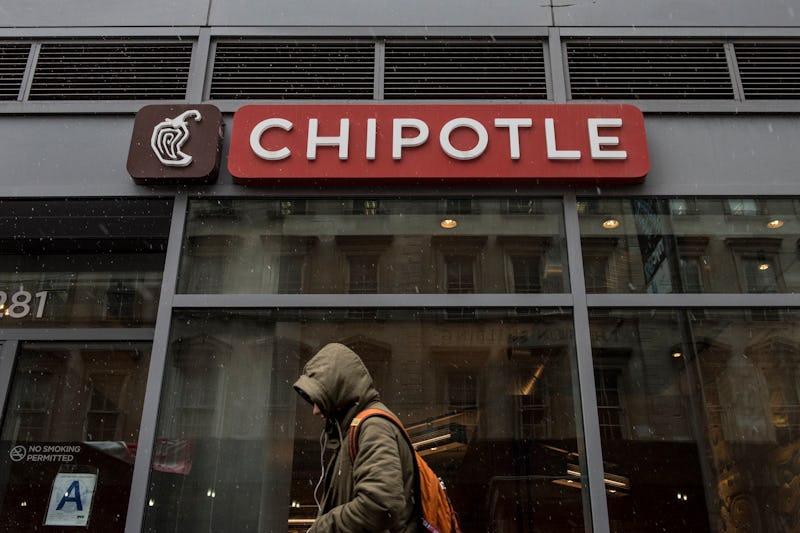 Andrew Renneisen/Getty Images News/Getty Images
Chipotle lovers, your favorite burrito joint is about to get a lot sweeter. For the first time, Chipotle is adding dessert to its menu. The soon-to-be new favorite? Buñuelos, a Mexican dessert consisting of fried tortillas, topped with sugar, cinnamon, and honey. Chipotle's version will come with an apple caramel dipping sauce on the side. So, basically, fried dough covered in sugar. WHERE DO I SIGN UP?
Chipotle has been teasing a dessert addition to its menu for months. Back in October 2016, Business Insider reported that Chipotle co-CEO Steve Ells had announced that the restaurant chain was testing out two unnamed desserts. In January, Chipotle CMO Mark Crumpacker said that they'd finally chosen a dessert to add to the menu, and cryptically added, "It only adds one ingredient not already found in our restaurants, it's easy to prepare, and it's delicious." Given the simplicity of buñuelos, that description now makes a lot more sense. (Though it's not totally clear which ingredient is the one not currently found in Chipotle restaurants — perhaps the dipping sauce?)
This new dessert will be only the third new menu item added to the Chipotle lineup in 20 years. (Previous additions include tofu sofritas in 2014 and chorizo in October of 2015.) "We don't view new menu items as significant drivers of our business," Crumpacker told Business Insider in January. "The simplicity of the Chipotle offering is central to our success."
However, the addition of dessert is part of a new strategy to regularly add new items to the Chipotle menu, in a bid to coax customers back to Chipotle in the wake of two highly publicized E.Coli outbreaks that affected Chipotle restaurants in 14 states in 2015. After taking a major hit in the months following, Chipotle announced on Tuesday that the tide appears to be turning; the company reported that same-restaurant sales rose last quarter for the first time since the outbreaks.
Chipotle spokesman Chris Arnold told Business Insider that the restaurant chain will start testing buñuelos in May, so keep an eye out for these cinnamon-sugary treats at the Chipotle location near you.