Chloë Grace Moretz Has A Chic New Look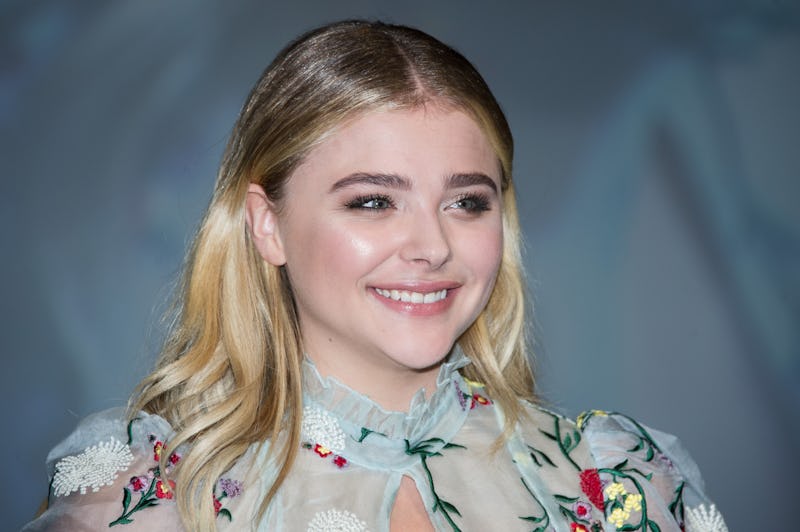 Francois Durand/Getty Images Entertainment/Getty Images
It's about that time of the year where warmer weather starts creeping in and many get an itch to completely transform their hair. Chloë Grace Moretz's new bob proves that not even she was immune to the craving for change. The Neighbors 2 actress typically always sports shoulder length hair if not longer, so the chop is quite the alteration. She decided to go for something radical, and it definitely paid off.
Moretz debuted the new look on Instagram stories, where she gave her fans a peek at her new style. Casting it in black and white, she chose the popular puppy filter to help show off her blunt bob. Captioning it "new hair who dis," she tilts her head from side to side to give us a peek at the different angles. It's a blunt chop with a long, side swept bang, with the length just hitting below her chin.
"If you look very closely between her head turns you'll notice the shoulder-grazing cut has a few layers throughout that adds extra volume and depth," Allure observed. With more and more stars taking the plunge (like Vanessa Hudgens just a few weeks back,) we might be seeing a resurgence in popularity for the short crop.
Moretz also tagged the genius behind the 'do, which was Gregory Russell. Russell is a celebrity favorite, using his scissors and talent on stars like Kim Kardashian (who got a shoulder length cut) and recently Bella Hadid (whogot just a trim.) "Moretz gave a quick shout out to her go-to hairstylist Gregory Russell who is the man behind a few of our other favorites from her —including the killer lob she debuted earlier this year — and even Lily Collins' best looks," Allure explained.
To give the new bob a little more edge, she made a second salon appointment and colored her hair into a bold bleached blonde.
"Less than 48 hours after Chloë Grace Moretz debuted her fresh new bob haircut, she's making yet another change to her 'do — this time with a little help from a bottle of peroxide. The actress documented her entire beauty transformation on Snapchat, starting from the salon chair, where she was late last night with colorist Lorri Goddard," Refinery 29 reported.
Moretz was clearly busy in the beauty department this week. The resulting look is edgy and bold, which is always a total win in any trendsetters book.