You Won't Be Able To Stop Watching Chloe Kim's Inaugural Olympics Run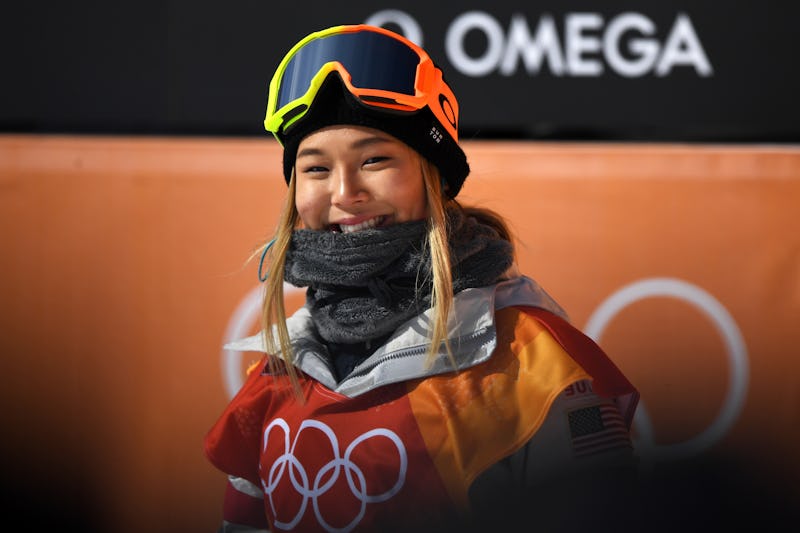 David Ramos/Getty Images Sport/Getty Images
Although she didn't get to participate in the 2014 Sochi Olympics due to not being the minimum age for playing in the competitive games, Chloe Kim won the gold medal for snowboarding at the 2018 Winter Olympics in PyeongChang, South Korea. The impressive 17-year-old veteran snowboarder wowed her audience during the halfpipe final on Monday night.
During the halfpipe final, Kim soared during her first run. She was up against Lia Jiayu of China, Arielle Gold, Kelly Clark of the United States as well, and Haruna Matsumoto of Japan among others as she scored a powerful 93.75 during the first strike. With 41.50 in her second run and 98.25 in her third, Kim won by 98.25.
Before making it to the final, Kim had already showed her expertise on dominating snowboarding at the two halfpipe qualifying matches. She scored a solid 95.50 and 91.50, instantly securing a position to try for the halfpipe final. For Kim, this wasn't exactly a new and daunting feat; the intrepid snowboard has won four gold medals in X Games. The best part? She's not even 18 yet.
According to the Olympic organization's website, Kim "has cemented her place at the top of her sport since she carried her country's flag and won two gold medals at the Winter YOG Lillehammer 2016." She told the organization that she knew how important it was for her to compete in the PyeongChang 2018 Winter Olympics given the fact that her parents are from the country. "Competing in my first Olympic Games in the country where my parents came from is pretty insane. It should be a fun ride," she mused.
Kim, who has been preparing herself officially for four years, told People magazine in February that she was excited to be competing in the Winter Olympics. She said she was looking forward to playing in front of her relatives who "have never really seen me complete before."
Kim's story isn't exactly the most common one. The young snowboarder currently resides in La Palma, California, but is originally from Torrence. The daughter to Boran Yun Kim and Jong Jin Kim who came to the United States in 1982, the American snowboarder has been conquering icy terrains and steep hills since she was a precocious four years old. Her parents have been incredibly supportive of her endeavors in snowboarding since she was a child.
Although they originally hail from South Korea, Kim's parents live in the United States with their daughter. Kim herself is a trilingual snowboarder; she speaks Korean, English, and French. In a conversation with The Washington Post, she said, "I'm so used to America, used to the traffic in [Los Angeles], and I don't really feel it click with the Korean culture. But obviously I have a Korean face, and I feel like that's just — you know, I can't walk around people like I'm, like, straight-up American. It's like, I'm Korean American. My parents are from Korea."
Not one to be limited into a singular and confining identity, Kim told The Post that she gets asked where she's "really" from but she lets people know who the real Kim is. "I always get that question. It's never, like, my first answer would be, 'I'm from Korea,' or, like, 'I'm Korean.' It's always, like, 'I'm American.'"
Kim's fellow athletes have also been singing praise of her prowess. Kelly Clark, a 34-year-old American snowboarder, told Associated Press in January that the young competitor "rides longer than anyone." She also said that her diligence was was what brought her up the ranks of professional snowboarding, not simply talent. "Talent can get you only so far. It's about putting in that hard work and extra effort that makes a difference," Clark said.
With Kim's amazing score on Monday night, the stunning 17-year-old snowboarder proved what baseball legend Babe Ruth said: "It's hard to beat a person who never gives up."