Chloe Kim's Dad's Reaction After She Won Gold Is Melting Twitter's Heart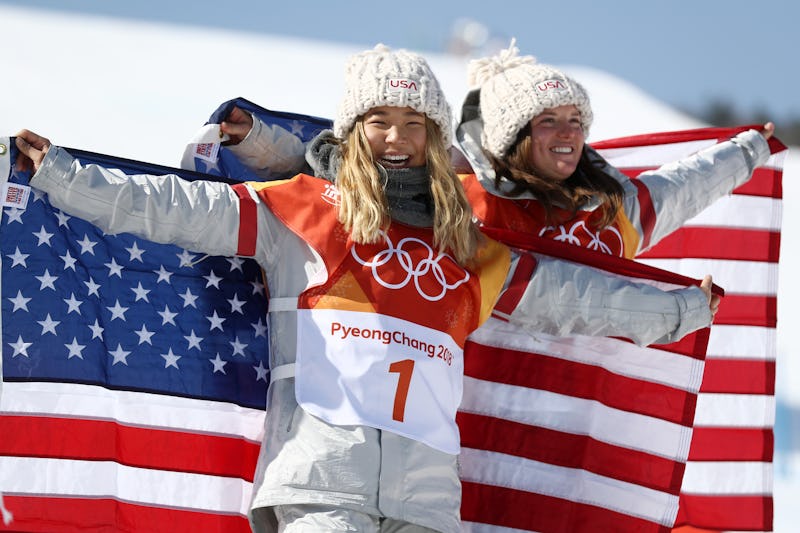 Clive Rose/Getty Images Sport/Getty Images
On Tuesday morning (local time) in South Korea, one 17-year-old American snowboarder won her first gold medal in the women's snowboard halfpipe. After she won, Chloe Kim's dad reportedly yelled "American Dream!" and pointed to himself — and Twitter is utterly touched by the father's message to his daughter.
Chloe dominated the race from the beginning, never falling out of first place throughout all of her snowboarding runs. Jake Seiner of AP Sports noted that Chloe's father, Jong Jin Kim, was particularly proud of her achievement. As Seiner tweeted, "Chloe Kim's father says this made all his sacrifice worth it. Pointed to himself, said 'American dream!' and whooped."
Chloe's father had referred to his daughter as his American Dream before during an interview with NBC's Hoda Kotb — before Chloe took home the gold. Jong Jin, who is Korean-American and emigrated to California in 1982, agreed with Kotb that Chloe is "his American dream," saying, "We — an immigrant like me —we always say, 'the American dream'."
Many on Twitter were touched by the father's words, with a variety of users praising Jong Jin for so readily supporting his daughter. Some on Twitter also commented on how meaningful the notion of an "American dream" is to them as immigrants or first generation children themselves — and that it was so inspiring to watch both Chloe and her father see their dreams come true.
In addition to his sweet words about Chloe, many on Twitter also loved the fact that Jong Jin held up a homemade sign to cheer his daughter on during her race. Jong Jin's sign featured a handwritten "Go Chloe!" and a hand drawn heart on poster board that was then laminated. Twitter users found his sign incredibly endearing, with one user noting, "You wanna make me cry? Show me this picture of Chloe Kim's dad right before she hits the half-pipe. Yea, that'll do it." Another user referred to it as the "ultimate dad sign move."
Soon after her victory, Chloe reflected on her runs, saying that she purposely pushed herself to do her absolute best though she knew she had a substantial lead from the beginning of the competition. As Chloe told the Washington Post:
I knew if I went home with the gold medal knowing that I could do better, I wasn't going to be very satisfied ... That situation, I did put down a really good first run, but I was like, 'I can do better than that. I can one-up myself.' The third run was for me to prove to myself if I did it, and I could go home really happy and excited.
In addition to her father and mother, Boran, some of Chloe's extended family from South Korea was also present to watch her secure victory. Prior to the competition, she told PEOPLE that she was really looking forward to having her relatives there to cheer her on:
A lot of my relatives over there have never really seen me compete before, so I think it's going to be pretty cool for everyone. It's really exciting, my whole family is really excited about it, so that gets me even more stoked!
Overall, it is very clear that Chloe has an abundance of strong family support, which will likely be especially helpful as she navigates the excitement and chaos of life post-gold medal. After the win, the Post reported that Chloe said, "I don't really know what's happening, and I'm actually feeling a little anxious right now ... I'm a little overwhelmed," as she was being whisked to different press outlets for interviews. It will likely be empowering and comforting to have her family by her side as she steps into her role as one of American snowboarding's biggest stars.