Chloe Kim And Her Dad Filmed An Ad About How They Got Here — And It'll Make You Sob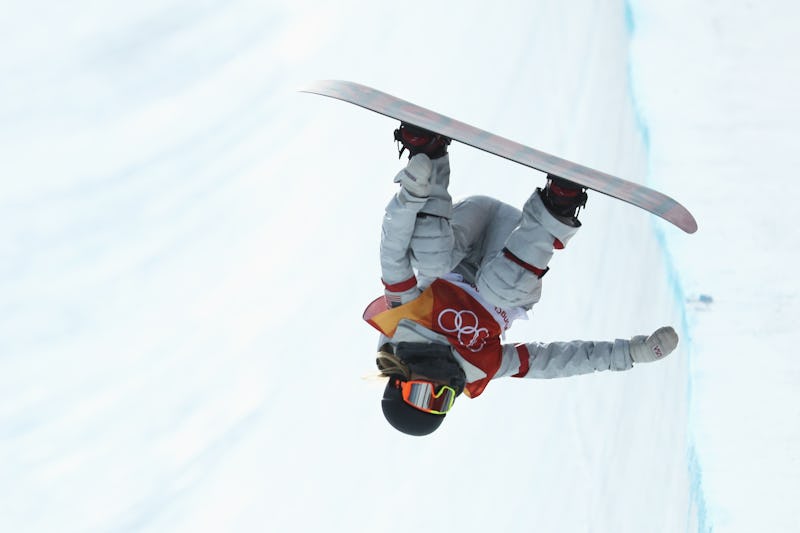 Ryan Pierse/Getty Images Sport/Getty Images
Who doesn't love a heartwarming story about a record-breaking athlete and her astonishingly supportive family? This year, the Olympics seem to be full of them, but one that particularly grabbed viewers by the heartstrings was told in a 2018 Super Bowl ad. Team U.S.A. snowboarder Chloe Kim and her father shared part of their journey to the PyeongChang Winter Games in a tear-jerking commercial that aired at this year's game between the New England Patriots and Philadelphia Eagles.
The ad relays the story of how Kim's father, South Korean immigrant Jong-Jin, quit his engineering job to support his daughter's snowboarding career. How sure of his decision was he? Well, according to a Washington Post profile of Kim, in real life, he left his position with Kim was only eight years old. She was performing that well in competitions.
"Obviously, when I was 8, I had no idea what he was doing," Kim told The Post. "It was, like, 'Why is Dad home more?' You know? But now that I think about it, you know, I feel like it was a really bold move, and I can't believe my mom was okay with it."
It turned out that Jong-Jin's instincts about his daughter's potential were right on target. Kim, only 17 years old, has rocked the professional snowboarding industry, and she's not even old enough to vote. At such a young age, Kim is the first female snowboarder to ever land two consecutive 1080s in the halfpipe competition, earning her a perfect 100 at the US Snowboarding Grand Prix in February of 2016. She was only fifteen years old at the time.
(Interestingly, she's not the only female on Team U.S.A. who holds a 1080 record. She's competing alongside her predecessor, so to speak. Twice her age, Kelly Clark became the first woman to ever land a 1080 back in the 2011 X-Games. Kim told CNN that she grew up idolizing the teammate snowboarder she is now competing with.)
The ad, which features only Kim and her father, tells a story of mutual persistence and perseverance. Most of the one-minute clip takes place surrounding trips to or from either practice or competitions. At first, Kim is seen waiting on the curb in front of her home, her father apparently running behind to pick she and her snowboard up. She mimes frustration at his being late.
Briefly, Jong-Jin is seen quitting his job, which appears to be so that he will no longer have to juggle his career with his daughter's. Later, she leaves the house to find him already waiting out front, similarly intimating his frustration with waved hands.
The background of the ad is the song 'America the Beautiful.' And as the song progresses, viewers get a glimpse into what may well be reasonable ups and downs experienced by a parent and child working together to support and pursue professional athleticism.
As the ad comes to a close, Kim and her father are seen driving back from a competition. In this instance, however, Kim is the one driving. As the sun sets, her father is seen sleeping in the passenger seat. Kim is driving. In his hands, he holds one of her trophies — presumably the one she has just won. She smiles at him, and on that goosebump-inducing moment, the ad ends.
At PyeongChang, Kim is already outperforming her opponents. On Sunday, Feb. 11, Kim ranked first in the qualifiers for the halfpipe competition, scoring a 95.5 by her second run through the course. Leading the twelve cumulative female snowboarders who made the cut, Kim is slated to lead the halfpipe final, which airs on Monday at 8 p.m. EST.