Chloe x Halle's Stunning Grammys Performance Is Exactly Why They Should Be On Your Radar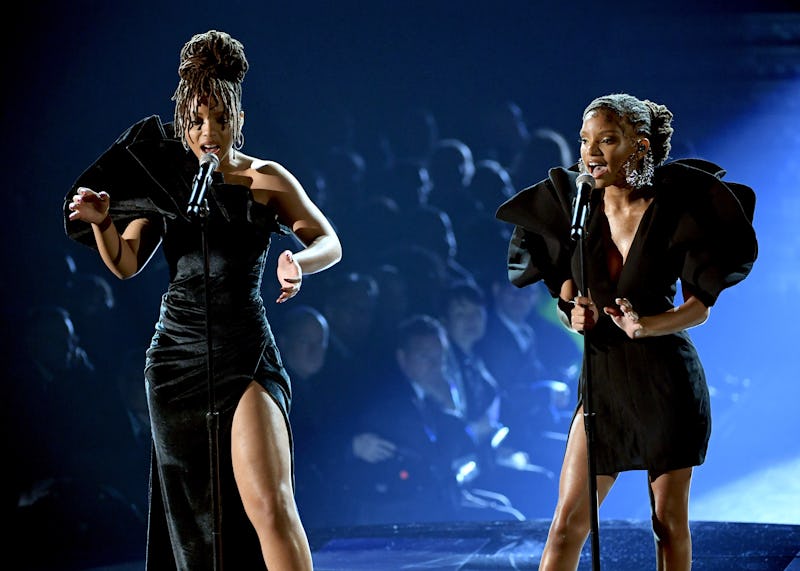 Kevin Winter/Getty Images Entertainment/Getty Images
If you didn't know how talented Chloe x Halle are, they really need to be on your radar starting right now — especially after Chloe x Halle's 2019 Grammys performance during the Donny Hathaway tribute. This duo's harmonious rendition of "Where Is The Love" truly showcased the grown-ish stars' talent. Chloe x Halle also recently performed "America The Beautiful" at the 2019 Super Bowl, so you really need to be paying attention to the talented siblings.
Chloe x Halle are nominated for Best New Artist and Best Urban Contemporary Album for The Kids Are Alright, and its no wonder why. Chloe and Halle Bailey took the Grammys stage for the Hathaway tribute and performed the hit 1972 song by Hathaway and Roberta Flack. The performance didn't have backup dancers or any bells and whistles, because it didn't need any. It was just Chloe x Halle on stage, harmonizing to the music and showcasing their incredible vocals for the Grammys audience. It's no wonder Beyoncé signed them to her Parkwood Entertainment label in 2015 and has mentored the duo since, according to the Houston Chronicle.
The newspaper reported that Beyoncé found Chloe x Halle via YouTube and she was so impressed with their cover of her own "Pretty Hurts" that Beyoncé signed the duo to a $1 million contract. Since then, it's only been up for the charismatic and talented sisters. When you have Beyoncé as a mentor, that's the sort of glow up that happens, too.
Halle told the Houston Chronicle, "It's beautiful that [Beyoncé] understands we don't want to dumb down ourselves for anyone or change the way we make music just to fit society's standards. She appreciates that, and she always lets us know that our music is ahead of its time right now and tells us to just let the world catch up."
Although they've been on the music scene for a couple of years now and have been starring on Freeform's grown-ish alongside Yara Shahidi and Francia Raisa, it still feels like the duo hasn't become a household name everywhere just yet. Maybe it's about time the word catches up.
On Twitter, People Were Rooting For Them
As previously mentioned, not only are the two sisters amazingly talented musicians, they're also great actors. After seeing them present at the BET Awards in 2017, showrunner Kenya Burris cast them on grown-ish, a show that does its best to empower young people, and especially young women. An episode in the first season dealt with the issues that young black women face while dating. It was a particularly powerful episode, made all the more powerful because of what they brought to the roles.
Chloe told Vulture last spring, "I remember we went in for the table read and read the script and just thought, Wow, this is speaking the truth." She added, "I love grown-ish because we're able to talk about the topics that aren't normally talked about in mainstream media. That episode let women of all colors know that you don't need validation from anyone else except yourself and that's okay."
These two women really do do it all, between acting and making music. It was just a few years ago they were taken in by Beyoncé, but it's pretty obvious that Chloe and Halle are already inspiring the next generations of young women.