Chris Evans Won't Be Silenced About Donald Trump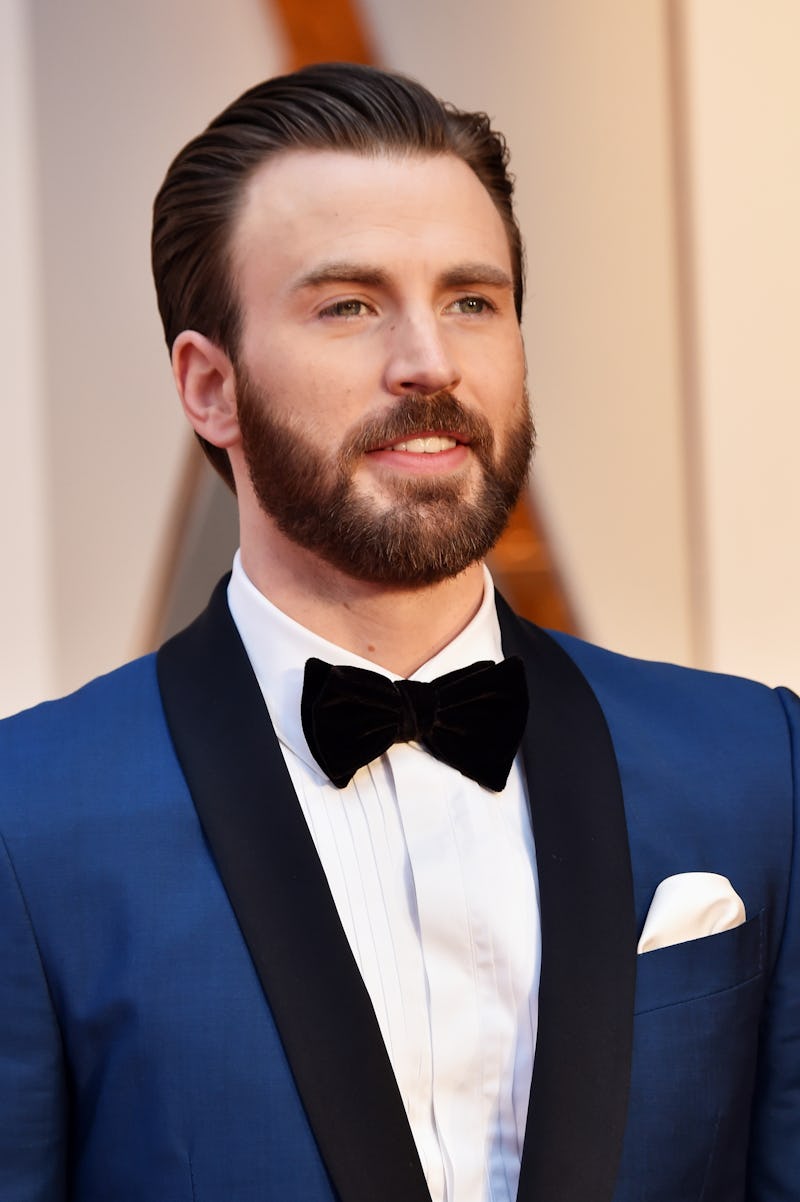 Frazer Harrison/Getty Images Entertainment/Getty Images
Celebrities are known for giving their political opinions — and some people don't like it. First of all, celebs are also citizens of their country, so if they want to speak out about their political beliefs and comment on important issues, then they are absolutely allowed to. Secondly, why shouldn't they use their voices to spread awareness? They are more likely to get the word out than the everyday person. One celebrity who continues to do just that, especially when it comes to how he feels about the President of the United States, is Chris Evans. And if you want him to be quiet, good luck, because Evans refuses to be silenced when it comes to Donald Trump.
In an interview with Esquire, the Captain America actor opened up about being so vocal during and after the 2016 presidential election. He's made headlines for it too, like that time he confronted former KKK leader David Duke on Twitter. It appears one of the main reasons he won't stop talking about what the world currently looks like is because of how Trump makes him feel. "I feel rage," he said. "I feel fury. It's unbelievable."
If you felt that way, wouldn't you be letting it out rather than keeping it bottled up? Evans gets that his actions may dissuade others from seeing his films, but that's something he's willing to live with. The Marvel star admitted,
"Look, I'm in a business where you've got to sell tickets. But, my God, I would not be able to look at myself in the mirror if I felt strongly about something and didn't speak up. I think it's about how you speak up."
The 35-year-old doesn't believe everyone has to get along or agree on every single issue, which is why he's totally fine if people choose not to see one of his movies. He said, "We're allowed to disagree. If I state my case and people don't want to go see my movies as a result, I'm OK with that."
For him, it's all about "how" someone speaks up. It's important to him to spread his activism by doing it calmly and not by getting into a shouting match. "Some people say, 'Don't you see what's happening? It's time to yell,'" Evans explained before adding, "Yeah, I see it, and it's time for calm." He believes that in order to get through to people, especially those who are "in the middle," it's best to do it rationally. As Evan said,
"Because not everyone who voted for Trump is going to be some horrible bigot. There are a lot of people in that middle; those are the people you can't lose your credibility with. If you're trying to change minds, by spewing too much rhetoric you can easily become white noise."
The fact that Evans won't let anyone tell him how to use his voice and is at peace if his movies lose money because of it shows just how invested he is in the future of the country. The Gifted actor is here to stay — and so are his opinions.