Chris Evans Called Out Kanye's Latest Pro-Trump Tweet — And He's Not The Only Celeb To Do So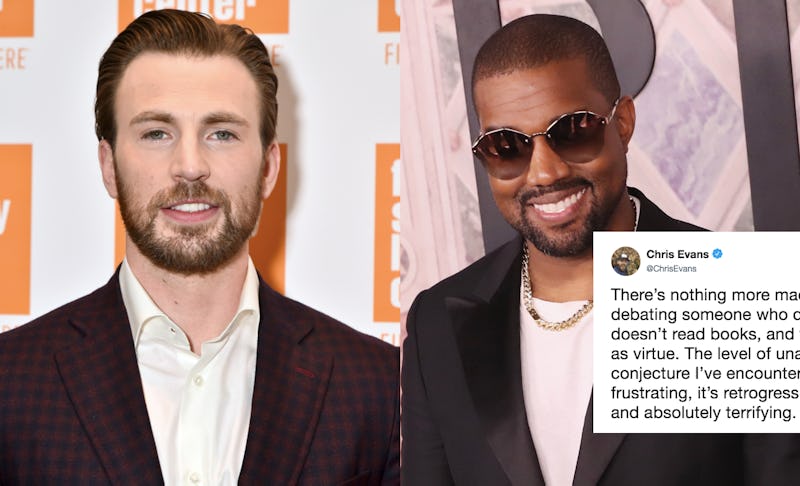 Theo Wargo/Getty Images Entertainment/Getty Images; Rob Kim/Getty Images Entertainment/Getty Images; Chris Evans/Twitter
Once again, Kanye West is making headlines for some super controversial statements. After his appearance on Saturday Night Live, and his subsequent rant on social media, Chris Evans is speaking out against Kanye West on Twitter. And unsurprisingly, he's not the only one who has something to say about the rapper's latest comments. (Bustle reached out to West's agents for comment, but did not receive an immediate response.)
In case you missed it, West decided to continue his controversial streak on Sept. 30. On Twitter, he posted a photo of himself in a Make America Great Again hat and wrote that it "represents good and America becoming whole again." The rapper also said, "We will provide jobs for all who are free from prisons as we abolish the 13th amendment." As a reminder, the 13th Amendment to the U.S. Constitution abolished slavery in the country. To put it as mildly as possible, West's statement is the epitome of ignorance.
Evans took time to explain exactly how frustrating it was to see someone like West spew such ignorance. The actor wrote on Twitter,
"There's nothing more maddening than debating someone who doesn't know history, doesn't read books, and frames their myopia as virtue. The level of unapologetic conjecture I've encountered lately isn't just frustrating, it's retrogressive, unprecedented and absolutely terrifying."
There are no lies detected in Evans' statement. It just proves that it isn't only the masses that are frustrating by West's baseless musings, celebrities everywhere are over it, too.
Evans wasn't the only celeb to take West to task for his comments. According to Rolling Stone, Lana Del Rey also had something to say to the rapper in regard to his latest post. She replied to his Instagram with an incredibly well-said comment in which she described exactly why his support of President Trump, and his call for abolishing the 13th Amendment, is such detrimental message to push forward. The "Blue Jeans" singer began her statement with, "Trump becoming our president was a loss for the country but your support of him is a loss for the culture."
She then continued to say that she believes the "Power" singer needs "an intervention" to help explain how hurtful his message is. Del Rey wrote,
"If you think it's alright to support someone who believes it's OK to grab a woman by the p*ssy just because he's famous-then you need an intervention as much as he does- something so many narcissists will never get because there just isn't enough help for the issue. Message sent with concern that will never be addressed."
Rapper and producer Swizz Beatz also had a message for West. Even though he related that he loves the singer, he seriously took issue with this latest pro-Trump statement. Beatz mentioned that West said that he felt "bullied" for wearing the MAGA hat at the end of the Sept. 29 episode of SNL in a segment that wasn't aired on television, per Variety.
In response to that, the producer said in an Instagram video on Sept. 30 that they recently discussed the hat situation, "I was just addressing how uncomfortable the culture feels with you representing somebody that's blatantly hurting our people. Ain't nobody bullying you, we love you." Beatz then played a clip of a track in which "F*ck the MAGA hat" can be heard. As Complex noted, it's unclear whether it's a clip from an unreleased song or a preview of one that's soon to be released.
While West tried to clarify his statements in a couple of follow-up tweets (in which he said "not abolish but. let's amend the 13th amendment"), it seems as though his sentiment still stands.
But as you can see some the various, strong responses in opposition to it, it doesn't appear as though Hollywood is buying what West is trying to sell.